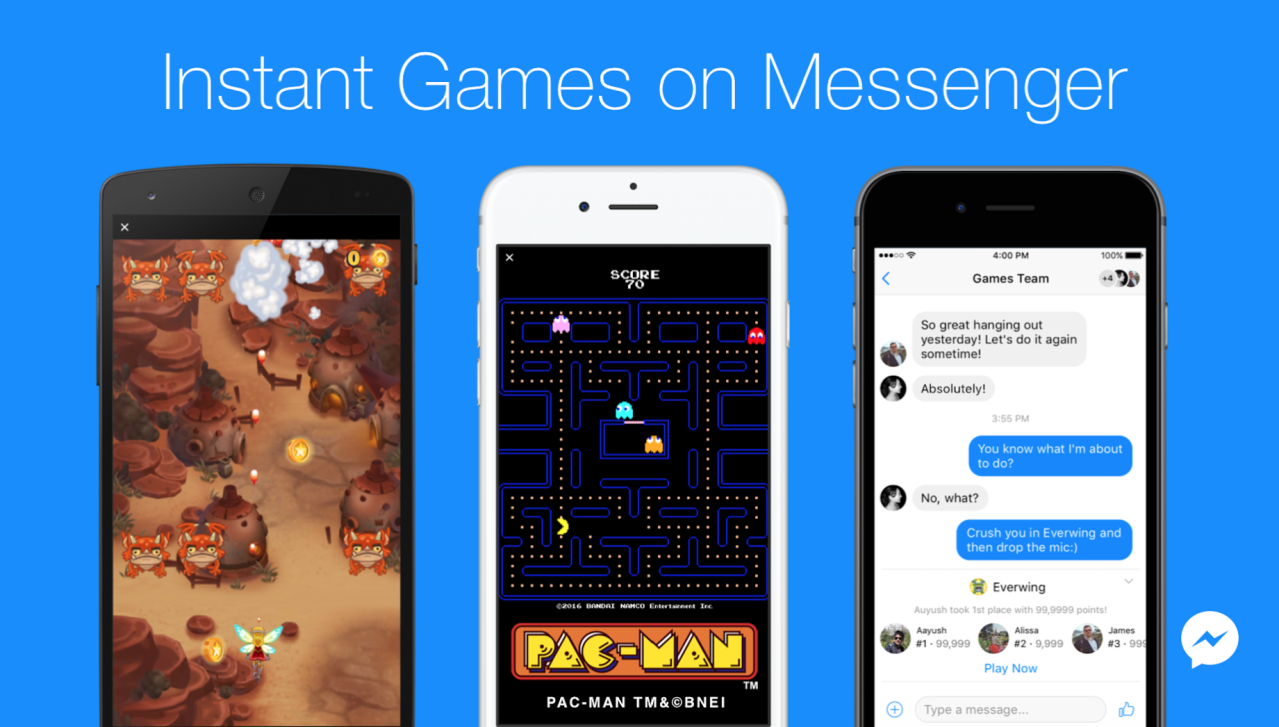 Facebook Launches Instant Games- Users Get Ready to Play them in Just a Few Clicks and Touches
Bored waiting for a text back from someone? Now games can replace this gap. Users can challenge their friends for high scores on Facebook Messenger. Users can now play instant games like Pac-Man, Words with Friends Frenzy and Space Invaders. These games are built on HTML5 mobile web standard; they will load in just a few seconds they need not be downloaded like other heavy native apps.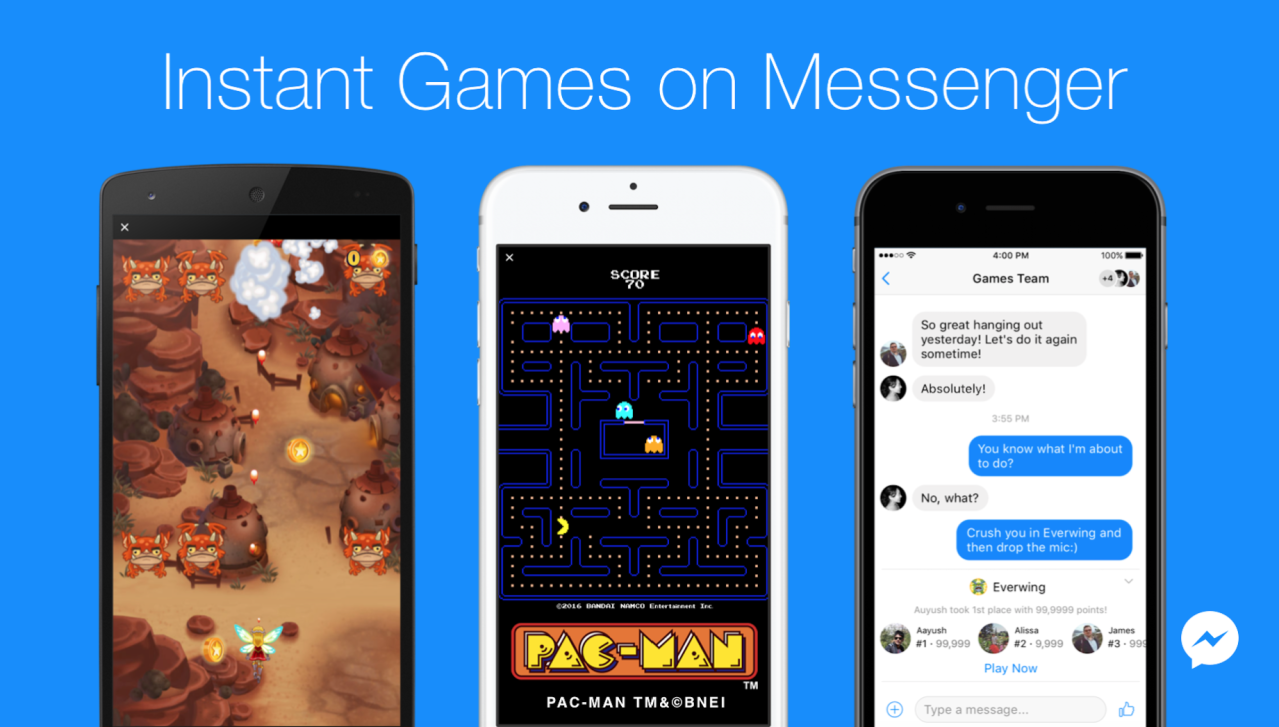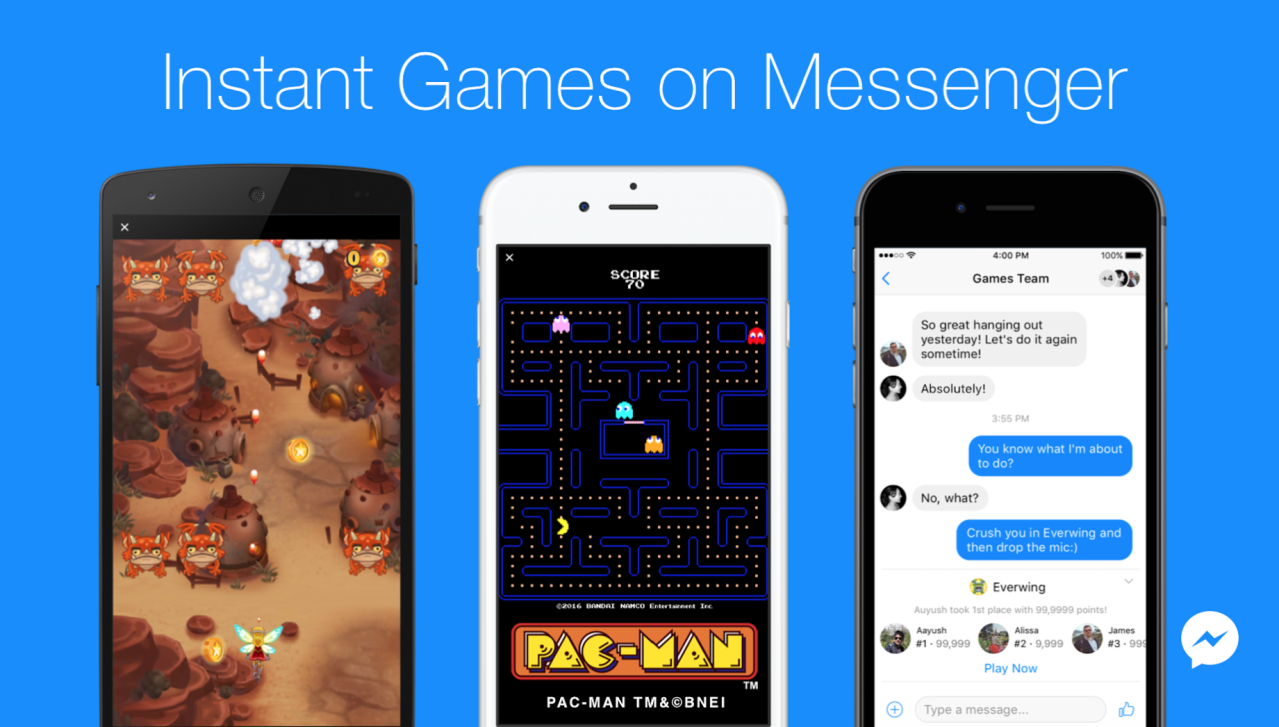 Facebook attempts to have some friendly competition and it make the users spend even more time on Facebook than they spend regularly. Users can play games at the same time they check the news feed or while chatting with friends. With this introduction of new games, users can check their luck at any time. At the same time, Facebook earns dollars from the ads and from promoting their games. Till now, the in-game purchases are not allowed.
Instant games were launched in 30 countries across the globe including the U.S. with 17 games are from the typical developers like Konami, Taito and Bandai Namco and newer studios like King and Zynga have joined them. Instant games are available on newer Android and iOS devices; they can be accessed by tapping on the game controller icon on the Facebook Messenger. It is next to the photos and stickers buttons. Users can also play these instant games from Facebook on the desktop.
Hands-On
There are about 17 games in this instant games package. Most important thing is that all these games load in three to ten seconds and they contain the high-quality graphics and they have excellent gameplay. Users can have high scores and leaderboards. With these games users can easily challenge their friends. Almost all the games are easy to pick up and they take only 30 seconds to play a complete round. Users can play them even during the short free or break timings.
The most discouraging part of these games is the spotty controls. These spotty controls easily kill the users in the games like Pac-Man and Arkanoid. The bigger aspect is that how the successful Messenger Instant Games could be. There are many smooth parts and it is fun to bet with the friends for high scores. Once the users start to play they will be addicted towards it.
David Marcus, the head of Facebook's Messenger felt that social gaming is big on the desktop. On mobile, everything becomes social slapped on as an after-thought. Facebook thinks to build or rebuild games for faster and asynchronous competition, this could unlock a new generation of friendly play.
Facebook is back to gaming
During 2008, Facebook dominated the world of social gaming. At this time, its desktop app platform was more popular for playing for more than utilities. The viral and addictive nature helped Facebook to increase its user count and their engagement. Today, users spend 15% of their Facebook time in playing games.
Users slowly shifted to mobile. Facebook slowly started to shut down their gaming. Later, Facebook started to build a HTML5 game platform. This game platform was called as Spartan in 2011. This platform was failed and it got flopped because the mobile web standard was not that much powerful to build games. This platform competed with flashy and other downloadable native mobile apps.
Later, developers thought of developing a better graphics with the responsive gameplay from HTML5. In these games, users can't play 3D epics like Infinity Blade on messenger.
Facebook tested the idea for Messenger games by building its own. Facebook's basketball shoot-out game was played nearly 1.2 billion times; this count was more than the company expected. With this response, the company thought that people would play more if Messenger gave them more games. Chat apps like Line and Kakao Talk had already developed the idea of chat game platform.
The HTML games were built on the Messenger platforms, some feel that they are not graphically powerful and they are almost engaging. Gamee, a gaming network found that on average users have played the chat games 34 times a day, which is a total of 21 minutes in 2 sessions in a day. Users played native app games 43 times in a day for 33 minutes in 2.5 sessions a day. Enjoy rides using fun-filled Dectar app.
Compare the level of chat game entertainment with the lack of friction to get started and large end audience is waiting for the Messenger's Instant Games. All these things are part of two prolonged new approaches to gaming by Facebook. Messenger instant games are available on mobile. And on the desktop, the cheap, casual, and social Facebook Gameroom downloadable desktop app is an alternative to the expensive hardcore desktop game platform.
Instant games
The biggest aspect of the instant games is users can start playing immediately; they don't have the hassle of downloading it. Users have to tap on the game controller icon in the messaging threats. They have to choose the game from the list and it will load in seconds. If the user plays the short round, their score will be displayed on the group chat box.
Users can take a screenshot of their high score and they can trash talk with their opponents. They can even share games to the News Feed. Friends can jump to play games from the Facebook's app or website.
Upcoming Facebook's developer ecosystem
As the developers have the ability to build the new inventions, it is the responsibility of the Facebook to give them new offers for making money from it. Now, the instant games don't facilitate ads and they don't allow in-game payments this means that developers might lose their money if they build and send that product for increasing traffic for instant games instead of their own native apps. In the case of the native apps, they can show ads and charge at their own discretion.
Now, the next aim of Facebook is to find ways for the game developers to make money. In this era, there are many possible options and opportunities available for the game developers. They have a chance to thread automatically and challenge the other chat mates.
Users can share games as they enjoy as News Feed. Developers may try to build the heavy target audience and then try to make money later.
While comparing the platforms like iMessage game store, which was buried and it features lackluster games with the Facebook messenger, Facebook's Messenger is offering more thrilling experience. In Kakao Talk, users have to download games like the normal and separate native app, but instant games much differ from the Kakao Talk. It competes with Messenger's Instant Games and it looks like the natural part of the communication experience.
Facebook have to avoid the spam annihilation that has annoyed many users on its previous desktop and social games. One of the developers of Facebook Zynga, abused the viral communication channels to get players for troubling their friends for help. Andrea Vaccari, product manager of Facebook feels that Facebook has learned from their previous mistake. Now, all in-game communication is controlled by the company.
If Facebook tries to use its 1 billion user base to tempt top developers and put games just a few clicks away. They are finding ways to add something on the Facebook Messenger, that's the most addictive thing as chatting with friends.