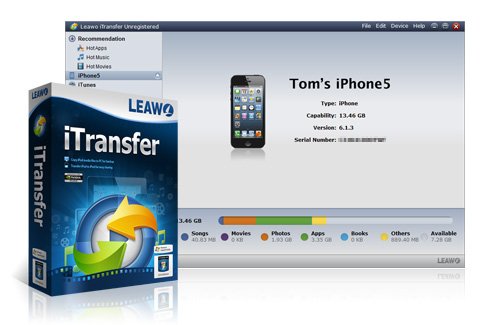 Freebie: Leawo iTransfer Giveaway for Christmas 2013
If you're an iPhone, iPad or iPod user with a Windows PC, check this post out! Christmas 2013 is approaching, and all of the merchants are preparing the Christmas gift for their customers. So are we! Leawo Software is going to give away its best-selling iPhone/iPad/iPod transfer software, Leawo iTransfer, to all customers. Anyone gets tired of iTunes can use this utility to solve the transfer problem you come up with. The giveaway of Leawo iTransfer will start from Dec 10th, 2013 and close at 23:59 of Dec 21st, 2013. When the giveaway starts, people can get the registration code on the official web page of Leawo Christmas Promotion. Leawo Software also provides other excellent gifts for all customers, if you are interested, you can refer to the webpage to have a visit.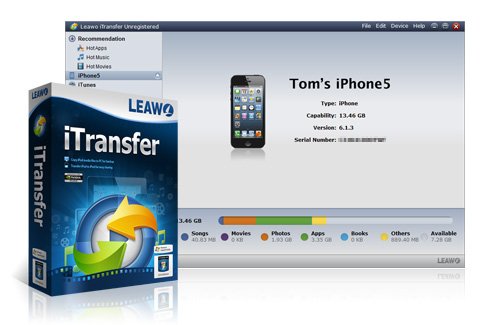 What Is Leawo iTransfer?
As an iPhone user, you may often meet with this situation: You have synced a lot of CD songs from your computer to iPhone with iTunes, but when you want to transfer those songs to your friend's iPad or back those songs up to the computer, the iTunes doesn't allow you to do that. Leawo iTransfer is ready to help. This software is used for transferring files among iPhone, iPad, iPod, iTunes and PCs without the sync of iTunes, and it enables you to transfer the items which are not purchased from iTunes with no efforts.
You sometimes may worry about the backups of your iPhone. The backups occupy much space on your computer, and when you want to restore the songs to your iPhone, you will have to restore other files, too. Leawo iTransfer allows users to backup iPhone, iPad and iPod files in categories, and when you want to restore the certain contents, you can also take advantage of Leawo iTransfer. Anytime you have problems in data transfers of your iPhone, iPad and iPod, Leawo iTransfer will provide help.
Leawo iTransfer is a piece of Windows software, it fully supports Windows 8, Windows 7, Windows XP, Windows 2003, Windows 2000. The software works well with iOS 7, and supports all kinds of iOS devices, including iPhone 5s, iPhone 5c, iPhone 5, iPhone 4S, iPhone 4, iPhone 3GS; iPad Air, iPad 4, iPad 3, iPad 2, iPad 1, iPad mini, iPad mini with Retina Display; iPod touch 5, iPod touch 4.
How Does Leawo iTransfer Work?
You just need to free download the software to your PC before using it. This is a piece of shareware, you can transfer files for free, but you'll have limit in the numbers of the transfers. That's why you'll need the registration code. After registering, you are able to transfer files with ease.
After launching the software on your computer, it will indicate you to connect your iOS device. Plug the iOS device into computer via the USB cable, and the software will recognize your iOS device.
The categories will show up in the left sidebar, you are allowed to transfer apps, music, movies, TV shows, ringtones, ebooks, photos and Camera Roll files. You can choose one category and then the contents will show up in the right part.
If you want to back up iPhone/iPad/iPod files to computer, you only need to click the transfer button at the right bottom of the window and then choose a target folder to save the files.
If you want to add files to your iPhone/iPad/iPod, you can drag and drop the files into the window or click "File" at the upper left corner and then choose "Add > Add File/Folder".
You are also able to manage the playlists of your iOS devices or iTunes with Leawo iTransfer, you can also use your iPhone, iPad or iPod as flash drives.
Leawo iTransfer is easy-to-use and multifunctional, you will benefit from the software when you get stuck with the data transfers of your iOS devices.
How Can We Get Leawo iTransfer for Free
Thanks to Steven from Leawo Software informing me about the Leawo Christmas Promotion, you guys can get this useful software for free. You only need to click "Get Keycode Now" on the web page and then the key code will show up. This is a 10-day giveaway, you guys can get the key code by the end of 21st of December. Go get it and wish you all a Merry Christmas!