EaseUS is always known as a best company for their Data Recovery utilities which come with both free and premium versions. They offer many type of powerful Data recovery solutions, Partition managers, Backup software, Data transfer and other utilities such as Disk copy, CleanGenius for Mac and the list goes on. The Data recovery solutions which they offer are really enough powerful to meet the growing demands of IT market and what more it is so easy to use which means any newbies can also use and recover the data in easy manner.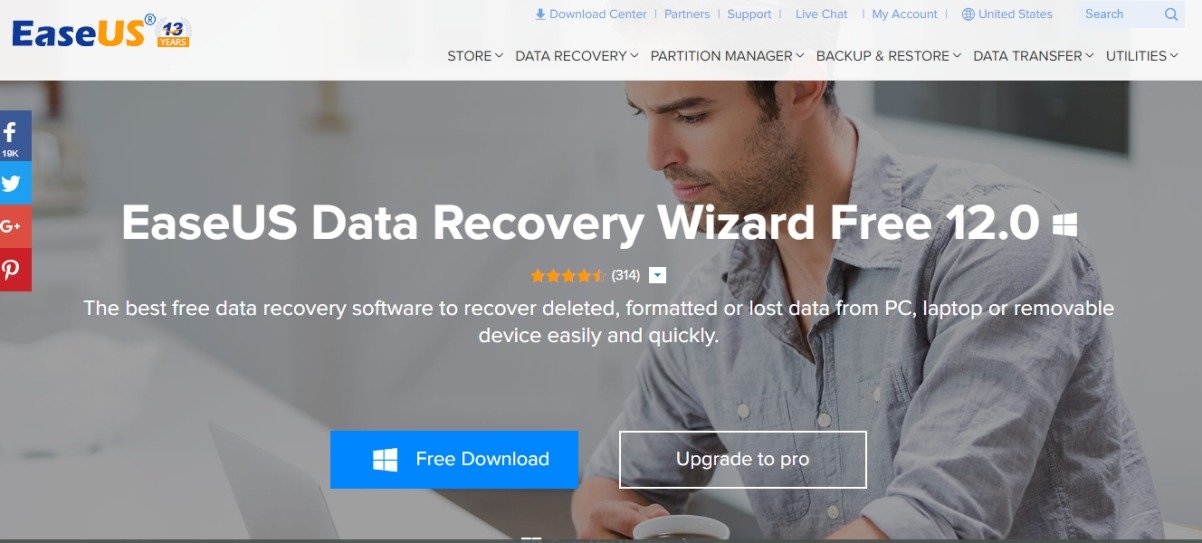 Today, in this article, we are going through the one of the best data recovery software of EaseUS which is known as EaseUS Data Recovery Wizard and it comes with both free and paid versions.
EaseUS Data Recovery Wizard Free is available for both Windows and Mac. It helps to recover the accidentally deleted files and folders. This data recovery wizard can work to recover data from different mediums which are given below:
It can directly retrieve data from the PC hard drive, external hard drive and SSD on your PCs, laptops, or even lost and formatted partitions.
Restore and recover data from Memory cards such as memory stick, SD card, CF card, Micro card and more.
Like the memory cards, it can recover data from the USB drive too.
It can also retrieve data from different gadgets such as camera, smartphones storage, iPod, music and video players etc.
Recover data safely and quickly after virus attack and empty Recycle bin.
EaseUS Data Recovery Wizard Free Installation Process
Step 1: To install this free data recovery software, go to EaseUS website and download it for Windows or Mac.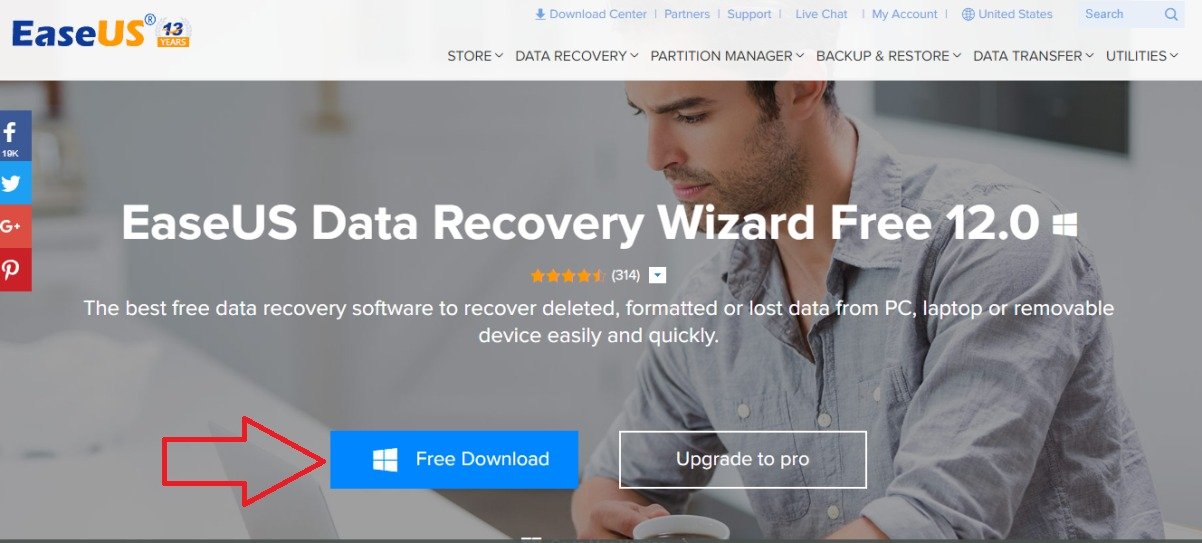 Step 2: After downloading the setup, run the software as administrator and just follow it and the software is ready to recover your files.
EaseUS Data Recovery Wizard Free Hardware Requirements
Operating System
Windows 10/8.1/8/7/Vista/XP

Windows Server 2016

Windows Server 2012

Windows Server 2008

Windows Server 2003

CPU
support at least with x86
Disk Space
32MB minimum space for EaseUS Data Recovery Wizard installing
RAM
Minimum 128MB
Supported File System
FAT (FAT12, FAT16, FAT32)

exFAT

NTFS

NTFS5

ext2

ext3

HFS+
EaseUS Data Recovery Wizard Free Software Features
Quick and Deep Scan
Save Scan Results
Sort by File Type
File preview option
RAID Recovery for server
Corrupted and Deleted Partition Recovery
External Drive, Removable Media, and SD Card Recovery
Deleted/Lost File Recovery due to sudden deletion, formatting, hard drives corruption, virus attack.
Supports and recover all type of common file types such as Word, Excel, Powerpoint, PDF, JPEG, PNG, RAW, Photoshop, Illustrator, MPEG-4, QuickTime, AVI, WMV, Zip, Gzip, RAR, MP3, WAV, AIFF, AAC, Ogg etc.
EaseUS Data Recovery Wizard Free Interface
The interface of EaseUS data recovery tool is really very simple and user friendly and that's another reason, why anybody can use to love this software without any difficulty. As soon as you launch the software the very first window you will see as the given in the below screenshot.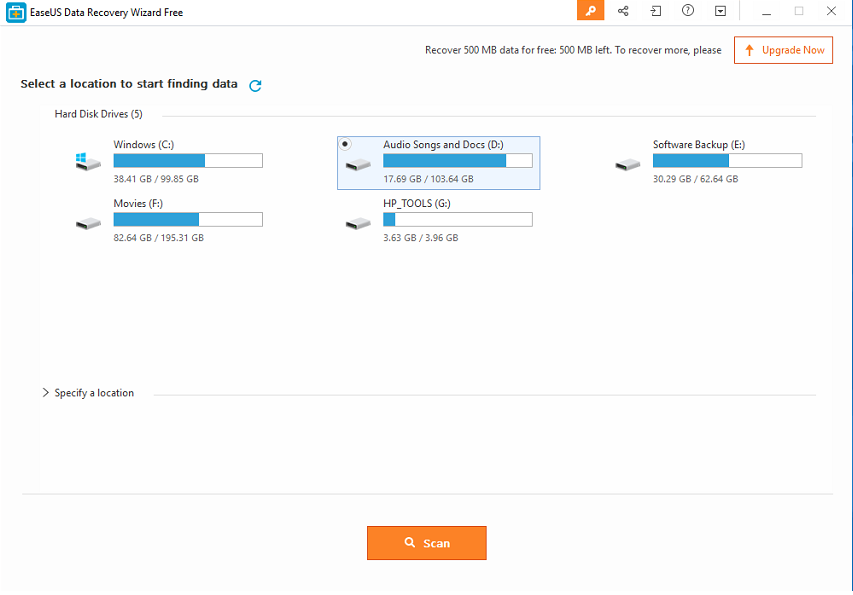 There are no distraction elements on the software interface, all the internal or external drives attached to the computer shows at one place to easily recover the data. Just select the drive and hit the scan button given at the bottom.
How to Scan the drives using the EaseUS data recovery to recover the data
Step 1: Run the recovery software and you will see all attached internal drives including the external USB drives.
Step 2: Select the drive you want to recover.
Step 3: After the selecting the drive, click on Scan button and it moves to scanning window where it performs Quick and Deep scanning to recover the files and folders.
Step 4: To recover the files it mostly performs the Deep Scan. At the left side pan, it shows all the partition, files, and folders in the tree format to easily navigate through the recovered files.
Step 5: Once the Deep Scan completes expand the tree view of files and select what you want to recover.
Also, it has filters which help to find out all files with a particular extension. For example, if you want to recover just a video file with MP4 extension then go to filters panel, select the "Video" filter and check the .mp4 box.
Now, after selecting what you want to recover, the problem is that the data recovery software recovers the file/s are not with the exact name that your file/s use to have. Instead of that, all files recover with a common name such as File 1, File 2 and so on which becomes a big challenge to know which file you want to recover and to solve that EaseUS data recovery has a file preview option. Before recovering the files, you can have the preview of the same as shown in the screenshot.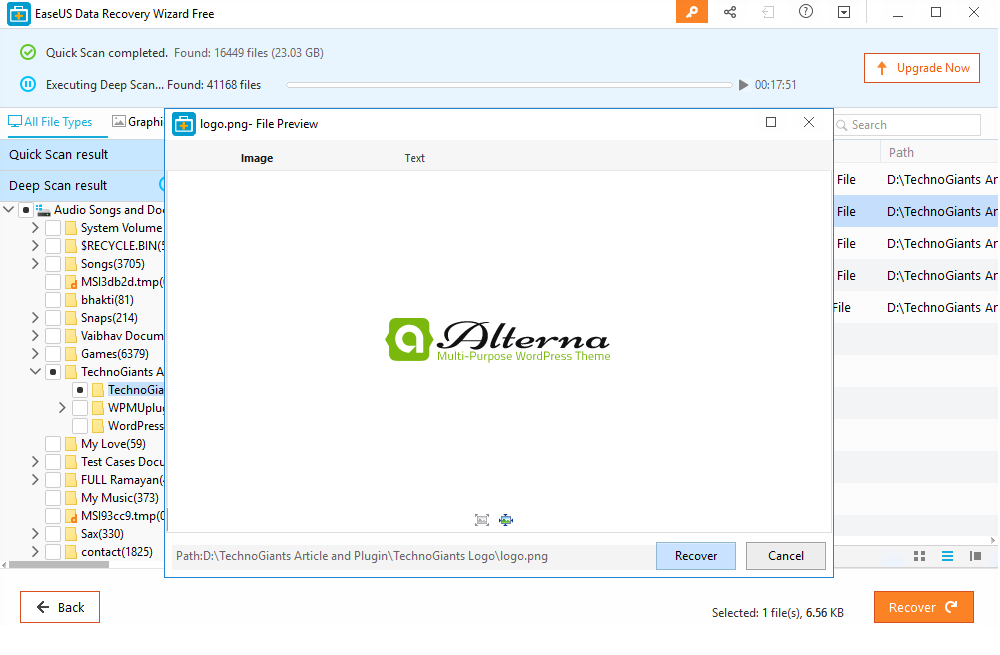 You can also go through the Step by Step guide given on the website of EaseUS on how to Recover deleted files & folders from Hard Drive.
Unlike other data recovery tools, you don't need to scan the full hard drive to deal with the unmounted / deleted partitions. The software automatically pulls the information from the partition table and display them too.
Last Words!!!
The EaseUS scan algorithm is quick, even the deep scan took only 60 seconds to recover data around 160MB which is better than any other data recovery software. The free version of this simple file recovery software recovers only 2 GB data out of which 500MB comes with software and 1.5GB  you will get after sharing the software on social media.
If you want to recover more than 2GB you need to upgrade the software. By the way providing a free version of their paid data recovery application is a big benefit to the IT professional and other users to test it before buying its paid version.