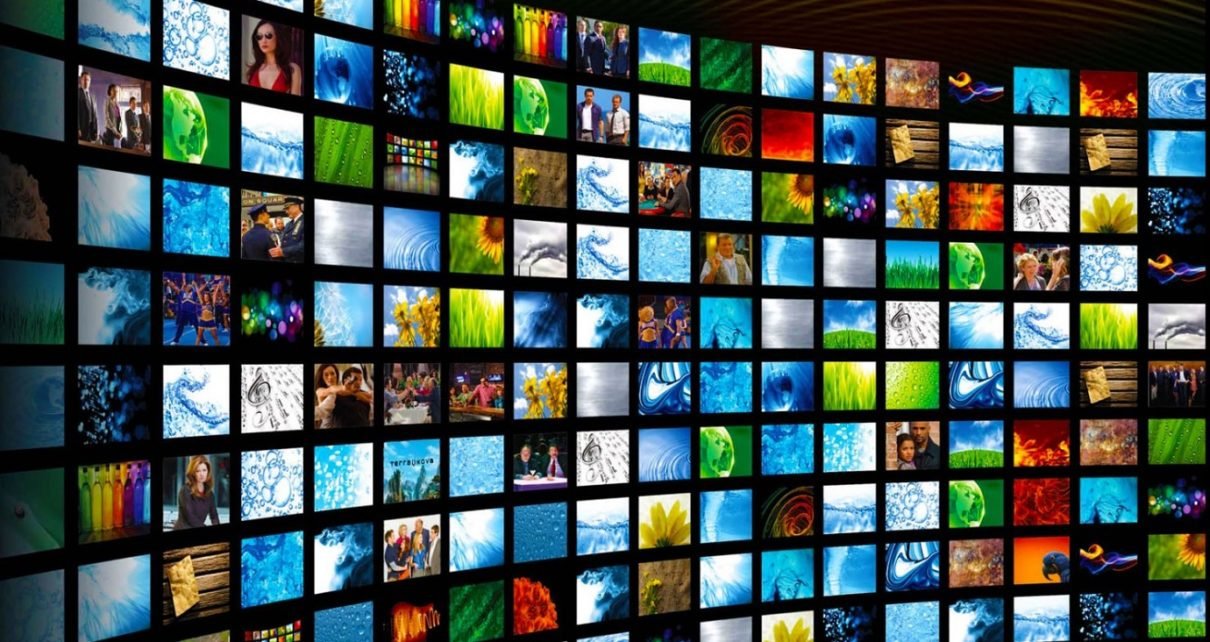 How to succeed with video on demand business: Marketing and Beyond
Video-on-demand is a competitive world, but the market still contains plenty of opportunities for new players to strategize their efforts and succeed. Once you have enough comprehension about how to start video-on-demand business, the next big thing is driving traffic to your platform and making money from it, and all of this requires marketing.
The extreme focus on content often overshadows the marketing needs. We don't say, content is a less important requirement, but marketing is something that shouldn't be withheld for later. It's a necessity, and you should focus on it right from the development phase of your platform. Consequently, the video-on-demand software solution you use on your platform also makes a crucial asset to enhance your prospects for marketing.
Entertainment, in general, is demanding by nature, but it needs much more effort in marketing. It requires proper targeting of the right audience at the right time. There is no easy way out, but enhancing your marketing game would help.
Nevertheless, here are some marketing tips that work well for most of the video-on-demand businesses. These will surely add to your fame and help you to boost the number of paying users on your platform.
Marketing Tips For Most Of The Video-On-Demand Businesses
1. Niche Targeting
A niche is a section of the market focused on certain services and relevant audience segments. Instead of becoming a jack-of-all, you must focus on becoming a master-in-a-niche. If you are still looking for answers on how to start video on demand business, it's the right time to find your niche market. However, if you have already started out with content production, produce for a micro-niche, which no one has targeted yet.
The right strategy for marketing would be presenting yourself as a niche Video-on-demand (VOD) platform for a specific type of content. Otherwise, it's not easy to compete with the likes of YouTube, Netflix, Amazon Prime, Disney+, HBO Go, and Hulu, if you are thinking about becoming a jack-of-most like them.
Picking a niche will automatically reduce the amount of effort you need to put in. You will have a clearer path and an explicit target audience to shower your marketing communique.
2. Search Engine Optimization
Optimizing your video-on-demand (VOD) platform for search engines is the efficient and affordable way to become popular on the internet. You want your target audience to know about your content catalog. Hence, your content must appear on the top of the search results when users search for the kind of videos you host. Just take the Google search result shown below for instance:
The particular search that I made for the keyword "Watch Interstellar" gives out two types of results. One is a direct suggestion of the platforms where you can watch the movie, and the other is the webpages of video from different websites based on how they have categorized the movie on their platforms.
Optimizing your VOD platform will require extensive competition research and relevant keywords to target. You need to come up with both types of search results to acquire maximum visibility. You can do this by optimizing your individual videos for metadata, making the video sitemap, tagging video files and webpages with relevant keywords, and creating rich snippets with thumbnails, etc.
3. Create offline brand campaigns
Create partnerships with other similar brands in your industry to present your platform to a broader audience. By collaborating with brands in a similar niche, you will be covering both sets of audiences, which in turn will increase your reach.
One of the ways could be collaborating with studios and production houses for content. Studios and producers already market their movies aggressively. A pre-release collaboration with them will include the marketing of their streaming partners as well. In this way, you would use their brand image and audience for your own promotion without any extra effort.
Take movie release promotions for instance. Studios undertake massive online and offline promotional campaigns weeks before release in theaters. Moreover, they also give reveal all their media partners in their credits as well. Showing up as a streaming partner will let the audience know where to find the movie after the theaters.
This is just one example. There could be N number of other ways to promote your platform off the internet with collaborations and sponsorships to other brands. Start identifying the opportunities to place your brand in such relevant spaces.
4. Provide social proof
Social media marketing is probably the most important channel for your platform. The fact that Netflix, Amazon Prime, HBO Go, and all popular VOD platforms are aggressively active on Facebook, Twitter, and Instagram, proves the same. Offering a social presence today is not just a way to market your business but also a more competent way to create user experiences and support your paying customers.
The best part is none of the Video-on-demand (VOD) platforms use their social media handles for promotions. Instead, they do what a general Facebook, Instagram, or Twitter does on social networks- they have fun and make connections. They post status updates, create memes, reply to comments, comment on other users, as every other social media user does. Take Netflix's Instagram handle for instance. Do you find it promotional by any chance?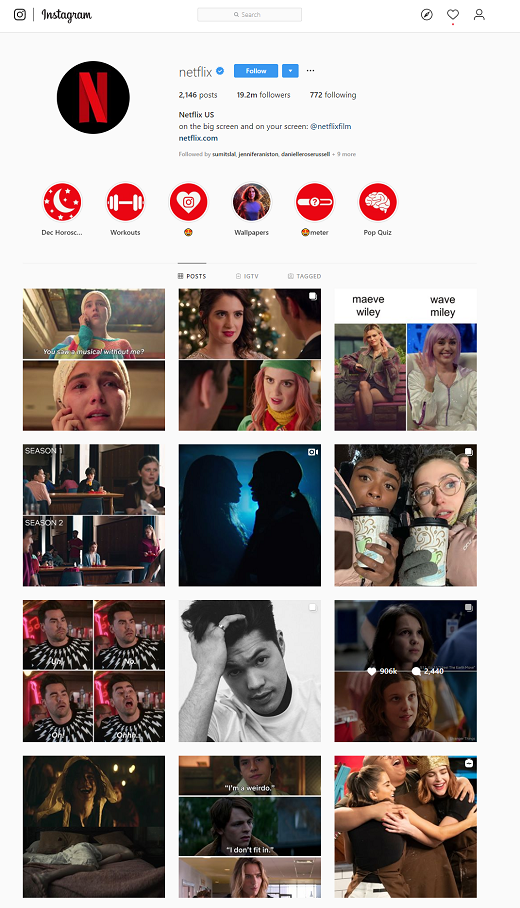 With all these memes and interesting posts, they are not different from any common social media user.  They not only keep their followers engaged but also engage with them by replying to the comments.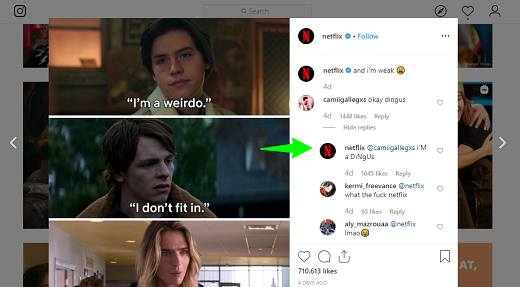 Using social media as its is could not only help you create positive client experiences but you also promote your content through typical social media formats such as memes. An active presence on social media is no more marketing gimmick but an obvious activity everyone expects from a brand. It helps your potential customers to instill confidence in your brand and make decisions to pay for your premium plans. Of course, you should also use sponsored social media Ads in collation to regular activities.
5. Free trials, of course
Offering free trials is of the most effective ways to gain word-of-mount popularity. Through trials, people get to know about your premium services and develop superior expectations from the brand. Besides, they talk about the trial in their circle and encourage others to try it. This is one of the phases of free trials.
On the other side, the trial sign-ups streamline email addresses and personal information of some highly interested audiences, which you can use strategically to call back users in the premium category once they are done with the trial period. Users can be skeptical about spending their hard-earned money on anything before trying it out. A free trial can help to break the ice.
So, start giving out free trials today. You should learn from Netflix if you have any doubts. Everyone knows about Netflix's free trial.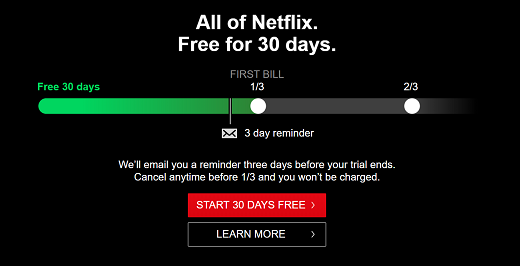 The best thing about Netflix's trial is it allows users to try out any of the packs. Hence, it gives a free taste of even its most expensive plans, which directly inspire users to continue with the same after the trial. It's a way to upsell.
6. Use the email list for marketing to the customers
Now that you have a well-targeted and quality email list through the free trial, use the data to create email campaigns. This list will help you to keep in touch with your existing customers and previous subscribers. Email to your trial customers and let them know about special pricing or offers you run occasionally. Keep them aware of the new content on the platform. Once you get them to know about your offers and content, it is easier to convert them back on the platform.
7. Respond and Reward Loyal Customers
Focusing on new conversions doesn't mean you should forget about your current customers. These people are loyal to your brand, and that's why they expect something in return. Always recognize feedback, regardless of good or bad. Quality customer support is the best marketing tactic any brand can adopt. If they trust your customer support, they trust your brand and do not hesitate to pay for your services.
So, first, create as many channels to receive customers' feedback, and then engage actively on all of them. Be it social media, email, or phone, take time to address client issues and thank your users for their input. Reward your loyal customers to appreciate their inputs. Even small rewards can help to get people talking and believe in your brand.
8. Affiliate programs
Affiliate programs are great if you are developing an alternative to advertising. Typically, advertising can be expensive, and you may admittedly lose your money if you don't demonstrate the right expertise. Affiliate programs will help to promote your services using affiliate elevations for a predetermined commission. Carefully choose people with some good social media followings and influence on your target segment. You can draw a huge potential reach by merely letting these people make affiliate money from your program. Many video-on-demand businesses, both small and large, take advantage of affiliate programs to promote their services among the masses.
You can run your own affiliate from your platform
To run your own affiliate programs, you have to either create or subscribe to an affiliate tool like Affiliate pro and have a marketing team to bring in, recruit, and handle affiliates. This improves your management overheads and gives you adequate control of whom you collaborate with and how your affiliates showcase your brand to their target audience.
Reviewers and bloggers are an important addition in affiliate marketing as more focus is on content-based marketing these days. In addition, one of the most significant aspects is the commission structure you offer. You also must come up with the right structure that looks compelling to affiliates. If you have a subscription video on the demand-based website, it is recommended to offer higher commissions for the first month's sales and cut it down from the next month onwards.
In a recurring VOD model, the idea is to retain customers over a longer duration and make a steady revenue from the same even if you offer up to 100% commissions for affiliate programs for the first month.
Connect with affiliate networks to run your affiliate programs
You can reach out to plenty of affiliate networks out there that can help you create and scale your affiliate program. All you must do is to sign up with them to agree to their commission structures. Reaching out to affiliate networks is an easy way to launch your affiliate programs.
9. Take Advantage of Data and Analytics
When you run multiple campaigns, there must be proper tracking and management of traffic-related information that reached your VOD platform. A good analytical tool tracks and gives the right data, reports, and insights on the performance of your campaigns including revenue conversions and goals that helps you to optimize your campaigns. Where your audience comes from, who they are, and what they watch on your platform, all are good analytical tracks. You can also integrate analytics with your regular email, push marketing tools, and utilize a consolidated report to make better decisions.
One good example of an analytic tool is Google Analytics, which is free of cost. However, we suggest using some premium Analytics tools as well. To name a few, KISS metrics, Crazy Egg., Click tale, Moz SEO tool, and SEMrush, etc.
10. Search Engine Marketing
SEO is important but SEM is even important, especially for a new brand. In the beginning, when SEO does not help much, paid search engine promotions become an extremely useful alternative. When customers search for content, you can grab their attention by placing your Ads in the search results. When it comes to marketing with search engines, there are two main ways- PPC and search engine optimization. We talked about SEO already. Let's see how PPC helps.
11. PPC
Search engines like Google offer a paid Ad placement in the search results so that you get your services noticed when people search for services like yours. The best part is you will only have to pay when someone clicks on the Ads and visits your website. Display Ad campaigns are also available where you pay-per-impression or per-click while your Ad is displayed on websites you select across the Internet within your Ad Network.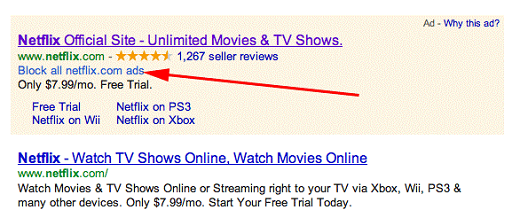 So yes. You should leverage PPC on both search engine Ads and Display Ads on other websites too. Besides Google's Ad network, there are N numbers of other Ad Networks you can use to get the best results out of every kind of paid promotional activity. The best way would be promoting your Display Ads on other video-on-demand and social media platforms.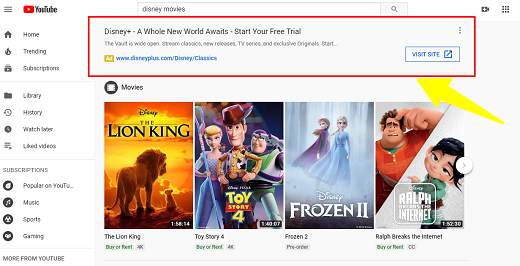 Conclusion
There are several effective tools available online that you can utilize to create a working strategy that works best for your video-on-demand platform. As with any other business, marketing is a critical element for VOD as well. Once your marketing efforts start reaping results, don't just sit back expecting it to work all the time. You should reinvent your marketing strategies over time with every big update and trend. Even the best marketers and cutting-edge video on demand software solutions can't get everything right the first time. Through proper research, data, analytics, experiments, and learning, you will be successful in making the right decisions eventually.