Winter, for many, is the time of year for family, fun, and travel. Unfortunately, it's also the time of year when—due to the earlier evenings, need for holiday money or gifts, and rise in houses left empty—home break-ins tend to peak.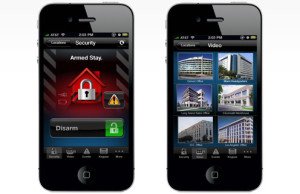 But the tech-savvy resident need not worry. Though security systems are always the best protection against burglary, if you have a smartphone, you're closer than you think to full-proof home and personal protection.
Alarm.com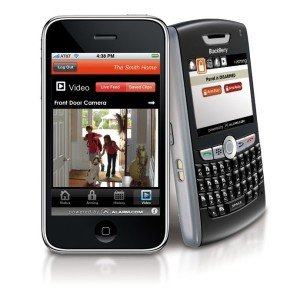 By connecting to your existing home security system—such as ADT—Alarm.com's app allows users to monitor and control their home from the convenience of their phone. Once the app is downloaded, users get real-time alerts on their phone any time they are away from home and movement is spotted or a security breach is detected. Other benefits include managing your energy use, video streaming on your phone of footage spotted in your home video cameras, and wireless interaction with your home security system—all on the go, for free. A compatible security system and phone are the only necessities.
Presence
Some of us have old iPods, iPads, or smartphones sitting around. Instead of letting these products wilt, utilize their WiFi/video function with Presence. By turning your spare iPod or smartphone into a video camera that can be set up in your home, Presence allows you to connect the device to the one you carry on the go. It captures video and audio feeds, triggers alarms, and presents a new way to look at your old devices.
iSentry
Looking for cheap but effective home surveillance? Download iSentry and turn your home computer's web camera into a surveillance system. Simply point your camera toward the area you'd like to monitor, and when there is motion the app immediately notifies you by phone. Snap photos from the video stream or get live video feed, too. iSentry works well with any web camera.
WICKR
These days, it's important not to over-share, especially when it comes to your whereabouts. If you're out of town, on the go, or leaving your home empty and need to relay important information to others, consider downloading WICKR. Made by a team of security and privacy experts, WICKR sends self-destructing messages to other WICKR users anywhere in the world, leaving no trace. This super secretive app allows the sender to control the message by deciding who sees it, where, and its duration. It has military-grade encryption and deletes metadata while being fully integrated to send PDFs and images from Box, Dropbox, and Google Drive.
WISeID
Similarly, WISeID provides convenience, ease of use, and encrypted storage for all your iPhone data. Safely store encrypted data such as passwords, PIN numbers, credit and loyalty cards, photos, important notes, and other data on your iPhone only so your data is always available…right at your fingertips. Even more incredibly, it gives you the option of face recognition, dot pattern, and password authentication sure to make you feel protected.
About Author: Andrea Fisher is a writer, blogger, and content specialist for Choose Home Security. She has been published in a variety of publications, including the Chicago Tribune and Business Insider. Check out more of her tips on Google+.