5 Live Chat Features That Boost Your E-Commerce Store
When it comes to e-commerce, there is no doubt that customer experience is of the greatest significance. Customers nowadays require highly efficient and informative service from business owners, which means they want to get what exactly they wish to know in a timely manner. It will be a plus if your website surprises customers in one way or another.
Comm100 Live Chat, a professional live support tool for [p2p type="slug" value="build-ecommerce-website-15-minutes"]e-commerce websites[/p2p], is a perfect solution to improve customer satisfaction and thus to boost your sales. Besides real time chatting with your website visitors, here are 5 features you will find really helpful.
Full Customization
Comm100 Live Chat has a bunch of features in it and every feature is customizable so that it can go well with your website style. For example, you can decide where and when to show the chat window, what background color and picture to be used for the chat window, as well as the maximum customers one operator handles at a time, based on your business needs. Chances are some of your customers might be amazed by your design and willing to make purchases with you.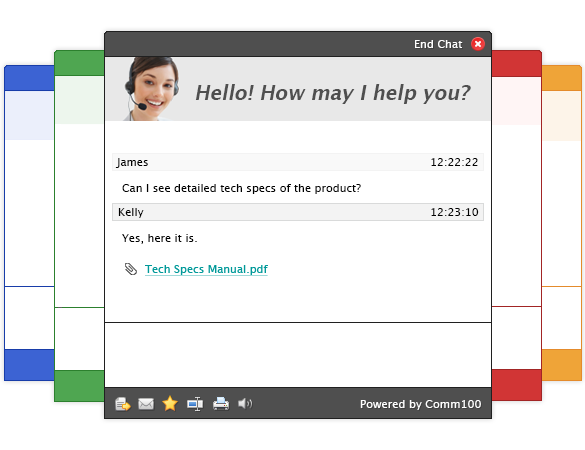 Instant Notification
As an extension of your customer service, a chat tool loses its sense if you do not know your customers' activities on your web pages. Comm100 Live Chat offers business owners and webmasters like you an instant notification whenever a visitor lands on any of your web page with Comm100 Live Chat installed.
For each event type, Comm100 Live Chat configures a specific sound to notify operators. For example, a distinctive knocking sound occurs whenever someone lands on a webpage, and a ringing sound happens whenever someone requests a chat session.
This enables you to never lose one single request from your customers and give them appropriate feedback in time, which surely improves customer satisfaction.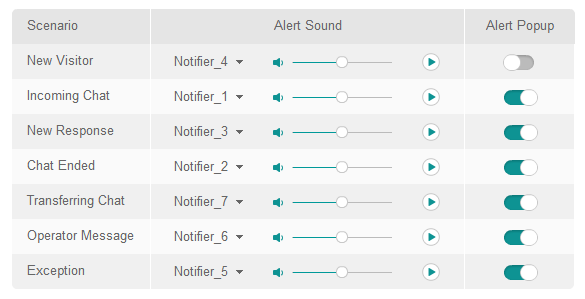 Typing Indicator
I am truly amazed by this little feature in Comm100 Live Chat. It allows you to read your customers' mind and get ready to answer their questions.
You may argue that operators have no time to stare at the chat window only to see what the customer is going to say next because each and every operator has to chat with multiple [p2p type="slug" value="steps-turn-visitors-buyers"]visitors[/p2p] at the same time. That makes some sense.
But ask yourself a simple question: do you allocate time equally to every visitor? Just imagine that you are chatting with a hesitant customer. You really need to pay more attention to what the customer is worrying about and give him the right answer that can push him forward. This feature is specifically designed for you to seize every potential sales opportunity that lies in hesitant customers. Precise knowledge of your customer leads to victory.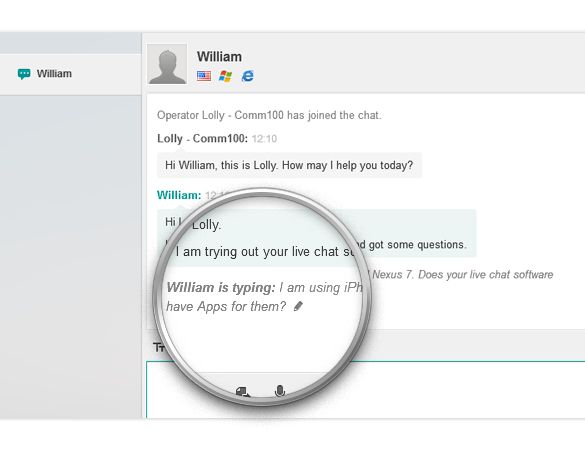 Mobile Access
This is a mobile world. More and more people are prone to buy things through their [p2p type="slug" value="made-mobile-devices-cloud-computing"]mobile devices[/p2p] such as smart phones and tablets. Therefore, you are really not able to tell when and where customers might need your help. They can send you an invitation for chat during the morning commute, in the middle of class, in the dentist's waiting room, while out fishing, or anytime and anywhere with wireless Internet access.
Fortunately, Comm100 is aware of that. For operators, there are easy-to-use apps for both iOS and Android; and for visitors, the chat button and the chat window will switch to a mobile version with optimal user experience when opened on a mobile device. By doing so, Comm100 Live Chat enables on-the-go business and ensures every single possible sales opportunity.
Performance Reports
Reports are statistical summaries and graphic presentations of your live chat data regarding chats, auto invitations, search engines, keywords, ratings, operators' status and performance. Through analyzing the reports generated in different periods of time, you can evaluate your customer service and identify the areas that need improvement.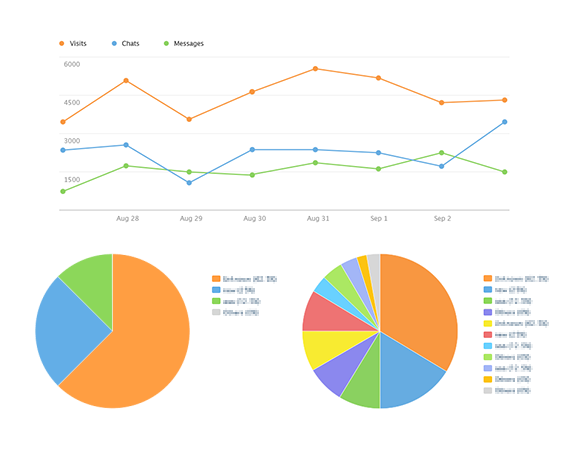 Features are important. High availability is fundamental. Comm100 recently releases a patent pending new technology called MaximumOn, which makes it possible for Comm100 Live Chat to achieve 100% uptime. With this technology, Comm100 Live Chat is deployed in two separate data centers. When one data center is down, the other will automatically take over without affecting any ongoing chats. This way, your live chat system can survive from all kinds of server failures and keep working for you and your customers.
Combining powerful features with high availability, Comm100 Live Chat is a must-have for your e-commerce website. With the implementation of Comm100 Live Chat, you not only have a tool to provide real time support for your customers, but also get the ability to identify the most promising prospects and have them converted. Learn more about what Comm100 Live Chat can do for your e-commerce store at: http://www.comm100.com/livechat/.