January 1, 2020, brought with it the start of a year that brought many atrocities with it, whether it be the Australian bush fires, earthquake at Cayman Trough, or the shooting down of Ukrainian Jetliner, all under the massive epidemic of Covid-19.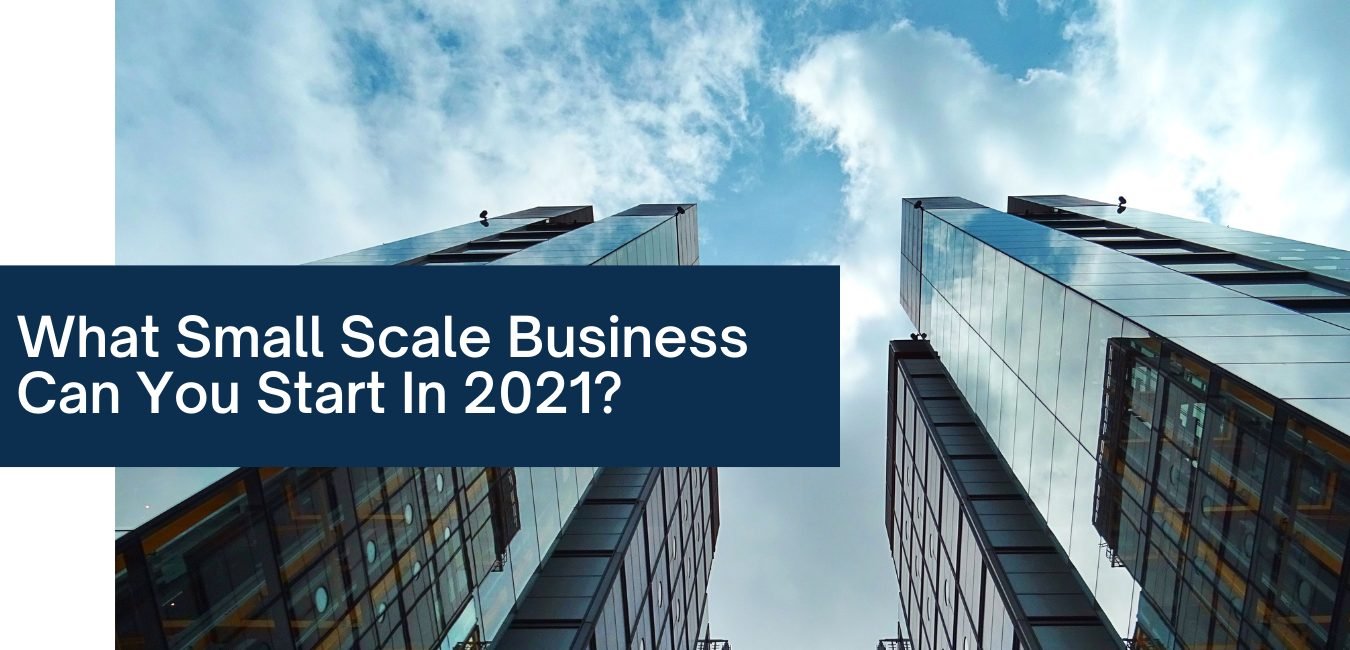 Every calamity proved as great damage to every human being whether it be financially or emotionally. Everyone lost their loved ones in this awestruck pandemic attack in 2020.
As we mark the beginning of 2021, we search for various small-scale business search options to get a side business on hold, whether it be a big business or a small business. Everyone wants to get financially stable and somehow wants to support their country in these hard times of economic downfall.
Small-Scale Business ideas to start in 2021
Every small-scale business requires investment whether small or big, but merely investing in a business won't give you the exact profit you need, you should be ready to invest your hard work as well. You got the investment you need and you are ready to put in your hard work as well, now the next topic of concern that arises is where you should invest your money and hard work into?
Look upon some amazing small-scale businesses as we list them below and choose what option should you choose for improving your financial position.
1. Consultant
If you are knowledgeable about a specific topic(whether it be Business, finance, human resource, career guidance, data marketing, etc.) and you can guide others on that topic, then you can choose a consultant as a small-scale business for boosting your incomes. If your consulting business achieves some heights and hype then you can call upon other consultants to join your small-scale business and, in this way, you can expand your small-scale business to progressible heights.
2. App Developer
If you have an interest in Technology and have an active hand in the coding profile, then you may want to consider app Developer as a career option in the coming year. Every person today has a smartphone at reach, but the apps nowadays are mostly useless and just time consuming with no factor of audience gaining. If you have the right knowledge then you can become a successful app developer and outperform others in the same field.
3. Freelance Content writer
If you are a natural wordsmith and have inculcated some knowledge about topics related to business then you can work on the job of a freelance content writer. A Freelance Content Writer can charge up to 50-60$ for one hour of work and you can increase your charge by just adding some SEO tips and presenting them on their table. Some content writers get paid more if they are writing content about something similar to business-related topics.
Content writing is a small-scale business that you can continue as long as you have a stable internet connection at hand with you. You can even work from the comfort of your home without any significant loss to the client because they will be getting the content every moment.
4. Online Teaching
Wanted to be a teacher and failed because of the covid-19 pandemic?
Don't worry this might be your best chance in starting your own Small-Scale Business, and teaching a bunch of people online, and generating a decent revenue. Studies are also being done online; this has opened up new paths for entrepreneurs to start their new ventures. If you are having zero knowledge about some course you can still teach English to a bunch of groups online.
5. Online reseller
Those passionate about clothing or sales might look upon opening an online reseller as Small-Scale Business, if not opening a small-scale business they can sell off their unwanted clothing on some already available websites. After the person's achievement, they can open a new website for themselves. But this work requires a lot of hard work, keeping yourself up to date with the new trends in fashion as well as to knowledge about how much price the other reseller website is selling their stuff on.
6. Transcription service
A transcription service is a service that converts speech (live or recorded) into a text or electronic document. Transcription services are used at a variety of points like at medical institutions or legal and business uses. If you don't want to start all at once or if you have a day job that you want to pay attention to for a while then you can take as many or few transcription orders as you may like.
You can even charge higher for transcription Small Scale Business by getting yourself certified and then delving into a few more opportunities. A common example of transcription is the proceedings of a court hearing.
7. Digital marketing
If you enjoy making strategies and drafting out plans then digital marketing could be the right choice for you. The internet today is full of clutter waste and it is difficult for a company to market themselves on the right platform and at the right time. For this many companies hire data marketing business companies for marketing their businesses and lessen up the burden on them.
Digital marketing requires a lot of effort put in, but if you are having someone perfect for SEO, someone perfect for managing the content flow, and someone to do marketing for other small-scale businesses then digital marketing is surely your hit for online business.
8. Graphic designer
Posters, banners, ad pops, flyers all come under graphic designing, every small or big business needs or wants to do digital marketing but not every company can get some catchy eye-pleasing logos or banners. For this, they contact a graphic designer who makes some eye pleasing logos with a mixed pattern of color outflow for their ad-banner promotions.
If you have got artistic taste and you know how to organize content through visually appealing colors then graphic designing is your hit. Graphic designing does not require some fancy tools, it just requires some physical tools and a laptop.
Conclusion
Although there are many great small-scale businesses plans outside, the best ones in 2021 will be mostly online and you don't need something indefinite to start your small-scale business, what's required is just sheer hard work and understanding the demands and fulfilling it. Which of these business ideas are you looking to start in 2021? Share your answer in the comments below!