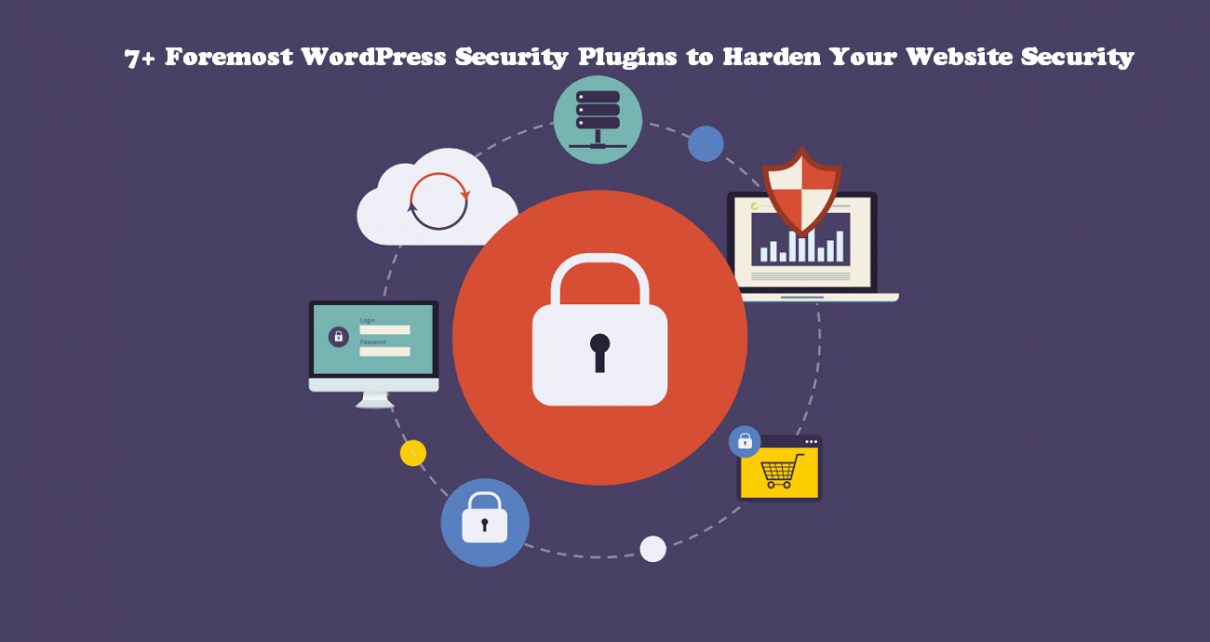 7+ Foremost WordPress Security Plugins to Harden Your Website Security
If you are aware of the digital world, then you know that there are great security threats for websites. Since the WordPress development has great customization and utilization that supports great security plugins. It can complicate selecting the best plugins and is difficult for people as there are so many in the collection.
As we all know that WordPress is one of the most targeted CMS in the world because it is the most commonly use. Hackers and malware infections can destroy your online business any time by stealing sensitive information and damaging your reputation.
But with the use of security plugin, you can protect your website from hackers, malwares, and brute force attacks.
Why should you use the WordPress Security Plugin?
There are innumerable online threats that can compromise data and lead to vulnerabilities. What can this security breach do?
Hackers can steal the data of your customers and users
A hacked website can distribute malicious code to other websites
There are chances you can lose data, access to website, or get locked out of the website permanently
The website can be defaced or destroyed, which will affect your brand reputation and SEO rankings
What Are the Best WordPress Security Plugins?
So which WordPress security plugin offers you the best WordPress protection for your WordPress website? Let's take a peek at the list of some of the best WordPress Security Plugins that can keep the Website safe from intruders.
1. MalCare 
It is a top comprehensive WordPress security plugin that is revolutionary. This helps in getting  into the depth of a server-level scan with no risks and server load on the website. Some key points of this plugin are:
Scans compete WordPress malware
It has a powerful login protection and web application firewall
Multiple website management is easy as it has single dashboard
It provides White-labeling solution
Monitors performance and uptime
It has a single and comprehensive dashboard
Facility to integrate backups and restore data
Schedule and custom reporting
Supports team management and collaboration
Easy measures for website hardening
It performs instant malicious script removal
 2. Sucuri Security
This plugin is available as free or paid versions for the users. It has a blacklist monitoring, security hardening, file integrity monitoring, and security notifications. Some features that makes this plugin unique from the crowd are:
You get multiple variation of the SSL Certificates which may cost you a bit in the package
Customers can contact the service providers instantly using the chat and email
It sends notifications when there is a threat to website
Developers can add the Advanced DDoS protection using various available plans
Some valuable tools for malware scanning, security hardening, blacklist monitoring, and file integrity monitoring are free of cost with this plugin
3. WordFence Plugin
It is a popular WordPress security plugin that is used to protect the website from online attack or recover from the online threat. Some sections of the website data where this plugin comes handy are:
Provides protection to the exposed passwords during data leaks
It performs monitoring in the real-time and provides analysis
Blocks malicious or suspicious traffic automatically
Supports two-factor authentication to add an extra layer of protection
Monitor's the changes in source code to identify and reverse the malicious file edits
The premium version of this plugin includes real-time updates of the firewall rules, malware signatures, and IP block lists. WordPress Development process becomes simple as users have access to the improved services through a premium account.
4. iThemes Security Pro WordPress Plugin
This focuses on recognizing the vulnerabilities of plugins, weak password combination, and obsolete software. The Pro version of this plugin supports strong password enforcement, database backup, two-factor authentication, and locking out intruders. Unique features of this plugin are:
It has powerful password enforcement
It performs plugin scans and 404 detection
Two-factor authentication
Owner can schedule the WordPress backups
Blocks any suspicious IP to avoid giving them access to your data
Regular Email notifications about any updates on the website
Limits the user-login attempts
It can perform website firewall or malware scan
5. All In One WordPress Security and Firewall
It has an easy interface with great customer support which is available free of cost. It secures the user accounts by blocking any forceful attempts to login and improves the user registration process. You can reach a WordPress Development Company to take benefits if some essential features that come with this plugin are:
Scans for any malicious pattern on the website
Adds IP filters to block people and geographical locations with suspicious behavior
Owner can add limitation on login attempts
Maintains a list of blocked users to let owner to unlock individuals if required
The password tool helps in generating strong passwords for users
Monitors user account
Allows manually blacklist any IP address
6. Google Authenticator
It has two-factor authentication to keep the website data safe from the online intruders. Some add-on features that makes it a superb choice for WordPress development:
Adds extra layer of security during login
Simple interface which makes it easy-to-use
Owners can decide the type of two-factor authentication
7. Jetpack WordPress plugin
This plugin has significant features to support website security. It has modules to add strength into your social network, website speed, and spam protection. Some key points to explore about this plugin before starting the WordPress Development are:
Even the free plan offers basic security features that are suitable for small-scale websites.
If you have the premium plans, they provide full support and better protection
It handles the updates related to plugin through the Jetpack
It gives option to monitor the downtime
It has interesting features for social media, email marketing, optimization, and website customization.
Bonus:- WordPress Security Scan Plugin
It takes a unique approach to maintain a secure platform as it focuses on the manually curated vulnerability database which are updates by the security experts regularly. Things that should be consider before integrating this plugin are:
It uses constantly updated vulnerabilities database
WordPress Development Company has the option to integrate free or paid version as per website's requirements
Performs additional security check-ups
Provides choice to send email notification whenever a vulnerability is detected.
One can schedule the website scan conveniently
Summing it up!
You are now aware of some of the best plugins that should be integrated during the WordPress Development to gain users trust. Some additional tips to harden your website security are:
Keep your WordPress website updates to get patches for new vulnerabilities
Install the plugin updates whenever they are available
Research about every plugin before adding them on the website, as they can be malicious sometimes
Keep a strong username as an administrator that is difficult to catch through the brute-force attack.
Use a strong password and all limitations on failed login attempts. Use tools to convince users in keeping strong, random, and log passwords for their account.
A WordPress Development Company can effortlessly help in managing the plugins and improve the website security.