AdWords Express: A Fresh Look at the Easy Way to Advertise on Google
As a business owner, you've surely heard of Google AdWords – it is the cornerstone of search engine marketing (or SEM), allowing you to bid on advertising space for certain keywords that appear in the sponsored portion of Google results pages. You probably have a campaign going right now, passively meeting your budget each month. You might even be a bit of an AdWords ninja, fluent in using the bulk upload and automated rules features to control complicated campaigns down to the letter. I tip my hat to you, marketing ninja.
But for the rest of us, who are busy running a business or just don't have the time to study up on the intricacies of Google AdWords, there is a simpler option: AdWords Express.
AdWords Express was introduced in 2011, and targets business owners who don't understand the full tool and/or can't afford to pay an agency to run a complicated campaign for them. It was designed from the beginning to be a powerful but simple tool; the tagline, "the easiest way to advertise on Google," emphasizes this. It's perfect for local businesses that want to invest in search marketing but are constricted by a lack of time and a small advertising budget – 43% of searches are local and with the popularity of mobile devices, that number will just keep on growing.
When they introduced AdWords Express, Google released a cute stop motion commercial about the new tool. In the commercial, a small and adorably animated local business, the Tabletop Bakery, faces competition on all sides from shiny, fresh out-of-the-box chains and superstores. Facing the loss of all their business, they have the bright idea to advertise on Google. They use AdWords Express, and presto! – business is booming. That was easy!
The emphasis is certainly on ease of use; Google even sums up the entire process in just three steps: 1) People search on Google (close to your geographic location); 2) They see your ad (you stand out with a blue pin instead of a red one); 3) You get more customers. They even have a handy chart to explain how AdWords Express differs from the original AdWords: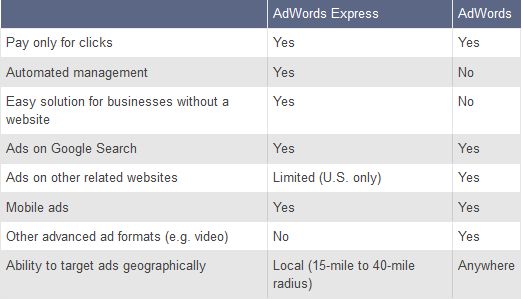 Can it really be that easy? Just in case you're wondering exactly how real businesses use this tool, Google has an answer to that, too. A series of videos on YouTube, AdWords Express Stories, consists of interviews with real business owners who explain how they use the tool, from how they promote their sales to how they connect with their customers.
Of course, as with any paid tool designed to make your life easier, there are a few downsides. HubSpot's Dan Slagen explains that the same features that make the tool easier are exactly its downsides. By taking away features and functionality for this stripped-down version of AdWords, Google is also, well, taking away features and functionality. Therefore, you have less control on how you target your ads, how you automate them, and how you control where your money actually goes. All the naysayers agree that AdWords Express is certainly not for someone with any exposure to real search engine marketing or who knows what a negative keyword list is. It all comes down to how you rank efficiency and price among your priorities. If you're desperate, it will get the job done.
Still, for some people, AdWords Express is a major boon: it has helped level the playing field and has given small local businesses with miniscule advertising budgets the opportunity to appear beside and compete with larger chains in the search. You can use it to advertise your business even if you don't have a website, by directing the traffic to your Google+ account or giving potential customers a click-to-call button, which can be great for a small town Chinese buffet with little technical know-how or a business reluctant to leave behind traditional advertising and trudge into new territory. But thinking that AdWords Express can completely replace a long-term search engine marketing strategy is a mistake that will cost you in the long run, and it definitely won't fit every situation.
Still, Google has been putting a lot of work into the tool as of late. A recent post on the AdWords blog announced a "fresh look" for the tool, with simpler, clearer graphs and statistics, quicker signup, and a real-time ad preview box that shows you what your ad will look like as you create it.
The new dashboard puts all the information you need right at your fingertips – as Google explained, "Small business owners have told us that they're busy and that they don't want to spend time looking for the information they need." Makes sense! You can find your ad views, clicks, calls, budget, and performance right on the dashboard.
These changes are a part of Google's overarching efforts to simplify and beautify Google products in order to make them universally appealing and easy to use. And it's true: now that AdWords Express matches AdWords visually, it will be a little easier to take off the training wheels if (or perhaps I should say when) you switch from the easy version to the full one.
This awesome post is written by Adrienne Erin and taken from SiteProNews.