Your website's domain name is one of the most important business tools that you have at your disposal. In addition to the company's name and motto, the domain name is one of the first things potential customers will remember about your business. That is why it is so important to have a domain name that is memorable- so that customers won't have to search to find you.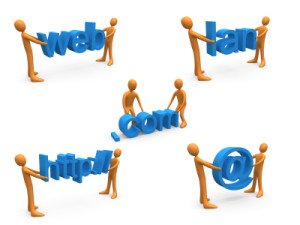 Picking a domain name is going to be specific to your company or brand, but there are some basic how to tips that any website can follow. Keep these in mind as you decide on what to call your next website.
Personalize your domain to something relevant
There are many domains that will offer free website hosting for individuals and small businesses. These domains will give you various services such as blog sites, web pages and even store fronts. As tempting as it is to keep the free option of their domain name plus your company name, don't do it- always purchase your own domain name.
Purchasing your own domain name will help visitors to your site associate the site with you and your brand, rather than the free site you are hosting it through. For example, Blogger is a great utility, but you want the visitors to remember your name, not blog-spot. If the service you are using allows it, purchase a domain and use that address instead of the free one that is provided.
Use a domain name that is easy to spell
Internet scammers love to profit off of people's propensity to miss-spell. Make sure you don't lose customers to common misspellings of your site by creating a domain that is easy to spell. hard to miss(dot)com might easily be mistaken for hard too miss or hard 2 mist and people who profit off of the internet are well aware of this fact. If your site becomes popular, do not be surprised if the common misspellings of your domain become purchased by companies attempting to attract your potential users.
If there is absolutely no way around having a domain name that will get misspelled, purchase the common misspellings of the domain also. You may never use them, but at least you will be sure no one else takes them and uses them against you.
Create a domain name based on keywords
Keyword research can help you better understand what type of information visitors to your site are interested in. If you create a domain name around these keywords, not only are you using words that are proven relevant to your visitors, it may also help with SEO.
Creating a memorable domain for your website is a required task, but it doesn't have to be too difficult. As long as you spend a little time putting some thought into it, you can have a website that people will remember to visit.
Finding the right domain name for your company's website can be a daunting task. Make sure to take as much time as necessary. Odds are, if you are planning your business right, you will have this domain name for a long time to come.
About Author: Ryan Dunca knows a thing or two about choosing domain names. As an experienced website design and digital marketer in the San Antonio area, Ryan is also the owner of Funnel Boost Media. Funnel Boost Media was founded to help business owners unfamiliar with the online marketing world succeed on the internet. From website design, to search engine optimization, Funnel Boost Media works in all familiar internet marketing services, helping the San Antonio area be found online.