Thunderbird is a cross-platform email client developed by Mozilla foundation. It is by default installed on Ubuntu systems. Even after having multiple features, it is lacking behind in the work environment. It does have limitations to transferring emails which makes it time-consuming and hectic for office use. Some people still use Thunderbird accounts as it allows multiple accounts per user.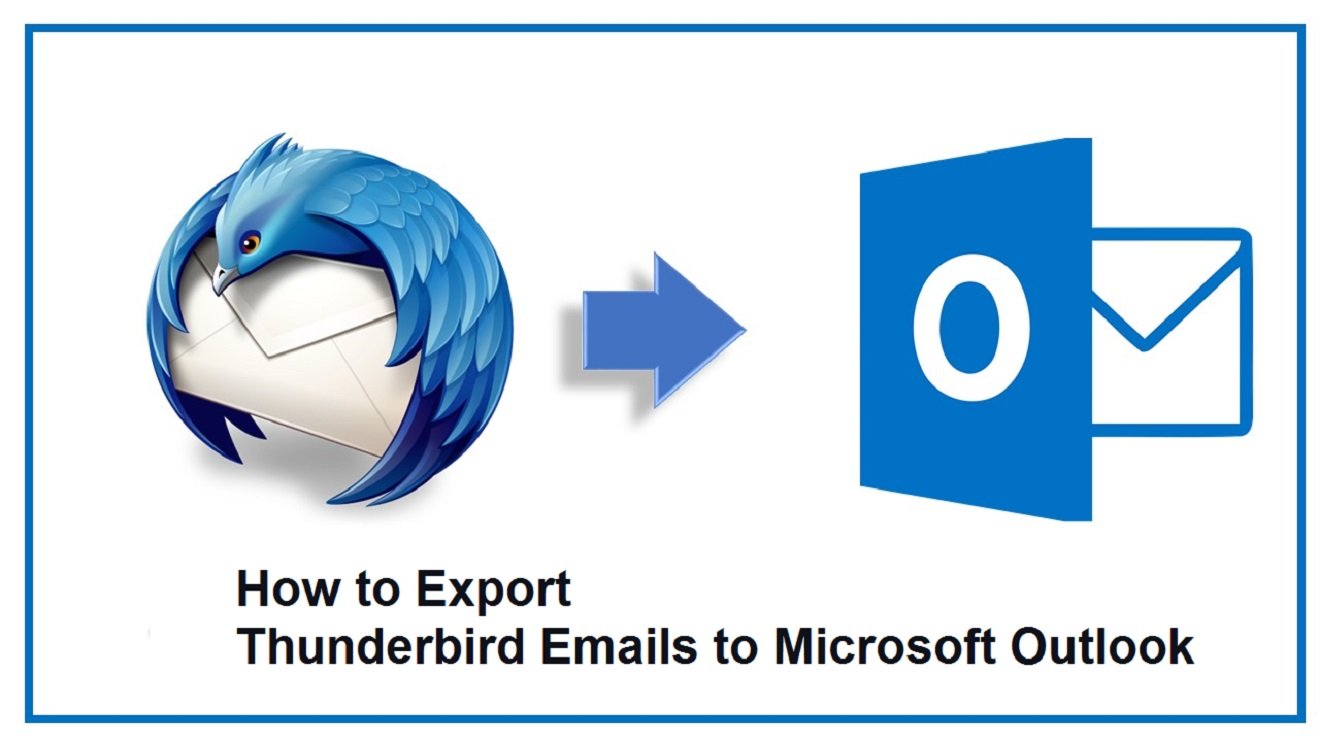 Microsoft developed MS Outlook. It tends to accept all email clients in its portal. Furthermore, it allows users to use their old email clients through a new infrastructure which makes the portal user-friendly and let a user remain in their comfort zone. If a user is not familiar with the Outlook infrastructure, the user has the advantage to convert their email client to a Microsoft Client.
Here we are going to export emails from Thunderbird to Outlook using IMAP and Drag & Drop method. After understanding the infrastructure of two, we will first discuss the reasons why Outlook will be more beneficial for the user?
Why use Microsoft Outlook for other Email clients
Thunderbird is not as secure as Outlook. Outlook provides robust security. Also, Outlook is compatible with all Microsoft Office applications. You can send emails to 100 clients at once rather than sending them one by one. It automatically sorts spam emails to the Spam folder, but Thunderbird does not have this capability.
Manual methods to export Thunderbird emails to Outlook
Here we are going to look at some manual approaches that can help the user to convert Thunderbird emails to MS Outlook. the manual methods will give the user a chance to understand Thunderbird and Outlook altogether. So that if next time he faces the same problem, he doesn't find it challenging to do the procedure again, for minimal conversion.
Method 1. Export Thunderbird emails to Outlook using IMAP
Procedure 1: Add Email Account using IMAP
Follow the below step to convert Thunderbird emails to Gmail account.
First, open the Thunderbird account using Gmail then enable the IMAP option in Gmail.
Sign in to your Gmail Id.
 Hit on Gear icon and Go to Gmail settings
Click on Forwarding and POP/IMAP.
Now, Enable the IMAP option.
Next, Configure your IMAP account.
Finally, choose the Save Changes option.
Login to the Thunderbird application using your cellphone. Go to Tools menu and click Account Settings.
Then, select 'Account Actions' and choose 'Add Mail Account'.
Enter your name, email address, and password to login to the Thunderbird account.
Next, click Continue
Next, enable the IMAP option and Opt for the manual configuration.
After that, enter all the information asked for:
Incoming server: imap.gmail.com
 Port: 993 or 143 (rare case- 585 )
The encryption method will be SSL.
Outgoing server: smtp.gmail.com
Port: Either 25 or 465(rarely- 2525)
Encryption method: SSL
Hit click on the Re-test button to check if you have entered everything correctly.
Then, click on the 'Create a new Account' option.
Now, go to your Gmail account using the Thunderbird account.
Drag and drop messages from Thunderbird account to Gmail Profile,
Procedure 2: IMAP Configuration for Microsoft Outlook 2010, 2013, 2016 (for batch conversion)
After syncing your Thunderbird account with Gmail, now you need to configure Microsoft Outlook Profile with a Gmail account. Doing this, you can export Thunderbird emails to Outlook. Kindly, follow the below steps for successful conversion:
Go to the File menu and choose on the Add Account.
Then in the dialogue box, click the option 'Manually configure server settings' or 'additional server types' and hit on the Next button.
Now, go to the Internet Email option and hit on the Next button.
Fill in your name, email address, and password in the given fields.
Select 'Account Type' as 'IMAP' for the IMAP email account.
Incoming Server:  smtp.gmail.com
Port: 993 or 995
Encryption method: SSL
Outgoing server (SMTP)
Port: 587/465
The encryption method for the Outgoing server will be TLS.
In Test Account Setting, to check account settings.
Then, you will receive a pop-up message to check whether your account settings are correct or not.
Finally, click on the Next button to continue further.
All your Thunderbird files will get transferred to MS-Outlook.
These steps will help you to transfer Thunderbird emails to Outlook.
Method 2. Migrate emails using the Drag & Drop Method
Drag and drop function is present in both Outlook and Thunderbird.
In this, we have to follow these steps.
Save Thunderbird as EML files – Create a "new folder " on desktop and name it as your choice then go to Thunderbird application and select all emails you want to send to Outlook.
Now, drag and drop them into a new folder then it will save them as an EMF file.
Now import the saved files to Outlook – Drag and drop all the saved files from the desktop folder to the mail folder in Outlook.
Challenges faced by the user during conversion
Users must know that every solution has a limitation. Following the above process could be lengthy and time-consuming. Prior conversion, the user must have some technical experience. A single mistake can cost you to lose all your emails. Thunderbird does not have the capability to send emails to multiple recipients at once. If the above manual approach is not useful to your query, then you can use an automated tool or any third party utility for a more optimized solution to export Thunderbird emails to Outlook.
Conclusion
Summing it up, we have discussed above the challenges that a user might face while transferring one email client to another. Furthermore, we have enlightened all the possible methods that will allow the user to remain in the comfort zone of using old email clients – by transferring Thunderbird emails to Microsoft Outlook.
I hope you found this blog useful. For further assistance, drop your queries and comments in the comment box given below. We will be happy to help you out.