Is your SEO performance affected by your website security? Definitely. Whether your website security is robust or bust, it can impact your SEO ranking directly. Digital marketers often focus intensively on SEO (Search Engine Optimization) alone, not emphasizing keeping their websites secure. This lack of awareness and preventive measures need to change. If you want Google and other search engines to take your domain seriously, take cybersecurity seriously.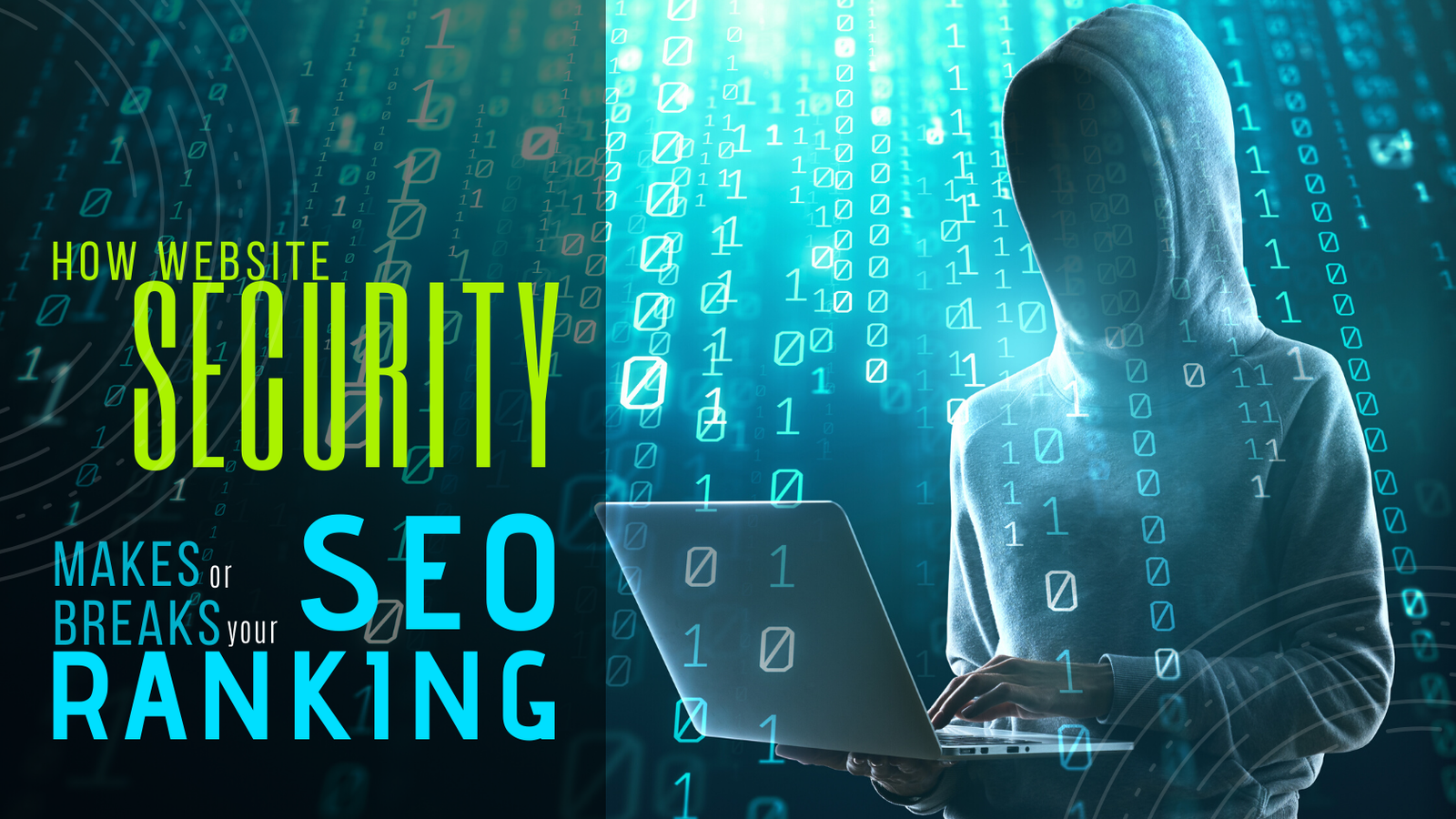 Google has more than 200 ranking factors being considered to determine SERP (Search Engine Results Page) rankings. The level of your site's protection is included. As a matter of fact, site security is a top highest priority, and sizeable investments are yearly made to keep their products, services, and tools safe and secure.
SEO optimization of your website then will never be complete if it is insecure. But how does cybersecurity affect your site's SEO?
How Cybersecurity Affects Your Site's SEO Ranking
Instead of just focusing on SEO tactics, from link building to content marketing, emphasize on making the internet a safe place for your readers. Cybersecurity and SEO powerfully go together to drive your SEO ranking up in the SERP ladder.
Be aware of how cybersecurity can affect your site's SEO and how you can troubleshoot threats and cyberattacks.
1. An Unsecured Site Can Incur Search Engine Penalties
Search engines like Google, Firefox, and Bing are extremely strict when they find a 503 or 404 error on webpages, immediately punishing the site in question. They meticulously scan websites for malware, phishing attacks, and unwanted software that can harm and compromise sensitive user data or turn user experiences sour. A website's ranking automatically gets affected once Google detects hacks and attacks like DDoS, or ransomware and issues Manual Actions to the website.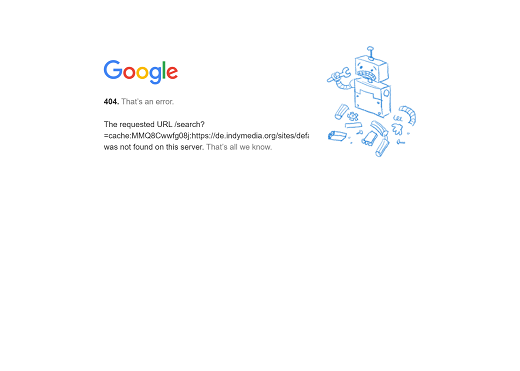 When this happens, people who search for your site simply find a 404 page. You do not just lose leads, but you also lose revenues. What's scarier is when infected sites go undetected. A security report by GoDaddy shows that 90 percent of the cases are left unflagged, increasing the probability for more cyberattacks unto the site, thus growing penalties and causing rankings to nosedive further. That is why search engines use an SSL certificate as a critical factor in their ranking algorithms. If your site lacks an SSL certificate, that means sensitive data are not encrypted and are prone to breach.
So, always make sure your website is encrypted to protect your site, your data, and your audience as well.
2. Malicious Bots Stop Search Engine Crawlers
Search engines use bots to crawl your site and gather ranking parameters for indexing. However, bad bots like scrapers, hacking bots, spammers, and click fraud can also crawl your site for content scraping and data breach, putting your SEO ranking in jeopardy.
For instance, some scraping bots duplicate your content and publish it elsewhere. Once search engines discover this duplicate content on other sites before it finds the material is yours, they will consider the duplicate content on the other website as canon, thus ranking your SERP lower for plagiarized content. Yes, it is unfair, but that is why it is malicious. Malicious bots account for 29% of all website visits.
Watch out for early signs of attack such as:
You can't log in with your password
Hackers will change your password once they gain access to your site. When you are unable to log in to your site with your password, the system shows an "Invalid Password" message. Once this happens, recover your password right away and contact your web host's support if you aren't able to do so.
You experience recurring pop-ups or error messages
When you see pop-ups, error messages, or spammy ads, a hacker may have used cross-site scripting and has injected malicious code into your website to bypass the security system of your site. Immediately scan for malicious software if you encounter these anomalies.
Act on Google alerts and notifications right away
The moment Google alerts you, or you notice a 404 or "Site Not Accessible" warning in your search results, assume it's an attack and act on it right away. Ignoring the notifications can aggravate the problem if in case it's an attack. Confirm the notice by registering your site in Google Search Console. You can also go to the Security Issues section, and search for the hacked URLs identified by Google.
Remove any suspicious-looking code in the source as soon as possible because most of the cyber attackers use JavaScript code to take charge of and steal sensitive information from websites.
3. SEO Spam Is Rampant
More than 50% of malware attacks are from by black hat hackers and SEOs wishing to boost their site's rank. They go after prominent websites by inserting links or use JavaScript to redirect visitors to their site maliciously. Spamdexing is SEO spamming that pushes low-quality content on high-ranking sites, allowing these spam sites to drive their ranking up. Websites that are victims of SEO spamming can get blacklisted by search engines. It decreases SERP rankings due to the spammy outbound links, ultimately damaging the reputation of your business more and more as these spammy content frequently appears on the site when people visit. 73.9% of spam attacks have SEO spam content.
4. Integrate Security Audits in your SEO Strategy
As we mentioned, search engines penalize sites with weak cyber defenses with poor SERP rankings. It cannot be stressed enough, then, that cybersecurity should and must be well-integrated into your SEO strategies. Just relying on Google's safe browsing alerts and notifications are not enough. Be on a protective stance by continually monitoring your web security system. Detect threats at the onset before it can bring any damage to your site and its SEO ranking. Ultimately, in the efforts of bringing the best service to your audience, keep your website on high alert for anything suspicious. If you can, hire an external web security professional who can augment your IT team's efforts in patching vulnerabilities in the system and create a robust pre-emptive cyber defense strategy for your business. If you cannot hire specialized security experts, make use of paid sources like WebsitePulse and SiteLock that can send notifications at every instance of suspicious activity in your website.


5. Fortify Your WordPress Security
WordPress is used by 34% of websites globally. It is currently the largest CMS, and due to its popularity, it is a big target for cyber attackers. Statistics show that WP plugins contribute to 57% of their vulnerabilities.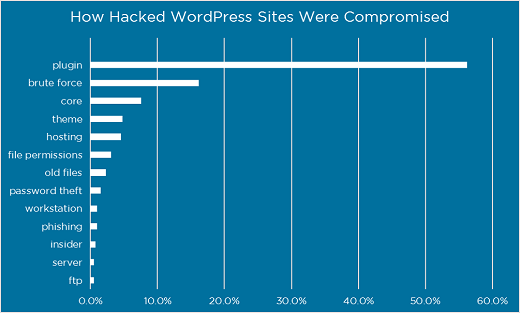 If you are using WordPress, always check the plugins and themes you use regularly. Use strong passwords and always upgrade WordPress core, plugins, and themes. Speaking of plugins and themes, use those that come from a reliable source.
6. Have the Best Malware-Scanning Tools for your website
Use a file-based malware scanner to get rid of malicious content from your website immediately. The scanner checks the website code for malicious software or intrusive PHP or HTML files in your server. You can use site checkers like Sucuri Sitecheck or Web Inspector to avoid your site getting blacklisted due to malicious content or coding, which severely damages your SEO ranking.
There are open-source tools that provide web analytics reporting like AWStats, which can also scan your system as well for suspicious activities. It can give you a report on every bot that crawled your site, the bandwidth that was used, and when they crawl took place, and how many hits happened. For example, when you have an IP address visit you thousands of times in a short period, it probably is a malicious bot choking up your bandwidth and causing site slowdowns. You can also make use of tools like Ahrefs or Majestic to look closely at your backlink profile to track superfluous backlinks from SEO spammers.
7. Make Your Website Secured with an SSL certificate
A secured site would look like this is easily identifiable when you see its URL begins with "https://," unlike unsecured sites that usually start with "http://." Pay close attention, especially when you are making online payments or keying in sensitive data. That extra "s" is an indicator that a site you're on is encrypted and secure, and any data you encode using this site is safe. That "s" represents a technology known as SSL. After Google's 2017 Chrome update,  sites that have "FORMS" but lack SSL certificate are labeled as insecure. The SSL certificate, "Secure Sockets Layer," is a technology that encrypts links between browsers and web servers, protecting sites from cyber hackers, and secures data, making them safe and encrypted between transfers.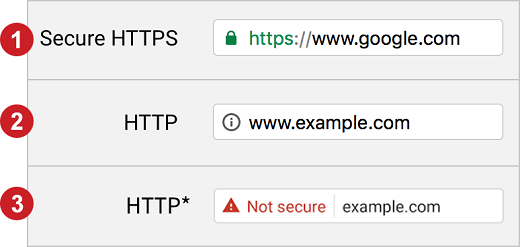 Hubspot says 82% of audiences leave sites that are not secured. You don't want to lose traffic and possible revenue just because you did not do what's necessary to obtain an SSL certificate for your site.
Hypertext Transfer Protocol Secure (HTTPS) is better than the Hypertext Transfer Protocol (HTTP) because it adds an additional layer of security and gives people peace of mind. To shift from HTTP to HTTPS, install an SSL certificate (Secure Socket Layer certificate) on your website.
Your SSL certificate gets you that green padlock icon that assures readers your website is safe. It acts like a virtual padlock securing connections between browser and web server. A hacker will not be able to intercept your data or decrypt it.
8. Local network security
Manage your local security because you use it to work on your websites. Use multiple layers of security defense, from software to sound security practices. Be abreast with current trends and threats in cybersecurity and update your defense systems to be a step ahead. Use complicated, unique passwords, two-step verification, limiting login attempts in a specific time-frame, automatically ending sessions that fo idle, and not using auto-fills in virtual forms. Using data encryption through a reliable Virtual Private Network (VPN) and using a Web Application Firewall (WAF) to keep traffic clean to and from apps, protecting it against data breach attempts.
Conclusion: Web Security and SEO to the Next Level
Web attacks have lasting, widely-encompassing effects on individuals and corporate systems that web security should be a top priority for everyone and anyone using the internet. Practicing correct preventative measures is a mindset we need to have, a default in all our digital activities, and that includes SEO for digital marketers. Now we see that marketing and SEO can go together, and if maximized to their full potential, can help drive your SEO ranking from zero to hero. The best SEO talents will improve even more if they widen their knowledge and awareness of cybersecurity. Implement cybersecurity as a part of your business' SEO strategy to take your business, web security, and SEO to the next level.