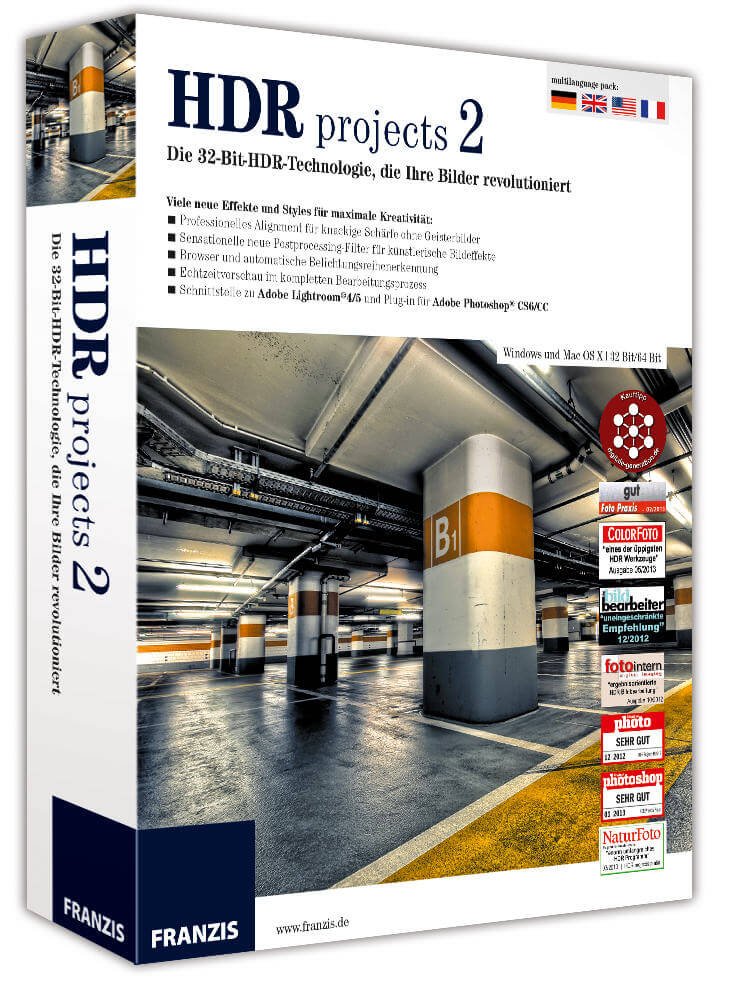 Giveaway #36: HDR projects 2 License Codes and Discounted New Version
HDR projects 2 offers you new possibilities to influence the HDR process directly. You can choose between seven HDR algorithms and during HDR creation you can determine parameters such as smoothing, denoising, halo adjustment and many more. You can partially define single image areas by directly adjusting the weighting during HDR fusion. Even when working with single images you will achieve sensational results. With even more nuanced working and a perfectly adjusted HDR fusion you will achieve unique results in full 32-bit quality.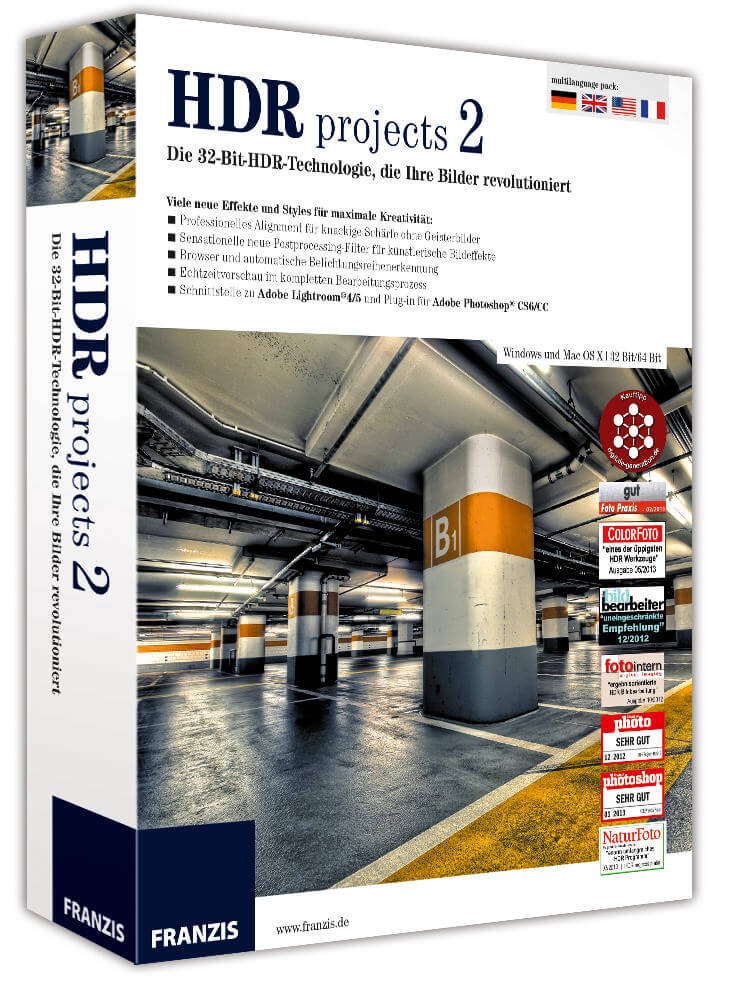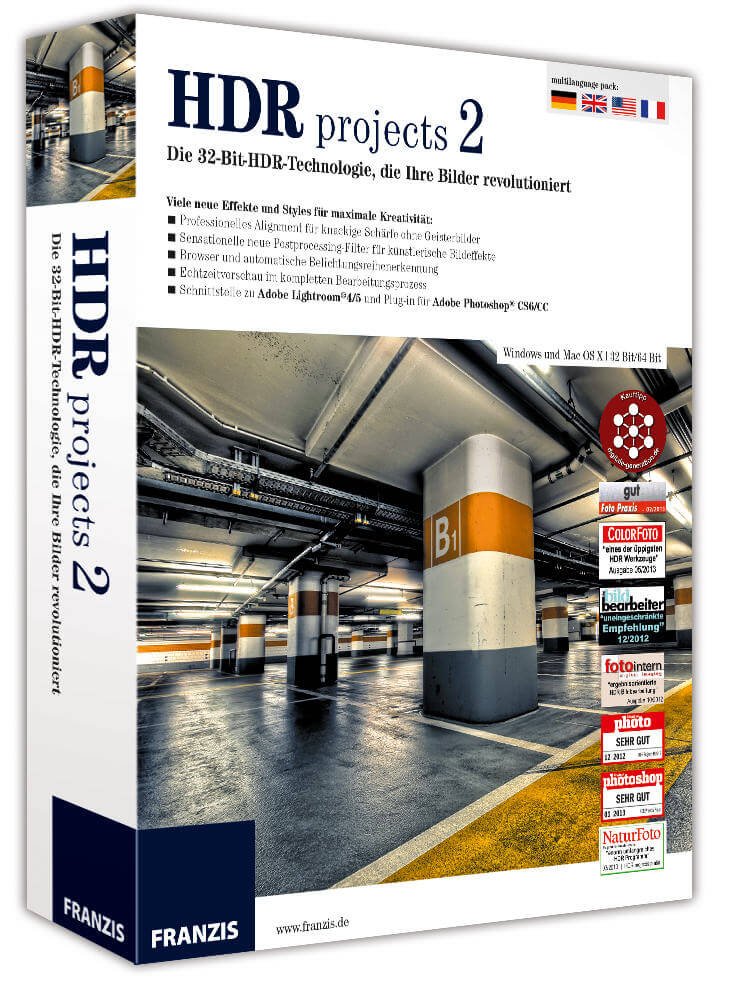 During HDR preparation the exclusive and fully automatic alignment tool is perfect for the alignment of your source images. Exposure bracketing shot by hand and moving leaves in the wind are handled by HDR projects 2 with precision like you've never seen before.
Automatically correct ghost images of people, vehicles, mirror effects in water and all moving objects or influence the merging of the pictures manually using the HDR painter. In every phase you are the director and have full control of de-ghosting effects while monitoring your work on the display in real-time.
HDR projects 2 – a new generation of software for images with unrivaled dynamic and expressive power
The crystal clear workflow makes you the director of your images and gets the most out of the pixel information, resulting in images you will proudly show off to everyone! HDR in motion – An HDR interpretation from a single image – also perfect for fast moving objects like vehicles and animals or simply for snapshots.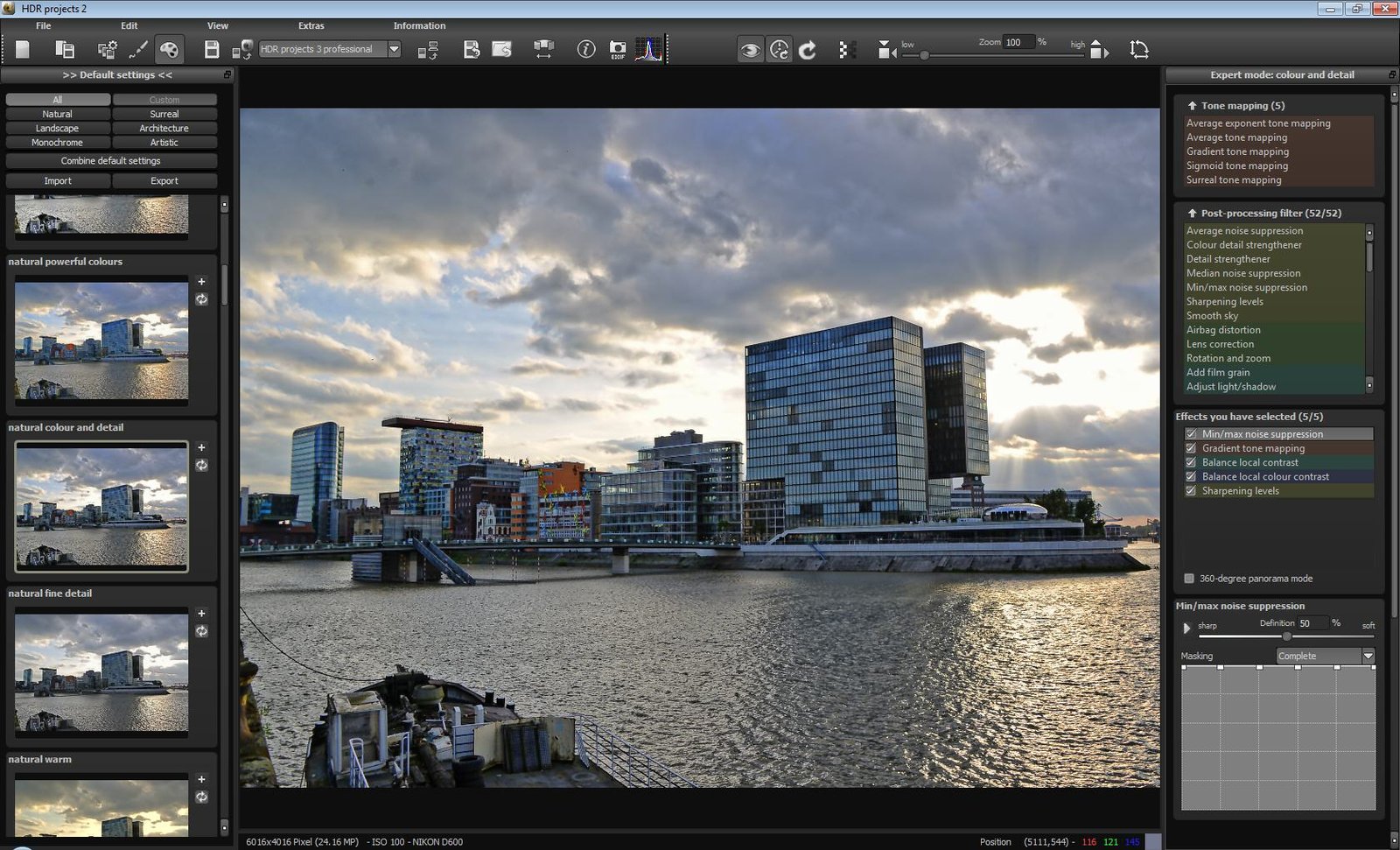 HDR projects 2 – more light, more color, more emotion
The escalator on the right was moving – the automatic ghosting correction produces sharp results even with complex exposure bracketing. Reflective, metallic surfaces have a tendency towards extreme color noise. Even an image bracketing with ISO 1,600 looks perfectly fine!
More than just compensating light exposure problems
More than just editing images
More than just developing pictures
More than just living with the inadequate standards of camera technology
HDR projects 2 eliminates the typical peculiarities of HDR processing: Halos, ghost images, tonal value shifts, chromatic aberrations, color noise, etc. If you know HDR, you know of these issues, but with HDR projects 2, even the finest structures remain visible and edges without halos stay razor sharp.
HDR projects 2 – 100% made in Germany, offers photography enthusiasts the tools to create masterful images. Here you are the director of your image files. You can present your world the way you want to present it. HDR projects 2 is not merely a way to correct your images or a classic photo editing software. HDR projects 2 is a brand new software that lets you decide how your pictures are supposed to look like.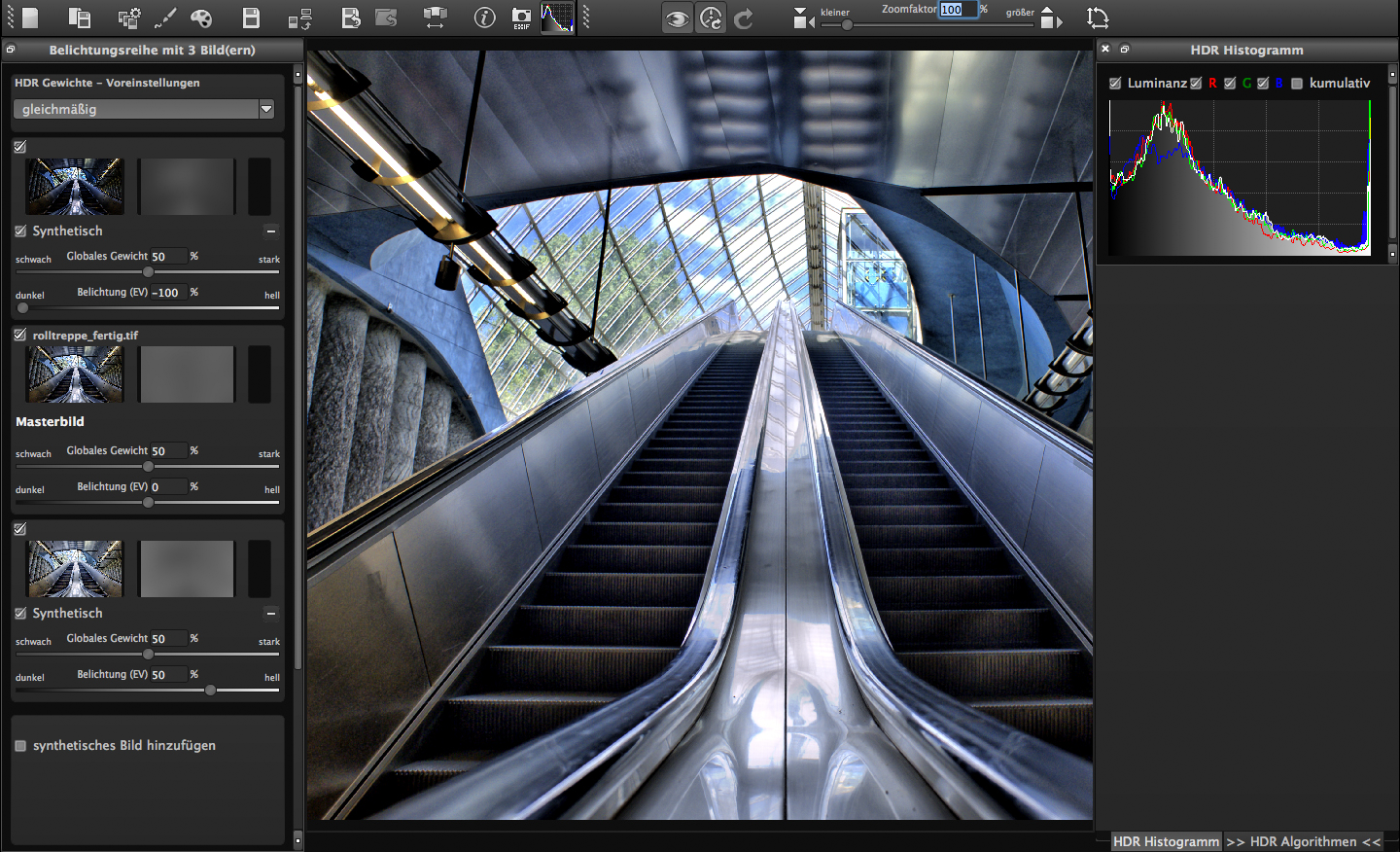 HDR projects 2 and digital black and white photography work great together. The typical mouse-grey digital images without light, contrast and depth are the biggest weaknesses in current digital photography. Experience the difference with sensational monochrome filters that give a perfect finishing touch to black and white images.
HDR projects 2 creates real 32-bit images containing all the luminance information of the real world and not just a part of it, as is usual due to the limitations of a digital camera. Using innovative algorithms, intelligent presets and high-end filters you can create images, that take your passion for photography to a whole new level. Depending on your enthusiasm and on the occasion you can create worlds of imagery between reality and artistic emotion.
Highlights of HDR projects 2
Seven different HDR algorithms
Individual weighting for every luminance
Selective luminance and HDR weighting with HDR Painter
Integrated RAW processing for virtually every RAW format
Very precise alignment, making your exposure bracketings razor sharp
Fully automatic high-end ghosting correction with manual control for extreme situations
56 presets, sorted by theme, for quick and professional results
Five tone mapping algorithms for maximum freedom of image interpretation
52 high-end filters for creative finishing and ready to print images
Download link: Windows (43,795 KB)
http://transfer.franzis.de/download/kronen/HDR-projects-2-nswin-us-technogiants.exe
Update policy: Minor updates ( 3.1 or or 3.2 or 3.3 and more) are every time FREE of charge for existing costumers.
Tech support policy: Free online webinars, continuously new posts and video quick-tips at www.projects-software.com, tech- support via Email and Helpdesk.
Re-install policy: It can be re-installed with valid license-code.
System requirements:
Windows 8/7/Vista/XP, 32/64-bit, Processor Core Duo, 2 GB RAM, 2 GB HDD, Screen resolution 1,280 ? 1,024 Pixels,
Graphic Card: DirectX-8-compatible, 128 MB, 32-bit color range
Mac OS X from 10.7, 32/64-bit, Processor Intel/G5, 2 GB RAM, 2 GB HDD, Screen resolution 1,280 ? 1,024 Pixels
How to get a free license code?
Thanks to Vincent from FRANZIS who provided me 2-computer lifetime license, for home and private use which originally charges USD 137.00 RRP per copy.
The giveaway campaign runs for ONLY 1 week from October 24th, 2015 – October 31th, 2015 and all you have to do is to follow the giving below rules to participate in this giveaway.
Rule #1: Subscribe to our mailing list (Mandatory)

(remember to click the activation link or the subscription will not be valid)

Rule #2: Put your Comment in the comment box. (Mandatory)
Hot Deal and Discount on the purchase of latest version (HDR projects #3 STANDARD)
HDR projects #3 generates real 32 bit images containing all of the brightness information of the real world and not just a part of it, like systematic digital cameras. Aided by innovative algorithms, intelligent presets and high-end filters, you can create images that are beyond inspiring.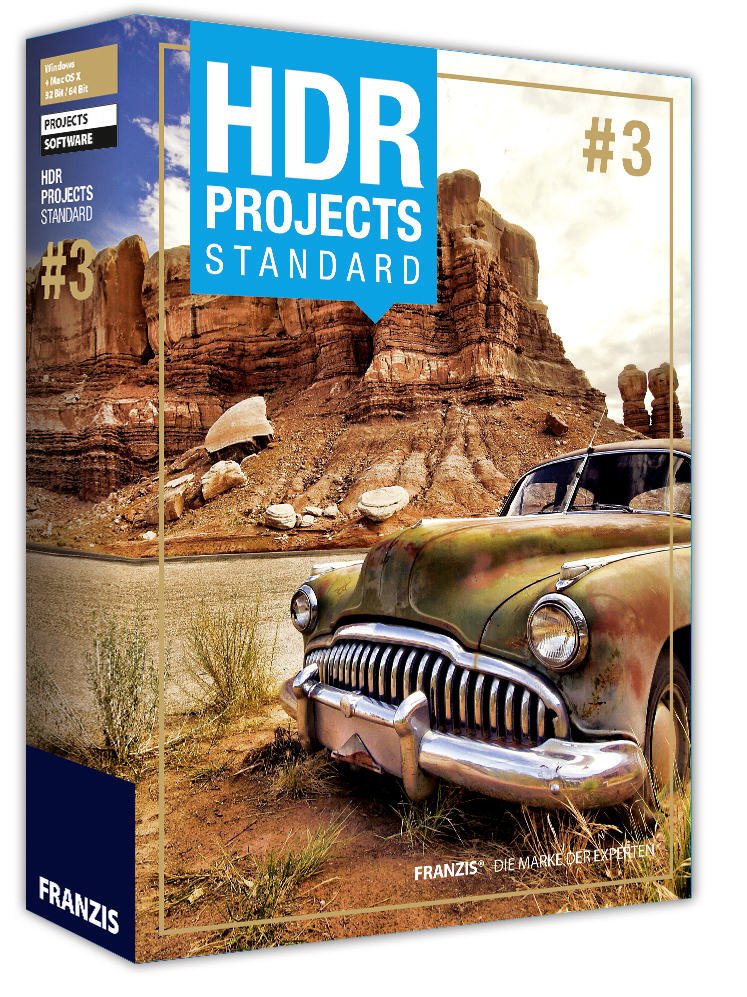 HDR projects #3 – 100 % made in Germany which cost EUR 149.00 RRP – offers photo enthusiasts the tools to create masterful images.
Highlights of HDR projects 3
NEW! Complete RAW module for best image quality and maximum editing options
NEW! Individual expansion with Add-on system
NEW! Remove sensor spots, level horizons, add vignetting and correct distortions
NEW! Smart Color space Adaption (SCA) for the finest detailed color gradation
Informed Optimization Assistant
Selective exposure and HDR weighting with HDR Painter
Highly precise alignment for crisp exposure series results
Fully automatic high-end ghost image remover
68 categorized presets for fast, professional results according to the motif: landscape, architecture, surreal, artistic, natural
6 tone mapping calculation algorithms for the greatest possible freedom interpreting your images
60 high-end filters for creative finishing and print-ready photos
Origin Price: USD 261.25 Deal-Price: USD 30. That's a discount of: 89 % – 231.25 USD
Discounted Price Homepage URL:  http://www.projects-software.com/hdr-projects-professional-technodeal/
License info: 2-computer lifetime license, for home and private use.
 [Updated Nov 19th, 2015] This giveaway is already over and you can find winners name below
Congrats Mieszko and Kamil, you guys will get the license code within 3 days. If not then please contact me or drop an email.