Most video editors are either too complicated or too simple. If you want to cut a video, add subtitles or perform other actions, you must navigate through countless options.In other cases, the used program may not include the features you need. With idoo Video Editor Pro, you can perform various editing actions on videos, as well as on audio tracks. The application is well balanced, so you can find everything you need for basic editing tasks and you don't have to find your way through a maze of options.
idoo Video Editor Pro (Best Video Editor Software) is a software that pretty easy to use even if you're not a professional video editor. If you're thinking of adding some little touches to that family video you took at the beach, this is just the perfect software to do it. Even if all you want to do with your videos is just to trim some unpleasant parts off, idoo Video Editor will do the job perfectly. Among other features is the ability to add subtitles easily and make your videos easier to comprehend.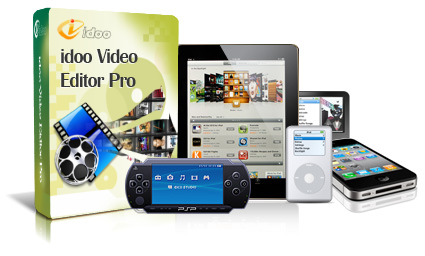 More features you get with this video editor are given below:

Cut, Split, Join Video or audio
Video Cutter: To make a small audio clip from your favorite movie song,it help you cutting a MP3 file and save results into new MP3 files.
Video Splitter: You can easily and exactly split the video and audio into parts as you need: by the file size, by different or average span.
Video Joinner: It enables you to cut and joint any video or audio while make advanced settings according to your own needs.
Crop & Effect & Rotate video
Crop Video : Crop video, remove black bars to focus area and convert video to desired video formats in one step.
Effect Video?It can add special effects to your video by adjusting the brightness, contrast and saturation, which make your video clearer, fuller and more beautiful.
Rotate video ? Rotate: You can rotate your video picture by any angles (90/180/270 degrees).
Add subtitle , watermark or capture video
Add watermark to video : You can watermark your video with any characters and images, on which you can get advanced settings and special effects.
Add subtitle to video : Subtitle: idoo Video Editor can add the subtitle for your videos, and you can develop the advanced settings and special effects for them
Preview and capture pictures : Preview and Capture: Before, during or after editing, you can preview the video and audio at any time to inspect and control the progress. Moreover, you can get screenshot with it easily.
Now the important part comes up, for downloading the software please CLICK HERE and fill the Activation Code which is given below to activate the software free for lifetime. Enjoy & Cheers.
Activation Code
  Registration Name: EVEW-1
Registration Code: 27017-22403-21851-02512-07126
If it works for you, you can show your appreciation by sharing the post with your friends on Facebook and Twitter. Leaving a comment too would be great. I do not guarantee how long the serial will last since it's a limited giveaway edition. Enjoy it while it lasts and don't forget to share! Thanks.