Giveaway #02: Zoolz Cloud Storage Services
Zoolz, a fresh cloud storage services from online backup firm Genie9, is basically a new and hassle free technique to protect and connect you and the people you care about, so everybody is able to share as well as enjoy their stuff. Zoolz serves as a cost-effective technique to back up your files straight into the cloud, providing flexible real-time and continuous backup and restore capabilities with safe and easy-to-manage controls with fully integrated with Facebook account.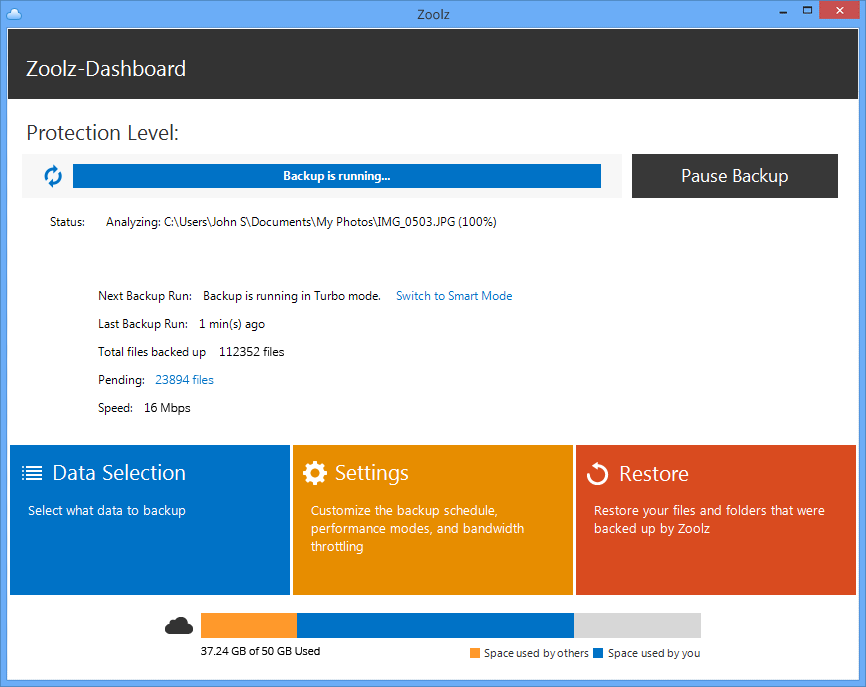 Zoolz claims to give you a more modern cloud storage service – it can certainly access files on external or network drives; it possesses no upload speed limit and there is no restriction on file size or type of data which can be used.
Zoolz is compatible with Windows 7, Windows 8 and in addition with Android, iPhone but don't know about Windows Phone and other platforms. The smartphones apps which let the stream encrypted music, videos and photos while you are on air or play your music offline and that is an incredibly unique feature. Now, starting out with Zoolz, it's very easy, you will first have to sign in while using your Email or with your Facebook account, then install Zoolz on your personal computer with in depth instructions which will help you start seeing your files, photos and music within your cloud account and with One Click process Zoolz will begin to verify for every single change specifically for your files and then it will upload only file changes and chunks of huge files with 100% Automated backup.
Features
Please be patience while reading the feature's list as the list is long enough. Check about it below:
Continuous Backup: Zoolz software will monitor file changes and backup your files while you update them.
Backup anything: You'll be able to backup multiple computers, external hard drivers and perhaps even network drives onto Zoolz. There can be no limit.
Multiple performance modes: You will find four backup performance modes: turbo, smart, battery saving and presentation. Each of them will make use of your personal computer resources differently.
Advanced file filtering: You'll be able to filter by type, size, date and expression.
3 level data deduplication: Machine level, company level, and global. This can be a good choice for organizations with tons of users to make sure that you won't be backing up same file twice and waste your space for storing.
No limit on individual file size: Whether you have 25GB MySQL database file or 10GB files, it's possible to backup all of them. There is no cap.
Several backup policies: You'll be able to configure what you would like to backup, and what you don't want and also if you really are an admin, it is possible you can configure what each users can backup and what they can't. And you should also set backup schedules and frequency.
Advanced user management: Admins hold the capability to configure the users data selection, privileges, and settings all from one centralized location. Aside from that you'll be able to add new users locally and globally by simply inviting them over email. Additionally you get the capability to suspend, archive, and delete computers and users effortlessly. You'll be able to set storage limits all policy changes you want to make are reflected instantly on other individuals.
Mobile Apps: You will have apps on both Android and iOS devices. No word on Windows Phone or various other platforms.
File retention rules: Basically, it is possible you can set file retention rules independently.
Lightweight Client Software: Most computation is performed using the back-end which means that client software is extremely lightweight.
Share files: You are able to share files via email and link generation. Also you can protect your shared files with password. There can be no limit on the number files you can share or size.
Expiring Links: This is the ability to expire links after one download or by days.
Copy, Encrypt, Ship: This is unique service Zoolz offers. Basically, you just need to use a utility software offered by Zoolz to copy and encrypt your data on an external hard drive and ship it to Zoolz, it will be their job to process your files directly onto the cloud with no information about content of your files. Oh yeah you should use this service anytime you would like to add a file, not just for initial seeding period. This is certainly a good choice for companies numerous data.
Cold Storage: Built on top of Amazon Glacier storage infrastructure, it is meant for backing up rarely accessed files that don't need frequent updating. It is designed for archiving purpose and the cost is very low, although there is 3-5 hours delay in restoration. But for backed up photos, you can preview them without having to wait.
Web console: Other than uploading files, all the other functions can easily be done from the web interface. You are also able to access and download your files using web-based interface too.
Instant search: An incredible online search engine is built-in Zoolz web interface to allow you to easily search among your files.
Easily switch between multiple computers: If you are backing up multiple computers under the same account, you can easily switch between each computers under the same account
Advanced reporting: You will have a variety of reports regarding your backups, including users worldwide and monitor each user's bandwidth usage.
Easy restoration: You can perform restoration via Web interface (there is no doubt that you will download ZIP files) or using the client software. You can pause and resume your restores. You can restore to original file location or to different destination too.
Backup Windows servers: There are various features under this such as:
Continuous Data Protection; constantly monitors changes
Server level deduplication that supports encrypted drives
Backup while logged off
Open File backup support
Security
Zoolz makes your file security as a priority by providing 3 levels of encryption: 256 AES on machine, 128-bit SSL for data transfer, and 256-bit AES server side encryption. Enabled on all file transfers to Amazon Cloud Storage, Any transfers to and from Zoolz and Amazon s3 data centers are encrypted with SSL. This consists of, data upload, download, authentication, and message sending.
Storage Space
Zoolz offer free 100 GB cloud storage space. The premium service starts at $1.66 per 30 days for 100GB and ranges to 500GB of storage for $10 per 30 days to 1TB for $20 and 2TB for $35 per 30 days. The premium service allows users to share files, schedule backups, and can offer access immediately to the files stored in the cloud.
Conclusion
After using Zoolz, evidently Zoolz offers quite a bit more feature rich that at first glance, in comparison with more established backup options on the market. As well as offering Private File sharing and you will require only a computer with Windows Operating system. At present MAC version is not available with Zoolz.
Pros
100 GB Free Account
Automatic Backup and File Versioning
Secure and easy to use, using Amazon S3 cloud
Fully integration with Facebook account
Easy file share
Cons
No unlimited data storage
No Phone or live chat support
Please take a look on the difference in between Zoolz Home Free and Zoolz Business by looking on this PDF file.

Update:

This is to inform you that the Zoolz Home Free offer of 100GB for the one million users is now OVER, they have reached the benchmark a couple of hours ago and they stopped registering new emails.

It would be a great opportunity for all who didn't had the chance to subscribe on Zoolz website for Zoolz Home Free 100GB offer, participate in the GIVEAWAY below to get your account/s with the best cloud storage service in present market.
Giveaway: 10 email id will skip the Waiting Queue for Zoolz Home Free
Zoolz, a new cloud storage service, popped up in our inbox with a very attractive offer. The service claims to offer free 100GB of storage for a lifetime to the first million users who will join Zoolz Home 'Free', with a great emphasis on security and file encryption. Of course, thanks to the great deal for early birds, there's going to be a heavy rush at the door. Currently, some 110,000 people are already in queue, so it would be wise to get in there early.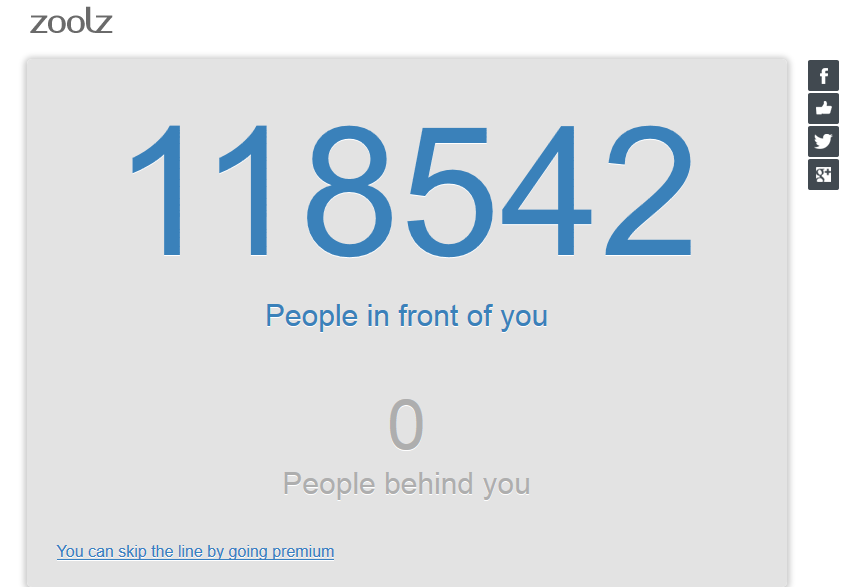 I am giving away a chance to 10 lucky visitors of my weblog by moving them a head of the waiting queue while joining Zoolz Home "Free". For the giveaway, I would like to say my thanks to Mr. Morgan Gary for offering me this offer (for Zoolz Home "Free") for my weblog reader's. Please hurry up to get the chance of skipping the waiting queue of the Zoolz, the best cloud storage service at present market.
You can check this video to learn more about Zoolz Home Free: http://www.youtube.com/watch?v=OVRZB5lJir8
For joining the giveaway you guys need to fulfill all the requirements which are given on PunchTab below.
Giveaway starts on the May 21st, 2013 12 PM ISD and ends on June 10th, 2013 12 PM ISD. This giveaway is open for everyone and the winner will be announce only in this weblog.