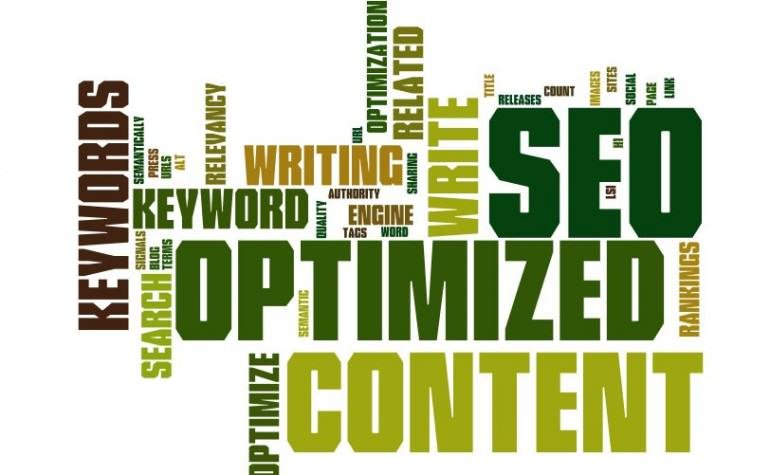 How to Write SEO Optimized Content?
Writing SEO optimized content with the good use of Keywords, Proper Keyword Density and Keyword Prominence is related to the third and most important part of keyword research i.e. implementation Phase. In this post the chosen keyword is used according to the guidelines by search engines so that your site can be given preference by search engines.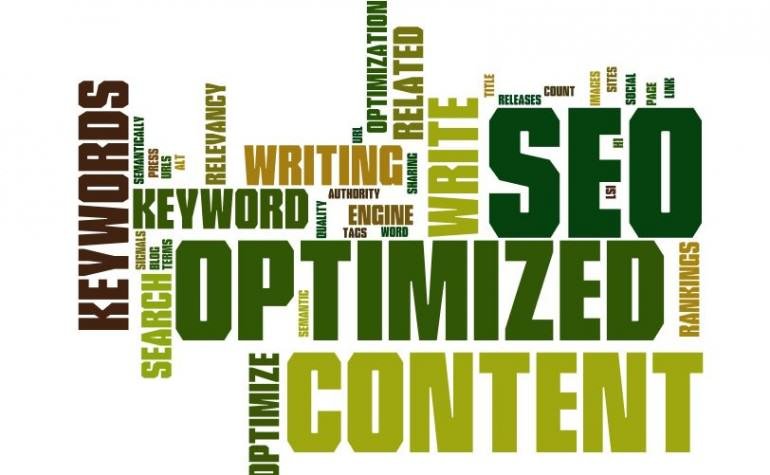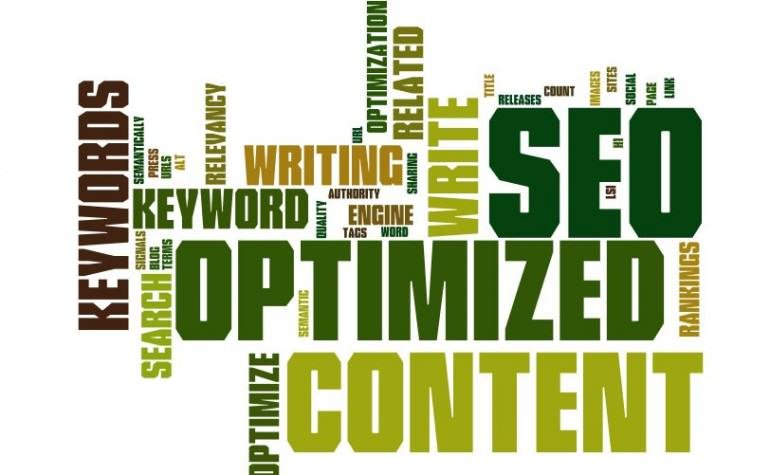 In a study it was found that the top ranked websites in Google have on an average of 2500 words per page that's why it is usually said that "Google Loves Content". Updating the website regularly with fresh content makes the search engines to notice your websites and you will remain in search engine's Good Books.
While writing website's content here are few things that must be considered from SEO point of view.
Keyword Density: Keyword Density is the ratio of number of times a keyword appeared in an article to the Total number of words in the article.
Keyword Density % = (No. of times a word occurs / Total number of words in the article) X 100
Google works with Algorithms and Algorithms can't understand what an article is about. The only way they can understand is how many times some certain words are repeated. Search Engines considers Keyword density as a Ranking factor. But some webmasters might increase the repetition of a keyword in an article to take the SEO advantage. Consider following example.
Horse Training is an art of Training Horses. Experts of horse Training are skilled in the art of training horses. If you are interested in horse training, then you should find someone who is trained in horse training. As someone not expert in horse training will not know much about horse training, after all horse training is the expertise that you want. The best kinds of horse training experts are horse training experts in their own horses. Someone without a horse won't know much about horse training and won't help you find out very much good horse training.
In the above example, the keyword horse training is used 11 times in the total 100 words. This is a bad SEO Practice and can lead to penalize a website from search engines due to keyword stuffing. Some People suggests a Keyword Density of 2% to 6% while some recommends 3% to 8%. This might harm websites in future as Search Engines are now stricter than ever before. The safe Keyword Density Range is 0.5 – 5% while using a Keyword Density of 1.5% to 3% is highly recommended for good On site SEO.
Keyword Prominence
Keyword Prominence is the presence of Keyword at the Important Places in the article. This includes the presence of keyword in Title, Meta Description, first few lines of the article, H1, H2 and H3 Heading and at the start of some sentences. Starting the Title with a Keyword and using keyword variation in the Meta description is generally recommended.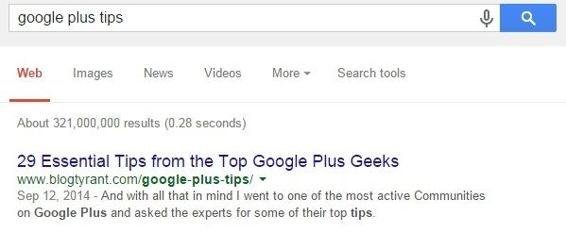 Here we can see that first ranked page for the keyword 'Google Plus tips' does not contain the actual keyword in meta description but in Page URL and with less Keyword Proximity in Title.
Keyword Proximity
Keyword Proximity is the closeness of the words of a keyword in the article. The higher the Keyword proximity is, the higher chances it will have for being ranked against a specific keyword. Consider for example given below:
How to do keyword research for ranking in Search Engine
How to do keyword research for best search engine Rankings
Now if our keyword is keyword research for search engine rankings then the words in the second one are more close and it will more likely to achieve higher ranking in search engines while this keyword is searched.
Essential Tips for Website Content for Best On-Page SEO
Keyword must appear in title and in Meta description with some variation.
Keyword Density of 1.5% to 3% must be chosen.
Keyword must appear in H1, H2 and H3 Headings. (In WordPress the title is generally a H1 Heading and therefore using keyword in H2 and H3 heading is recommended
Keyword must appear in initial 50 words of the article.
It must also be present in every paragraph preferably in first or second line.
Content Length must be 500+ words.
Main Keyword must be BOLD or Italicized once in the article. It helps search engines to understand the most important words in an article.
Try to use main keyword in the Title Tag and ALT Tag of each image uploaded. It helps in better Search Engine Optimization of your webpage.
The article must be written for the Humans and not for algorithms and machines. Therefore focus more on quality while taking care of the above mentioned factors.
Use simple language so that readers coming from every part of the world can read it and once they really understand it then there is high chance of user engagement.
Keywords must be dispersed evenly throughout the article or webpage. Using keywords more than 2 times in a paragraph may lead to keyword stuffing and that is a sign of web spam. So avoid it.
These are some of the important things that must be considered while implementing the keyword research and to get SEO Benefit.  Once the website content is properly written than nearly half of the SEO work is done. If this webpage gets ranked that you will derive the target audience from Search Engines and then you will get your business success.