Lotus Notes and MS Office 365 are the top leading email clients having wide user base around the world. In comparison to O365, users of IBM Notes feel like a need to operate their mailboxes in the Exchange online program. It is quite tricky to manually transfer mailboxes, especially contacts, from NSF to MS Office 365. It either requires conversion of NSF file to PST and then, uploading of PST in O365 or direct automated program that import contacts from Lotus Notes to Office 365.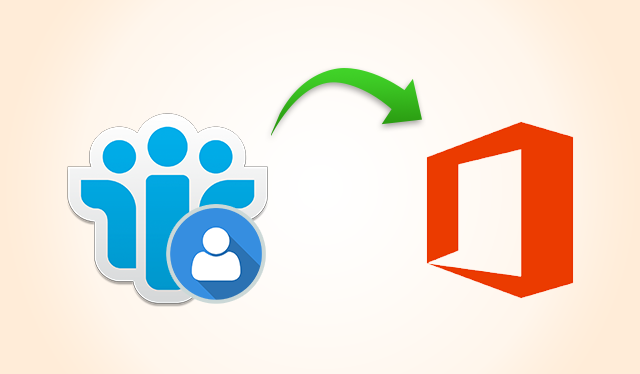 If you have been accessing IBM Notes since long time then, you might be knowing the fact that it creates NSF file to store its database. It enables you to program and configure your machine like the web server but, primarily acts as the mailing application. On the other hand, Microsoft Office 365 is in the list of most widely email applications among enterprises. Not only for sending and receiving messages but, it is also used for storing contacts information, scheduling meetings, etc., on the cloud storage. It enables users to access mailboxes anywhere at any instance of time.
Well, there are several causes why users want to import contacts from Lotus Notes to Office 365. There are two methods to perform migration of Lotus Notes to Office 365 i.e. manual and automated. If a user is choosing manual method for the same then, it is mandatory to attempt NSF to PST file conversion. However, for automated approach no such conversion is required because it directly upload address book information of IBM Notes to O365 account. In this blog, we are going to demonstrate both these techniques followed by the common reasons, which triggers the need for such conversion.
Common Reasons to Migrate Names.nsf to O365
Following points will make readers aware from major benefits of O365 tenant over IBM Notes:
Office 365 email application eliminates overall cost of maintenance and installation that used to be consumed in Lotus Notes.
MS O365 platform is more user-friendly and easy-to-understand in comparison with IBM Notes email client.
The Office 365 availability is 24*7 whereas Lotus Notes program can be accessed only in the on-premises environment.
Approaches to Import Contacts From Lotus Notes to Office 365
Manual Procedure
The manual workaround is divided in three sub parts. Initial step is to export contacts from Lotus Notes. After this, you have to import contacts in Outlook, and last step is to upload PST file in O365 tenant.
Step 1: Exporting IBM Notes Address Book
Open Lotus Notes email application and click on the Contacts tab to export Names.nsf to O365.
Click on More >> Export Contacts in the menu bar to open the Export contacts dialog box.
Choose 'All contacts in this view' option for exporting the entire address book from IBM Notes to targeted email client.
Click on All Fields and then in 'Save to' section, browse towards the location where you are wishing to save contacts.
Provide a name to the targeted file in 'File Name' field.
Select CSV option in Save As type menu and then, click on Export
Step 2: Import CSV File in MS Outlook Program
Open Import and Export wizard in Microsoft Outlook email client by clicking on File >> Open >> Import/Export.
Choose 'Import from another program or file' option from the list and click on Next
From the two listed options, select Comma Separated values (Windows) and click
Click on Browse button and move towards the location where you have saved CSV file in Step (1).
Select the file and click on Import button for proceedings.
Choose 'Do not import duplicate items' in the Options field and click
Select any of the existing folders and then, click on Next to proceed with the process to export Lotus Notes contacts to Office 365.
Click on Finish to instruct the system that it should begin exploring Lotus Notes contacts in Outlook
Now determine the location of PST file in which you have imported contacts and direct towards Step (3).
Step 3: Upload PST to Microsoft Office 365 Tenant
There exists two approaches for transferring PST files to Office 365. You can opt for any of them, as per the understanding and knowledge skills.
Network Upload: The measure involves uploading of PST file over the network for Microsoft Azure storage. When you are done with this uploading task, copy file data to the targeted account mailboxes.
Drive Shipping: It requires copying of data on the hard drive, which is encrypted strongly for protection purpose from the unauthorized accessing. It is mandatory that the drive is shipped, physically from data branch to MS Corporation. Once this process gets finished, import all the mailboxes from Azure to Office 365.
Drawbacks of Manual Approach
Even though the manual approach is free and import contacts from Lotus Notes to Office 365 but, it fails in saving all data from each contact file. For example, logo and image of the contact present in Lotus Notes will not be viewed in O365 tenant. Apart from this, the workaround requires high technical knowledge for exporting Lotus Notes address book to Exchange Online tenant.
Automated Procedure to Import Contacts from Lotus Notes to Office 365
In order to overcome the shortcomings of manual measure, we are suggesting users to take help of automated solution. This will directly transfer IBM Notes contacts to O365 tenant in no time and eliminate all the drawbacks of manual method. Image, logo, and other attributes of the contact will be exported as it is in destination Exchange Online environment.
Conclusion
Manual approach might prove itself suffice when source information to be exported is not important. If you want to keep data safe from any kind of accidental loss or damage then, all what you should prefer is automated solution. This will import contacts from Lotus Notes to Office 365 without a single change in already existing data.