You might be getting confused about the differences between Shared hosting and a VPS. This confusion makes it difficult to choose the right type of hosting for your business. What type of hosting you should go with? A shared hosting package or a VPS? Over that the sellers attract customers by offering what they call the best KVM VPS and best shared hosting.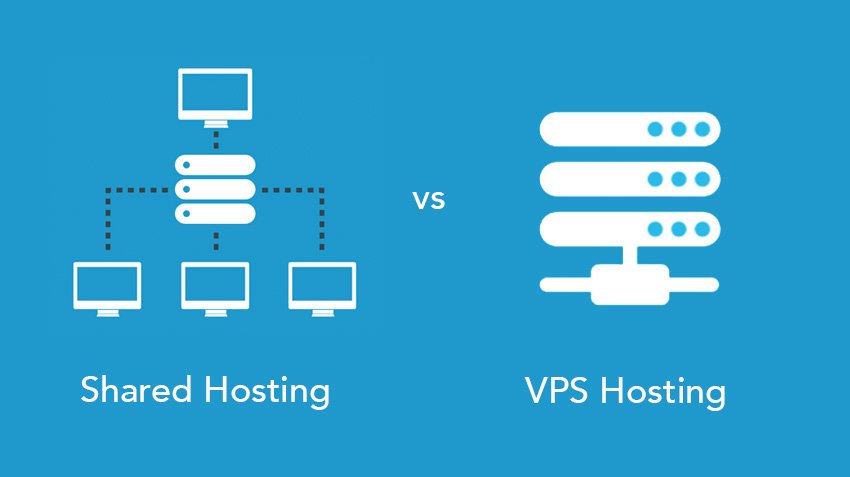 Choosing the right hosting is easy when you understand the key differences between the hosting types. Let's peek into the details of the key differences between shared hosting and a VPS hosting:
1. Server Resources
In shared hosting, the customers share the server resources. Because of this, you may face some limitations in the resources and their customization. The individual accounts do not affect each other's performance. Maximum CPUs, RAM, and disc space are available for every user. Your website will not be able to leverage resources beyond a set limit. This does not pose any problem if your website does not need a lot of memory or processing power.
With VPS hosting, you will get more private disc space and higher overall resource availability. This will be useful if you want to build a big interactive website with a high user experience. The server will be able to provide you customized resources that are necessary for running your website.
2. Performance
In case of shared hosting, the performance of the server depends on the technologies the provider has provisioned for you like SSDs, caching software, a CDN, etc. If you go for a more economical hosting plan other websites can possibly affect the performance of your website. If you do not want a high performing shared server with limited demands a cheap shared server can work best for you. This can also be a good choice if you prefer ease in maintenance with moderate resources.
VPS gives you more control on the performance of the server. VPS server offers high bandwidth that is the reason they outperform ordinary shared servers. VPS also comes with KVM virtualisation that gives customers the experience of a best KVM VPS. There is more flexibility while configuring the applications of the server provided you have a dedicated system administrator to keep the server running smoothly. If you have a big site with high traffic, a VPS can be a better option.
3. Security
Even though a best shared hosting is considered to be very safe security breaches can occur because no common server can guarantee 100% security. Many times, it is because of the so-called 'Noisy Neighbor' problem. It is basically an effect that is caused by a technical difficulty of one website that affects other websites because of the same shared server space. Customer support can also be limited compared to VPS.
VPS servers are leased with robust safety features that are only available to individual hosting accounts on the server. You can obtain better customer support services if your budget permits, so that you get assistance for every minute problem you face 24/7. If your business obtains personal data from the users, it is worth considering a VPS for greater protection.
4. Scalability
Shared hosting is a great option for short-term websites but it can pose problems for long-term high traffic websites. The scalability factor counts because websites are subject to continual growth. If you feel that you are maxing out your storage capabilities and the server space you need to consider scaling up the server for better performance.
VPS Hosting is easily customizable that allows you to scale up the resources within no time. If you think that you will eventually need to scale up to meet high website demands, investing in a VPS hosting can be very beneficial.
5. Pricing
With a best shared hosting, the cost of the server is also shared with other webmasters. That is because you lease space on the server thousands of other websites. Shared hosting is the most economical if you are hosting a small site with standard functionality.
A VPS offers customizations and scaling up the server resources at additional costs. It is like getting premium features by paying more. VPS hosting always proves better at customization and performance options if your business has online services etc. In short, you can meet the increased demands of your website by paying for additional resources.
6. Server administration
A shared server does not need technical maintenance from your end. You get the basic server administration from the provider. This is a big advantage for many because there is no need of a dedicated system administrator.
VPS-hosted websites are more complex at resource management and therefore webmasters require a dedicated system administrator who carries out things related server administration.
Conclusion
When it comes to choosing the best hosting for your business knowing the key differences is important. Secondly, figuring out what you want to achieve with your website will also matter. That is because you need to choose the web hosting that gives maximum benefit in terms of the above-mentioned points. So, no hosting is bad and it only depends on what the servers offer and what are your hosting needs.