7 Ways to Improve Your Website Accessibility
When we define a website as "accessible," what we're really saying is that the information on the site is viewable and usable by a wide range of visitors using a wide range of technology.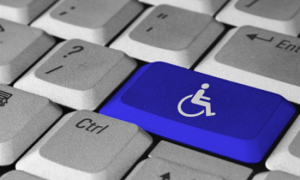 Accessibility is a good thing. After all, why would you go to all the effort of building an attractive and compelling website if visitors weren't able to use the site well and left with a negative impression — and never returned?
There are 7 simple ways to improve the "user-friendliness" or website accessibility:
Identify links so they are obvious to visitors. This can be done by using underlined text, italics or a different colored font. If you want visitors to click, make sure to make it obvious where they can.
Make sure your site layout is easy to navigate and visitors can easily find information. A good rule of thumb is to keep the number of navigation tabs to a minimum and to keep additional information within a few clicks of the home page.
When you publish content on your site, make it available in several formats. Not everyone is going to want to download files or watch a 10-minute video. Give visitors a choice of how to interact with your content.
Tag your photos when uploading them. If your site images don't load properly, your visitors are likely to assume your website is broken. Using an alt tag on your photos will let visitors know what the image is if it doesn't display properly for some reason.
Test your website loading speed, using a service such as Google Insights — which will analyze your URL and give you suggestions for how to make your site faster to load. As site speed is a factor in site ranking and visitor experience, it makes sense to make sure your site is optimized as well as you can.
Compress the files on your website. Big files tend to slow things down and make it more likely that you will lose visitors.
If you use CAPTCHA on your site, make sure to offer an audio alternative. CAPTCHA codes can help reduce comment spam, but can also be frustrating because they are sometimes hard to read. Give your visitors the option of listening to the CAPTCHA as well as simply viewing it.
These 7 simple tips will keep your website running well and will provide a good visitor experience, which is exactly what your content deserves.