WordPress has so many plugins for various purposes. In fact, WordPress platform offers more than 50,000 plugins. To create a custom post for a website, also the WordPress platforms offer a lot as far as plugins are concerned. First, let us understand the utility of custom post type plugins. These plugins are valued a lot by website designer or developers. With these plugins making custom post and custom fields become a matter of absolute convenience.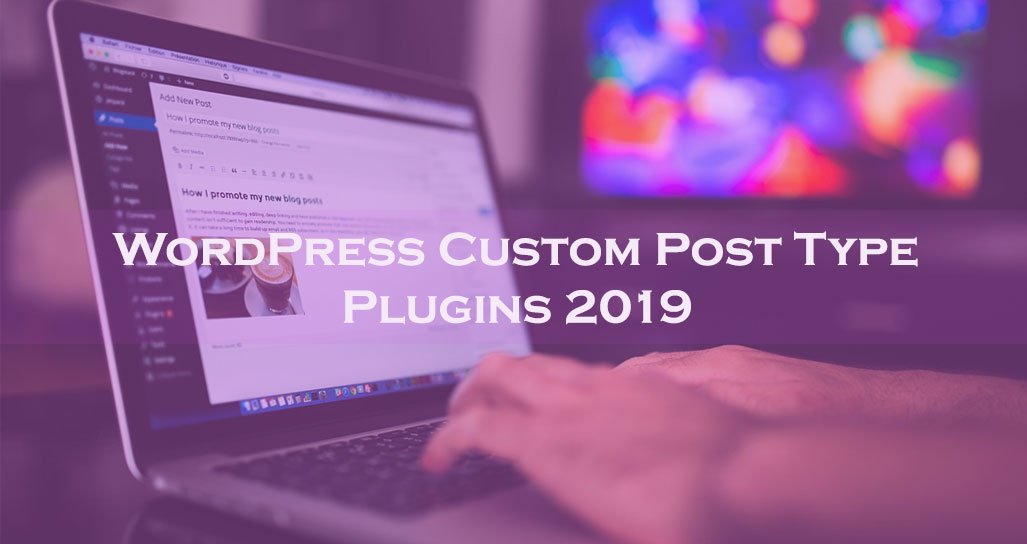 Every business would ideally want their websites to stand out among the crowd in terms of designs and functionality. There are several types of businesses as well, and a unique website is what everyone aims for. However, it is very tough to design theme and template for each one of them via WordPress. It can't be denied that each business requires a different post and content. So, in order to customize a website, you would want a custom fields plugin. The plugin gets input data through users who come to the online platform. Hence, these plugins are absolutely necessary for every website.
The problem of plenty can sometimes cause severe migraine. This phenomenon is very much prevalent in WordPress, as well. So, how do you zero in on one option? To make the task of selection easier for you, we have a compiled a list of 8 best custom post type plugins. So, make an informed choice after carefully considering your requirements.
1. Custom Post Type UI
This plugin can be used when it comes to managing and registering custom post types and taxonomies for your online platform. There is also an extended avatar of Custom Post Type UI for showing the data collected from custom post types with detailed UI. This WordPress plugin also offers many kinds of post and is very user-friendly and potent as well. Custom Post Type UI is also very compatible with many post editor features as well.
2. Meta Box
This happens to be a very efficient custom post type plugin with which anyone can customize their website with ease. The Meta Box is a powerful tool for developers through which they can develop and handle all the things pertaining to custom fields and meta boxes for WordPress. The interface of this plugin is very simple in usage and contains drag and drop functionality.
3. Custom Post Types and Custom Fields creator – WCK
This is a very good custom post type plugin. When you have the WCK plugin you can easily create repeater custom fields, custom post types and taxonomies. Over here you can develop your front-end templates straight away from the WP admin UI, and for this you require only a few clicks. You can also create and edit Custom Post Types from the Admin UI. This also has state-of-the-art labeling options.
4. Custom Post Types
This is unarguably one of the best custom post type plugins. The Custom post types plugin can be utilized to automate several processes while developing WordPress website. Over here, you can create as well as edit everything from post types, taxonomies, custom fields to custom templates conveniently from the WordPress dashboard. With this plugin you can extend your WordPress and adapt it for any kind of activities like eCommerce or portfolio etc.
5. Custom Post Type Maker
The Custom Post Type Maker plugin allows you to make custom post types that can be used with ease. It is totally compatible with the WordPress API and offers an interface where custom post types can be easily dealt like regular post and pages. This is unarguably one of the best WordPress plugins that allow you to set every parameter of the Custom Post Types API.
6. Pods
This plugin can create custom post types, taxonomies, and fields. With Pods plugin, users can store each and every custom content need at one place. With shortcode and widgets, custom content can be projected with ease. The interface is very simple and effortless to use and is very chic and modern. The plugin is multilingual and is compatible with WPML, Polylang, etc. This plugin also provides front-end sorting controls.
7. Custom Post Type Generator
This Custom Post Type Generator plugin lets you create Custom Post Types and Custom Taxonomies through the WordPress administration and it is very simple to understand as well. This is an essential ingredient for anyone working on WordPress.
This plugin also has a very simple interface.
8. MB Custom Post Type
With the assistance of the MB Custom Post Type plugin, you can easily create and manage custom post types with a user-friendly interface. The plugin aids every post type's arguments and there is no need for writing custom PHP code. This is very light, potent and user-friendly, and enables live editing mode with which you can fill requisite labels automatically. The plugin can easily be extended through extensions as well.
Conclusion
These plugins can come in very handy for creating websites for property listings, online directory site, free classified ads, etc. The customs post plugins are a must if you are just starting out. You can also customize your website devoid of PHP knowledge with the help of these plugins.
When it comes to professional WordPress developers, the custom post type plugins can decrease their workload and save precious time while creating meta a box. Hence, these custom post types plugins can help you customize your content and post of your WordPress site.