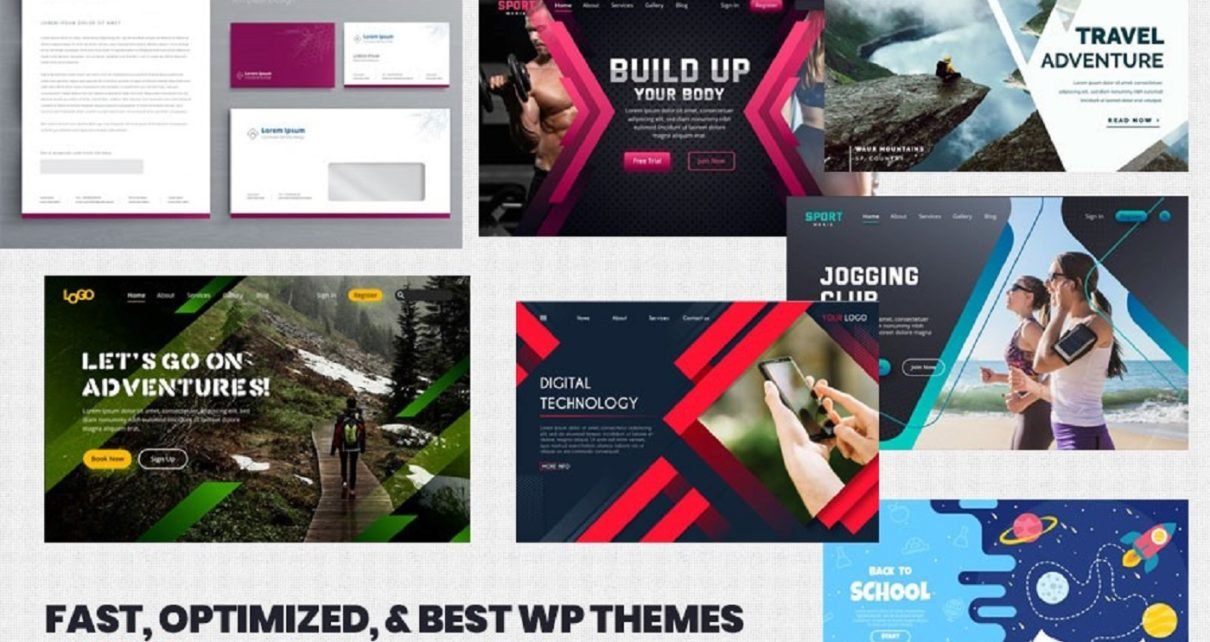 Fast, Optimized, & Best Multi-Purpose WordPress theme in 2020
Today, the internet is society "True Equalizer". It gives sound to the crowd, as people across the globe share their opinions and ideas. Not since the industrial revolution, humanity has experienced much game-changing evolution.
Dwelling from the business background, you need to harness the potential of the online world. As you know, the marketing and advertisement hold infinite opportunities in a forum where all the planet gathers. Without a doubt, the benefits of the web can be a double-edged sword too.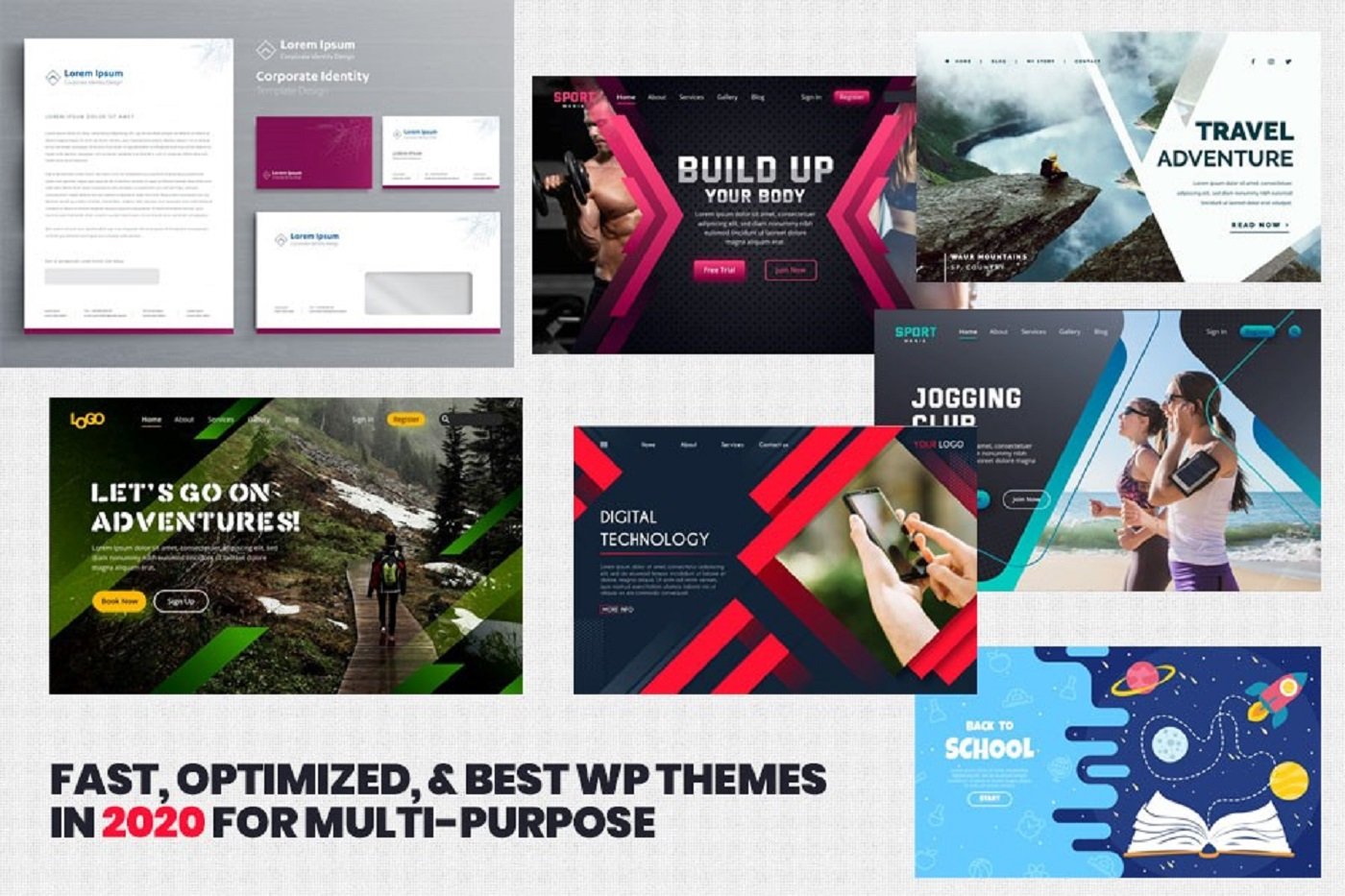 While you have the right to present your product or services, others also get benefit from the same reason. The absolute fate of those who are run-of-the-mill or websites fades away. So, to stand out in the crowd, you must make sure your product is one of its kind and overshadow the competition.
As an outcome, "WordPress" the reliable and trusted network platform hosts numerous WordPress theme developers. In addition to various benefits, these themes also improve your website aesthetic appeal. It provides the user with an opportunity to tweak and personalize every single element.
But, now is the time to opt for a multi-purpose WordPress theme that will help you craft a web-page that matches your vision. The main objective behind the creation of multi-purpose theme is to generate a single website template that would fit precisely and accurately with any brand, company, and organization. These themes come along with all the necessary features like responsiveness, features apt for promoting products and services, the capability to create a professional portfolio, e-commerce support, social media integration and lot more to add.
And, all thanks to the inception of multi-purpose WordPress theme, making it possible to customize the kind of website that you imagined. Moreover, these are an ideal choice for building your blogging, corporate website, portfolio, and e-commerce website.
So, if you are in the search for the right and versatile WordPress website template for your next project, you should have a look at the list
Most popular Multi-Purpose WordPress theme
1. Uncode
Uncode is powerful and innovative, dynamic and intuitive, and simultaneously wonderfully designed and beautifully composed with easy to use approach. It is a conceptually designed theme with a pixel perfection combination of sophisticated HTML 5 and CSS3 styling on a powerful bootstrap framework that is perfectly augmented with an enhanced version of the visual composer plugin.
With numerous different and innovative layouts, page templates and demo websites, Uncode is an exciting customizable theme that is webmasters seasoned and even a rookie can find this a comfortable approach.
Technical Face-Off
It comes along with the dynamic advanced theme options panel, which let you proceed further with own visual identity, and endless colors, customized layouts, and own logos. Considering headers and footers are graphically polished and professional results are provided every time. Uncode is one of the trusted and experienced malleable themes in the market and blends well every time you whim while looking at beautiful devices.
2. Jevelin
Jevelin is creative and clever, dynamic and pliable, modern and mobile-friendly and easy to work on, all these factors make Jevelin a responsive Website premium multi-purpose. This theme is perfect for webmaster that provides a quick and easy solution for constant output allure websites filled with the functionality and resourcefulness accompanied by graphical customization on every step of your pages and different chunks.
Jevelin's robust set of community is the perfect choice for a business website with friendly-features, powered by an enhanced version of the WooCommerce e-commerce plugin suite underpinning Jevelin online shop capacities, reliable payment processing features, product catalog, and many more under the hood.
Technical Face-Off
This allows the business to effectively market their wares to a massive worldwide online audience without writing a line of codes.
3. Kalium
Kalium is considered as a creative theme for professionals that showcase your work in the best way possible that you always wanted. Embellished with stacks of layout designs, drag and drop content builder elements, and plentiful theme options to build your website in minutes in a well-organized and stunning way, Kalium is one-stop solution.
What make's Kalium so powerful?
Premium page builder
30+portfolio item types
Multi-language support
One-click installer
Integrate shopping easily with WooCommerce plugin
Easily maintenance
Retina-ready and responsive
Customized and custom post types
High-speed performance
Technical Face-Off
You can easily build anything with 100+ shortcodes and 18 bonus elements. Some of the included plugins are WPBakery page builder, slider revolution, layer Slider, ACF PRO, product size guide, and product filter for WooCommerce.
While some of the supported plugins are WooCommerce, Yoast, WP Forms, ultimate addons and many more to list.
4. SEO WP
SEO WP is the right fit if you are looking for WordPress customization theme with marketing skills. You can use it to enhance the website of different companies or organization, social media specialist, and even web development experts. It has an infinite range of headers style, footers layouts, and even page design choices.
Aligning with this page customization has been simplified due to the implementation of drag and drop feature. You just need to click on a single element, drag it to the desired location and simply place it. Additionally, you don't require any back-end interface action. Even, following the same you can develop forums and footers.
Technical Face-Off
Their frequent updates promise to expand your website values and capabilities. And, if there is a new feature, security update, and design advancements, user will be the first to get notified. Similarly, this allows for instant feedbacks, and enhanced WordPress theme customization.
Additionally, the developers also implement a social sharing function, that resulted in more traffic for your page.
5. Divi
Some WordPress themes are accepted to provide versatility as Divi. Some are considered as the WordPress finest products as it can improvise your site and provide the needed up thrust for your business success. With Divi there is no limit for customization in your ally. Moreover, it spreads your innovation, via the introduction of high-tech modules.
Amazing tools like Divi builder were also added in the array. It gives first and foremost preference the user browsing experience and even customizes the interface. This theme provides a free hand, allowing you to design and develop something that reflects your ideals.
Technical Face-Off
All settings are to be customized. On top of the common general setting, there is also an option for advanced design confirmation. This offers you with the spacing, topography and other essential features. And, this makes it the best choice among the WordPress theme development. 
6. X
X is an innovative and enriched theme that offers a flexible framework for any type of websites. This theme is responsive ready to make your website looks alluring and retina available work efficiently on any kind of platform. X offers four carefully and precisely created stacks:
The Integrity
The icon
The renew
The Ethos
All these stacks come with an inventive and intelligent design that will make your website stand out in the crowd. X is the top-most choice for the people who want to develop a professional website with inimitable design.
Technical Face-off
X consists of over Google 600 fonts, big menus, contact form7, and Gravity forms for an easy and quick form setup, that includes PSD to WordPress themes, customized social sharing buttons and many more. It implements the latest HTML 5 and CSS3 techniques, wrapped with cutting-edge WordPress standards to make sure your theme will offer the best possible experience you would have expected from a premium one.
7. POFO
POFO is tangible, responsive, and dynamic WordPress theme customization crafting its way as the right platform for a wide array of website projects across all the industries and trades. Regardless of your niche, POFO comes embraced with tools to let you stand out in the crowd.
Coming with unique, attractive animations and layouts, POFO always makes an ever-lasting impression. Eloquent and fresh styling are some to list to spruce up your content, giving you a creative and leading edge.
Technical Face-Off
With the revolution slider and sharp parallax portfolios, it dazzles the audience. WPBakery is the new incarnation of visual composer, providing unskippable customization. Moreover, every single element present on-screen act as your command through real-time WYSIWYG drag and drop editing.
8. Webify
Webify is a 100% customizable WP theme for roughly any project and intention. So, if you are in the hurry of establishing a nifty website, start right with picking Webify. This tool is a one-stop solution and in addition, are some hammering out a modern and professional online presence for your business project.
Even, you can mix and match features of different demos into one final web design. Along with this, it all makes Webify the best WordPress theme customization with tons of options for you to harness the advantage.
Technical face-Off    
Webify is responsive, retina screen friendly, jell with one-click demo data installation, impeccable fast loading and even optimized for SEO.
9. Monstroid 2
Monstroid 2 is a massive and responsive Multi-Purpose WordPress theme for crafting impressive and modern websites in no time. This platform allows anybody to build a bespoke website in no time, irrespective of the industry. Besides, you get access to an incredible set of premium plugins with an endless amount of customization.
Advanced scheduling and calendar plugins are also included in the sheath. With the BB press and Buddypress plugin, you can setup social forums on your website. The users are also able to share and connect with each other.
Technical face-Off
Inception and introduction of the professional portfolio are easy with Monstroid 2. Even, it can market your product to the world at a large level from day one. Dynamic and responsive, jell well with all devices and platforms making your reach wide and big.
10. EKKO
EKKO is a complete customizable WordPress theme that you can use for any project and business you want. With the immense collection of ready-to-use demos, it is a comfortable approach for the creation of solid webspace. Also, EKKO consist of more than two hundred blocks, roughly around forty content elements and lots of internal page layouts.
Even, if you like to start your blog or sell products online, you can do whatever you want to with this.
Technical Face-Off
With EKKO you get several premium plugins at no extra fee. Talking about which, EKKO includes WP bakery page builder, contact form7, slider revolution, keydesign addon, redux framework. Last but not late, it practices all the latest web and tech regulations, making sure safe and steady operations of your bespoke online space.
11. The Gem
It is a fully customizable WP theme for developing all kinds of pages. Irrespective of your main objective, you can safely, efficiently, and securely realize the page that will help you stand out in the crowd. Firstly, you will find in the kit, more than eighty full-blown website demos for your conversion, including PSD to customizable WordPress themes. Keeping that in mind, it makes it a lot easier to discover the right look that will present your project, organization, and company in the best possible light.
Technical Face-Off
This assures extra-ordinary performance regardless of the device and platforms. It is solely responsive and hybrid compatible, making it sure that it adjusts instantly to all screens. Animations, sliders, parallax effect, language packs, myriad widgets and elements, and customized headers and footers, you just name it, and the gem have it all.
12. Kallyas
Kallyas is a technical oriented innovative, WordPress multipurpose website theme. With the leading-edge solutions to all your website developing needs. It is considered as a versatile platform that can readily service all boxes of websites across an endless range of niches that too without effortless ease, quickly shifting its shape and look to match your most stringent specifications.
This is an ideal choice for creative designers, web designers, graphic designers and organizations and agencies to hire WordPress theme developers. This robust platform provides impeccable service to a wide variety of global clients in a ton of different markets and industries with an unmatchable level of comfort and speed.
Technical Face-off
On aligning with KALLYAS, you get access to the one-size-fits-all solution for quickly developing intuitive front-end websites for all domains of purposes, providing a quality that is second to none in the comparison.
Along with professional quality back-end interfaces such as the plugin-free, integrated, in-house developed drag and drop Visual Builder, that is powered by over 100 customizable elements and around dozens of custom widgets and tools. They all are liable to expand the potential and functionality of your every page manifold ten times, instantly, without having to write a single line of code.
13. Stockholm
Stockholm is an alluring and multi-purpose WordPress theme that leave no stones unturned to gratify the best. The developers offer distinctive 20 demos, relaxing you from starting from the scratch for your website. This product consists of an extensive documentation source, explaining every theme to be displayed in detail with an added feather of multi-language support.
In scenario you want to sell something, this will add woo-commerce plugin for your use. Even, it facilitates the creation of astonishing online stores.
Technical Face-Off
Site creation does not require any coding knowledge. And if you can imagine, Stockholm is able to make it a reality. Even, you can choose between the layer slider or a select slider option.
Irrespective of what you select, it will look second to none. And, they can feature high-definition videos.
14. Veda
Veda is a tangible multipurpose WordPress customized theme. It includes a lot of layout features and even come along with 20 unique demos and still upsurging. This theme is the right choice if you are looking for absolute versatility and possibility.
Veda is a visual composer built and based on Buddha panel. It works by using a layer slider and revolution slider with more than 50 choices available. Moreover, Veda is very friendly, accelerate you to get Zopim live chat, BBpress forums and social icons. Even, you are provided with the calendar to set up events and invite people to sign up on them. And, if talking about the location, you get Google maps and BuddyPress Integrations.
Technical Face-Off
Veda is WPML and contact form7 compatible. Its sole theme purpose is to make the client feel comfort at their zone. They rely on your expertise and trust your ability to give them the best option. For instance, to build your e-commerce store, you opt for woo commerce integration. While Veda is well documented and even consist of HD help videos, different from the array of forums and email support.
It has improvised SEO and speed loader enhancement, along with shortcodes on all demos. Some characteristic to list is Font awesome and many CSS3 animation support. So, give it a try for your visionary project.
15. The Core
The core is a big multi-purpose WP theme that comes with 25 distinctive starter websites inside it, stylish and purposely developed demos for specific industries.
They are designed for numerous types of business with countless features: retina ready and responsive, SEO friendly that too with a huge range of pre-made layouts, another element like headers, footers and buttons that are ready to be used.
Technical Face-Off
With the Core, you are delivered with more than 25 WordPress websites in a single theme. Some of them to list are – corporate, blog, shop, charity, one page, creative, food and many more in the list. Align with WordPress theme developers that guarantee to fit everything within their structure is so well thought of.
More Information
16. H-code
H-code is impeccably modern and visually stunning and attractive, to appealing and widely creative and imaginative multi-purpose customizable WP theme. While it is stylistically refined and aesthetically versatile, fast-loading and graceful along with user-friendly approach making it one of the best custom WordPress theme development, it's considered as a smart and colourful website theme to manage a broad array of different websites archetypes and apps across a significant spectrum of fields and interest, each entirely customizable to tick the requirements of your project through most innovative ways.
Technical Face-Off
H-code smarty makes the use of the universally comprehensible premium visual composer plugin, which is the first choice for developers and webmasters across the horizons for its speed, seamless interface and polished and professional outcomes.
It includes 57 homepages demo website accompanied with 190 pages templates, each one being a reliable and sharp foundation for building your own unique and wholly customized user experience.
17. Infinite
Infinite is a considerable choice for a multi-purpose WordPress theme that is completely dedicated to versatility. It is accompanied by 20 impressive demos of a one-click demo install.  Also, it features tons of pre-built options for layouts and page styles. Even, it has a customizable admin panel that is improved in performance and accelerated speed.
It uses WPML and WooCommerce compatibility for translations and purchases respectively. You also get offered with videos and galleries, and animations. Thus, it has a special emphasis on graphic or motion or visual display. Even, it pays attention to blogs and portfolios as part of personal websites orientations, that craft its path in the top 25 WordPress theme development.
Technical Face-Off
You will be delivered with an awesome Megamenu to streamline your content pages. This is a customizable and responsive technical WP theme. This have a real-time experience of developing your pages with its live customizer. Even, you can easily adapt it to irrespective of size or device on the market.
It is embellished with drag and drop, GoodLayers page builder, and numerous other sliders.it shows the top-most 4 among them including Layer Slider and Revolution Slider. Enjoy customizing unlimited sidebars, multiple headers, footers and backgrounds with numerous color skins.
A healthy reminder, Infinite is SEO optimized and manages a genius wrapper system. It gets automatic updates and frequent premium customer support. So, opt for this one and start handling things the right way with it.
18. Brooklyn
Brooklyn is an extra-ordinary and ingenious one-page theme for WordPress that can be used for any kind of websites like travel and tourism, event, music/audio, and many other like personal portfolio. Designing and developing a functional website with one-page theme can be daunting task for any developer.
So, make sure you hire WordPress developers that use one-page website theme efficiently and provide impeccable user experience to the audience.
This theme comes with an outstanding parallax effect and seamless user interface even with a flawless user experience that makes your website easily accessible and agreeable to any site visitor. Brooklyn includes portfolio management, several dynamic shortcodes, shortcodes generator, smooth scrolling, font awesome icon integration, sidebars, custom widgets and many more.
Technical Face-Off
The best part is this theme is child theme ready, simultaneously support WPML plugins and are built using clean and valid codes.
What more it has?
Brooklyn is specially designed to go well with all the available browsers and are fully optimized with SEO (Search Engine Optimization).
19. Ultra
Ultra is the most powerful and flexible WordPress theme, which makes it a lot easier to create any site quickly and beautifully (responsive too). This theme takes all the charge of your theme design right from header to footer, loaded with many layouts' options and features; this is by far one of the best and versatile themes.
Technical Face-Off
Ultra act as the right fit to launch your business site, portfolio or blog. They help in creating detailed layouts without writing a line of code utilizing site Origins drag and drop page builder page option. Commence your page with bold full-width smart slider and keep users engaged with alluring and sticky menus.
Fast, dynamic, SEO optimized and supported by professional level, Ultra is ready for your next big successful project.
20. Mist
If all you are looking for is an analytical and innovative WordPress theme that is able of improving every perspective of your website, Mist is among your choice. It let you customize and amplify every page without having to alter the product's code. It has many pre-designed templates and content elements.
The page builder feature consists of more than 130 excellent options, promising for greater customization. Added Visual composer, along with Zozo custom add-ons and Ultimate add-ons. Opting Mist makes your page completely responsive and ready to adapt with any device. Moreover, it was proven to be compatible with smartphones and tablets. The concern regarding re-sizing and compatibility were eliminated.
Technical Face-Off
Its admin panel is potent, yet it remains easily accessible with limitless style options and layouts. Mist includes light and dark skin variations and the transition between the two is just with a touch.
The clients will harness benefits from a fantastic contact form 7, custom Bootstrap form, and Gravity form plugin. With lots of features available in the Mist in WordPress customization, your contact page will be practical and highly-intuitive. So, to create hype regarding your upcoming activities, it allows the customer to keep track of your schedule and process accordingly.
21. Intact
Intact is a multipurpose theme for WordPress. Having eight demos with their own homepage each accompanied with the child theme. It is practical but well packed option for any kind of page developing. Intact is based on a Redux framework and compatible to Bootstrap. It has clean code with shortcodes integrated into age builder. You will get a modern, edgy but simple look with all kinds of small customizations available.
Along with 12 column grids for the main content and numerous formats including for the rest. Backgrounds are accomplished to handle CSS3 animations and use optimally the Parallax effect. Parallel to you also get an SEO and speed optimized tool completely updated. A WPML is compatible and even has Google Fonts integration.
All these contribute in making posting one of the easiest experiences with page builders like Visual composer and Revolution Slider.
Technical Face-Off
Although, along with Contact Form 7 comes compatibility, Social media sharing is another added feather in the hat. You will be provided with a constant lifetime free updates and documentation of it. So, if you are looking to make an intelligent choice, Intact is your choice as it is compatible with almost every theme.
22. Cartfolio
Cartfolio is a worth the value multi-purpose WordPress theme powered by WooCommerce. It means you can create and curate impeccable E-commerce pages related to different niches. Therefore, once you start acknowledging Cartfolio, you will observe roughly any idea you want with it, irrespective of the items you look to push online.
In addition, it includes over nine demos that surround different domains like Fashion, furniture, shoes, plants, watches, electronic gadgets, and cosmetics. Yes, that' the type of online shop you can build with Cartfolio stepping out of the box.
Technical face-Off
Other features added in the list are drag and drop website editor, contact form 7, Revolution slider including PSD files, 100% RTL compatibility and mega menus. Rather, it is a mobile-friendly and retina-ready, aligning with the browser and make sure the fast loading speed.
Cartfolio rocks from everything to anything that a modern online shop need and sometimes more than that. You can spruce up your own online business now and begin opting new orders just right after the launch.
23. Total
As the name suggest "Total" is a complete package theme with all the feature that you require to develop a website. This theme consists of a clean and elegant design with vibrant colors and parallax sections. This theme comes wrapped with features that are imperative you look while choosing a dynamic and beautiful WordPress theme.
Technical Face-Off
Its homepage consists of sliders, features segments with icons, and different sections with progress bars and portfolio sections with masonry layouts and CTA (Call to Action) section along with numerous others to add. The theme is totally responsive and is built on customizer that let you configure the website with live preview.
This theme is SEO friendly, cross-browser compatible, translation ready and is compatible with an eCommerce platform like WooCommerce plugin.
24. Composer
Composer is a customizable tool to play while developing your dreams. This is retina ready to use with an unparalleled level of quality with slider revolution installed for free along. You get the freedom to choose over 75 demos and third-party integrations. Following a clean, smooth, and changeable motive, it is occupied with tons of pre-built elements like a portfolio for showcase and blogs for writing.
You can change headers, footers, colors, backgrounds according to your needs. With these features you are your visuals will surely appear clean and impressive. In simple words, it is the definition of multi-purpose and easy-to-customize for WordPress theme development.
Technical Face-Off
This comes along with numerous integrated plugins that make it richer and more powerful. Don't forget, you get support from Yoast and WPML.
25. Ozun
Ozun is one of its kind, creative multi-purpose WordPress theme, being a versatile design accompanied by lots of innovative option. Basically, it is developed for businesses and large companies. Its main objective is to be simple, smooth, modern looking and practical. Moreover, it uses visual composer along with revolution slider as premium page building features. Also, it has infinite in-built layouts and four variations
Grid
Masonry
Slider
Carousel
If it's about posting, there are also available numerous Google fonts and tons of awesome icons. Ozun has menus that are thought to be intuitive and easy.
Technical Face-Off
Moreover, you are provided with an unmatched panel that comes with quick and easy shortcodes. This theme is wrapped with SEO and speed optimized also, coming enabled with Google maps. Additionally, it is mobile friendly with the background totally customizable with animations and parallax compatibility. The best part is, it is easy to install the theme and a right fit for people starting to get the internet complications and outcomes with — an excellent platform for businesses that require a small yet unique XX| century edge.
So, start with an entrusted and experienced WordPress development company and get the hang of the webpage design world with Ozun.
More Information
Abiding Thoughts
As by now, you have an in-depth understanding of themes that will be the right fit for your project-specific and unique need. We, at WordPrax being the top-niche choice for WordPress development company, understand it's an uphill task for beginners to choose from the flooded option.
But don't worry! Align with the experienced WordPress experts to set up a beautiful site for you leaving an ever-lasting impression.