How to Batch Import Zimbra Mailboxes to PST?
In the digital world where we live and work, online market is flooded with a range of different email applications and email servers. Users now have the choice to pick the best email app for them, suiting their personal and professional needs. Zimbra is one such application, that serves both as Email client-server and desktop based application. The application is developed to help users manage their different email accounts at one place (having all the elements – emails, contacts, calendars etc.).

MS Exchange is another Collaboration Suite that works in concurrence with MS Outlook and provides users with feature-oriented communication experience, by enabling them to host all their important data at a centralized system. A Microsoft product, it is designed to run exclusively on Windows platforms, and uses MAPI as its proprietary protocol.
Why Switching from Zimbra to Exchange is Required?
Zimbra saves all its user accounts in separate TGZ files (which needs to be extracted manually), and this format is not familiar with any other email application. A tricky situation may arise where your Zimbra gets crashed or fails to open completely, leaving you in lurch. All your email accounts and the data may lost forever.
Another reason could be change in job, where you are forced to use MS Exchange in new office environment. But you can't leave your email accounts you are managing in Zimbra and can't use Zimbra there either.
Likewise, there are many more reasons which different users may have for replacing Zimbra with Outlook, Exchange or Office 365. But the big question now is How to extract Zimbra Data?
Process to Extract Zimbra Mailbox Data
Before extracting data from Zimbra, let's be familiar with the store location where Zimbra keeps a backup of all its user accounts. To know the store location of Zimbra follow this process:
Open Zimbra. Go to Preferences Tab >> Backups. In the right pane at Location, the complete path will appear, as appearing below:
Copy this path and paste it on search location bar. When you open this zd-backup folder, you will see that it is empty and has no backup of any Zimbra account.
To create backup of your Zimbra user profiles:
Go to Preferences tab >> Backups.
In the Configure Backups tab, a list of all the accounts will be shown. Select the particular account you want to create a backup of and press Backup Now option.
Now when you open the zd-backup folder, you will see the backup file created for that particular user profile, appearing in TGZ format.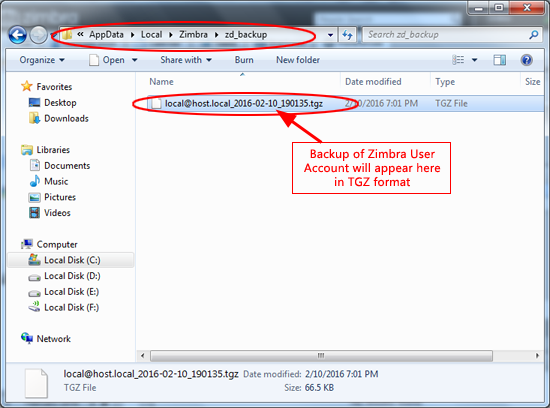 There is another process to Extract TGZ files from Zimbra Desktop at your Desired Location
Open Zimbra. Go to Preferences tab >> Select Import/Export Option appearing on left pane of each email account. From the two options appearing in right pane, select Export. Click on Advance option, select the data types you want to extract and click on Export Button. Choose the desired location where you want to save the extracted TGZ files and finally click on OK button.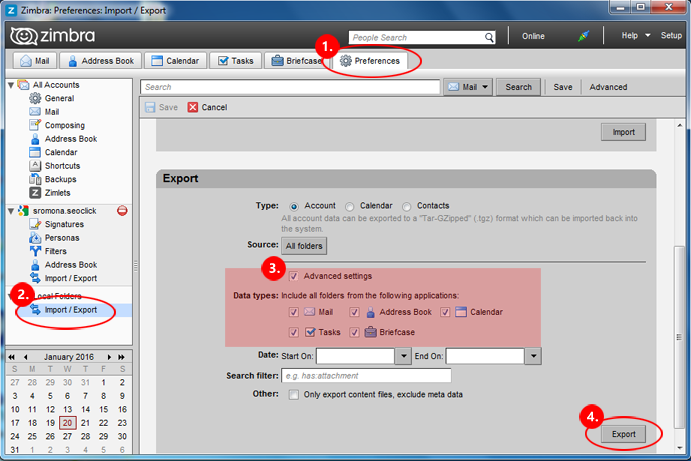 Once you have the TGZ files, extracted using any of the two options, next you have to unzip them using any Unzipping program.
Import your Zimbra Mailbox to MS Exchange
Now to view your Zimbra user accounts in MS Exchange Server, first you have to import Zimbra Mailboxes to PST, which further allows you to access your Zimbra data in MS Exchange, Office 365 and Outlook. Using Zimbra to Exchange Server Migration utility, this task can be easily accomplished, which first batch import Zimbra mailboxes to PST and then import the converted PST file in Microsoft Exchange Server by running a suitable cmdlet at Exchange Shell.
The software is an easy to use tool that supports two modes to batch import Zimbra mailboxes to PST i.e. Single mailbox migration and Multiple Mailboxes migration. Both the option support batch conversion, but data converted using single mailbox migration will create single PST file and multiple mode will create separate PST files for each Zimbra mailbox.
Precisely import all the data elements – emails, address book, calendars, tasks etc.
Free Demo is there for complete software evaluation
Independent utility
Now Its easy to move from Zimbra to Office 365
Office 365 is a browser based email application, accessible in any web browser. It's a paid service, which serves as a hosted edition of MS Exchange. Office 365 comes with the advance features of handling emails, calendars, online meetings, IMs, file storing and sharing, PowerPoint, spreadsheet, email access control etc.
Using Zimbra Migration utility, you can easily import Zimbra mailboxes to PST format with complete efficiency. And once you have the Zimbra mailboxes imported in PST file, you can easily access and view them in Office 365 by utilizing its Import option. After importing the data, you can see that all the email properties (meta details, formatting, attachments etc.) are accurately retained.