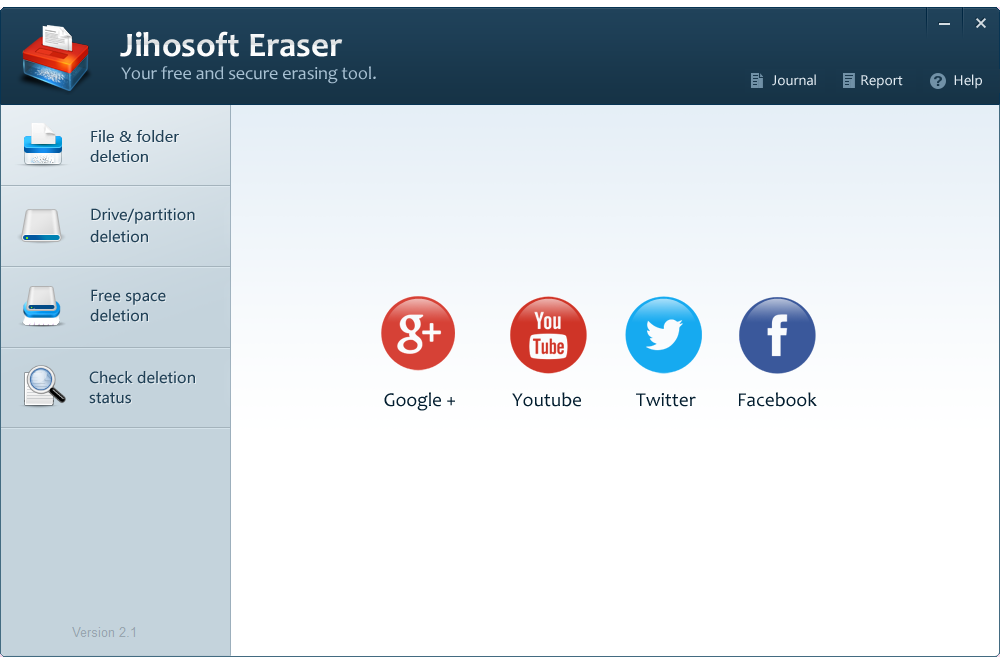 Tool to Delete Files Permanently from Computer: Jihosoft Free Eraser
Are you planning to sell or donate your old computer? If so, you should know that when you delete files from computer, they can still remain on the hard disk. And what's worse, the deleted files can be recovered easily with cheap data recovery software. Don't want others to access and view your personal data? Here is a free and easy-to-use solution. Jihosoft Free Eraser will overwrite your private information with carefully selected patterns and make sure the data is truly gone.
Jihosoft Free Eraser is a completely free utility to delete sensitive files permanently from PC's hard drive and other storage devices without difficulties. The program features with advanced overwriting algorithms to wipe out individual files, folders, as well as content of entire drive or partition. Jihosoft Free Eraser shows very intuitive and user-friendly interface with simple visual guidance which makes it easy to handle, even novices can operate it without any problems.
Key Features of Jihosoft Free Eraser:
Professional data wipe software to deleted private information permanently from computer.
Securely delete individual files and folders, as well as content of entire drive or partition.
Cleanup unused and slack space left on hard drive and wipe out data on portable storage devices.
Provide multiple levels of data overwriting algorithms and serve three data deletion modes.
Record data wipe history and provide product usage journal for user's further review.
Completely free for personal use, 100% clean and safe to erase personal data, no spyware or malware.
Run well on all popular Windows operating systems and supports wide Windows file system like HFS+, FAT, NTFS, EXT, etc.
Supported OS: Windows 8/7/Vista/2000/XP