Are you in need of a reliable Outlook repair/recovery program? Stellar Repair for Outlook might just be the perfect option for you.
Outlook users are often faced with the problem of data loss, file corruption and damage, which could be too severe for the in-house repair tool to fix. Hence, to repair affected files, a third-party repair program is often required. And one of the most reliable Outlook repair programs out there is Stellar Repair for Outlook.
What is Stellar Repair for Outlook?
Stellar Repair for Outlook is a repair program, specially designed to fix various degrees of corruptions in Outlook, and also run clean recovery on affected files. It is a comprehensive product of Stellar Information Technology Pvt., which is a worldwide provider with the suite of complete data care tools.
The software is equipped to fix and recover not only emails, but also calendars, journals, notes and other kinds of attachments/files embedded in the PST. Furthermore, Stellar Repair for Outlook ensures that recovered files maintain 100% integrity, without any fractional loss and the likes.
In addition, it hosts a flexible support system for Outlook, with designated support for all Windows versions, from Win XP to the latest version Windows 10. In the same vein, there is support for virtually all Outlook versions, from Outlook 2000 to the latest Outlook 2019.
How Stellar Repair for Outlook actually works?
After downloading and installing from the official page of Stellar Repair for Outlook:
In Step 1: On first screen, dialog box appears and asks to 'Browse' and offers 'Find' options to select and locate the PST file you want to repair. After selecting the required PST, you need to click 'Repair' button to start scanning and further going ahead with the repair process.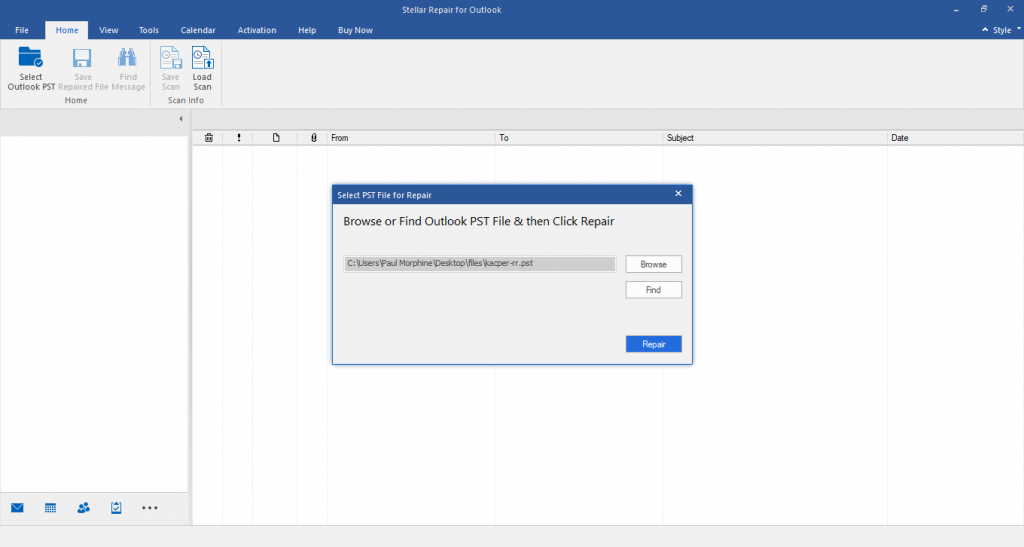 Step 2: Scanning process of damaged PST file will start. The time it takes will depend upon the size of the Outlook PST and the severity of damage that needs to repair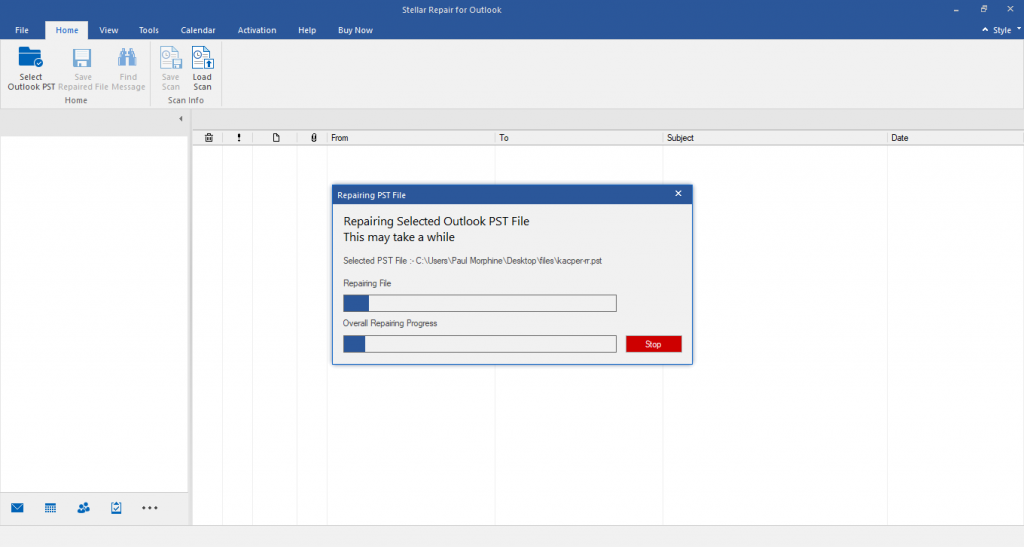 Step 3: As the scanning and repair process completes, software displays the complete mailbox preview of all the repaired PST folders. You can drill down and expand/browse in the left pane tree by selecting the individual folder to check related mail items. Deleted items are highlighted in red font.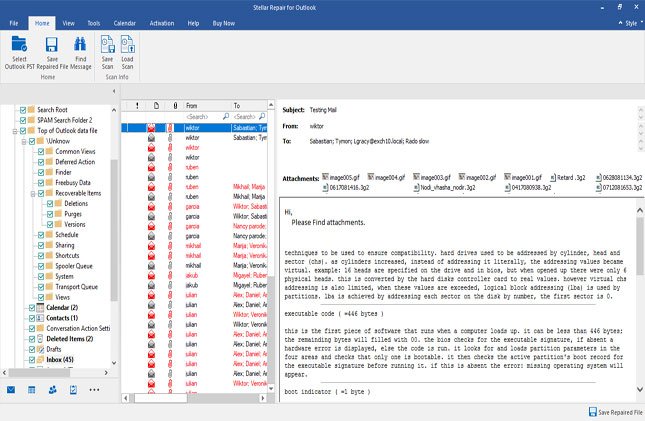 Step 4: To save the repaired data, select any single or multiple folders and click the 'Saved Repaired File' button on the File menu. Then, you need to select file format as PST or other saving option and select the location/path where to save the repaired data. Click 'OK'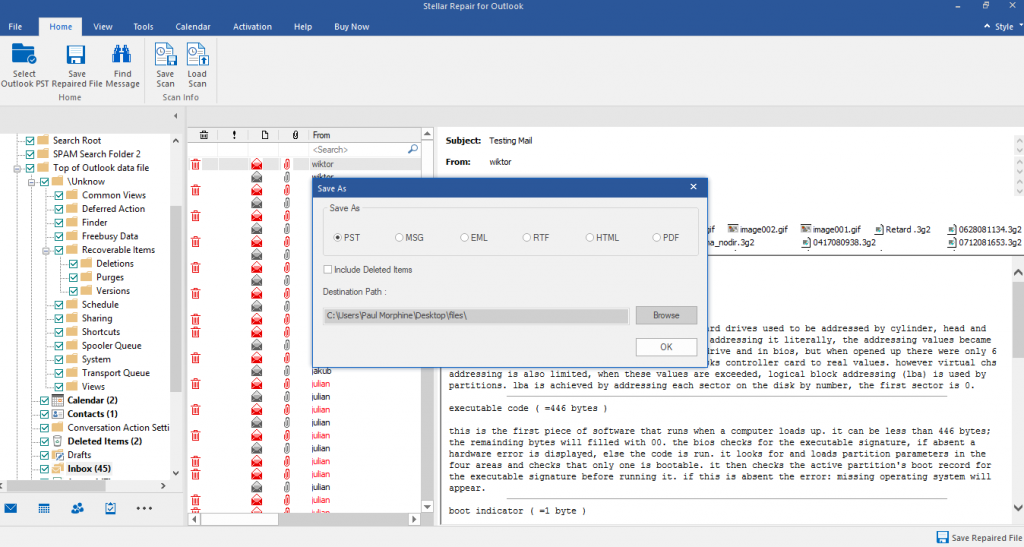 Step 5: The bar from left to right, displays the progress of the file saving process and after a while it shows -Saved successfully! That's it!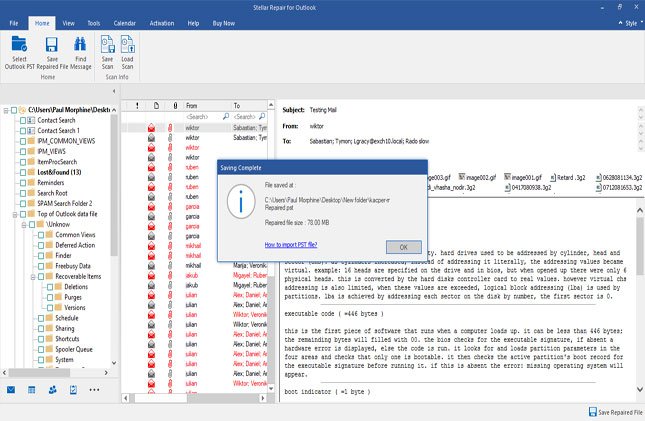 Benefits of Stellar Repair for Outlook
Absolute Recovery
Although, several standard recovery tools easily restore damaged PST files, but not many guarantees 100% – absolute recovery like Stellar Repair for Outlook. Stellar Repair for Outlook is highly credited for this, as it ensures that the integrity (format and content) of corrupt PST files is duly kept intact upon recovery.
Furthermore, it offers users the opportunity to recover PST files in Microsoft Office. And it is capable of running this recovery in quick time; although, the recovery process could be a bit longer, if the file(s) in recovery is huge.
Recovery of Passworded Protected Files
Having accessibility issues in PST? Stellar Repair for Outlook will easily resolve it. The program can be deployed to recover password-protected Outlook files. So, if you happen to misplace or forget your password, you can employ the software to force-open PST and recover your files, in the original format(s).
User-friendliness
The software comes with a new look and feel that is similar to the latest graphical interface of Microsoft Office. This enhances users' sense of familiarity, which consequently improves their ease of navigation on the platform.
Penetrating Scans
This is the basic functionality of the program. It is capable of running comprehensive scans, to reveal even the most insignificant corruption or file damage in Outlook PST. This way, no stone is left unturned.
Key Features of Stellar Repair for Outlook
Powerful Repair & Recovery
Stellar Repair for Outlook hosts a powerful set of algorithms, which is capable of running deep scans; identifying and repairing bugs/corruptions/damages in Outlook PST files (irrespective of severity); and recovering Outlook files (mailbox, calendar, attachments and contacts among others) in quick time.
Multilingual Support
The software is a lingually-diversed platform, housing support for up to five languages, including English, French, Italian Spanish and German.
Selective Multi-format Recovery
Stellar Repair for Outlook hosts smart feature that is capable of drawing out messages or files, selectively, from a pool of corrupt mailbox messages/files. Subsequently, the selected messages are duly repaired and recovered.
Also, you are afforded the opportunity of saving this set of messages in desired formats, basically in MSG, RTF, HTML, PDF or EML format. The Technician version support saving in MBOX and DBX file format and also special option to directly export the repaired PST to Office 365.
Recovery of Deleted Emails
This feature is designed to facilitate the recovery of emails that were deleted from your mailbox unintentionally. This is an essential fail-safe option, as you are afforded the opportunity of recovering important emails that are mistakenly deleted from your inbox, sent items or 'Deleted items' box. To distinguish the deleted mails before saving data, the software shows those as in red color font in preview window.
Free Preview of Recovered Messages
The program comes with an improved preview setup, which allows you to see items (files or messages) in recovery, before they are saved on your system. This enables you to sieve out the mail items you don't need.
Repair & Recovery of Encrypted Outlook Files
Encrypted PST is highly difficult to recover once it gets corrupted. However, Stellar Repair for Outlook's advanced engine can unlock, fix and recover encrypted files and the inside data, which are then saved to another desired location in the required format options.
Other notable features of Stellar Repair for Outlook include:
Intuitive GUI
Save & Load Option
Three-view format
Improved 'Find' (Search)
Save to External Media
Automatic updates wizard
And more
Final Words
Essentially, Stellar Repair for Outlook is arguably the most reliable Outlook PST repair tool in the market. Hence, if you are having any problem with your Outlook, you might want to check out this software. Free download and have a trial!