Everyone agrees that Freshdesk offers one of the coolest helpdesk platforms today. With a complete suite of solutions that is robust, what more can a business ask for?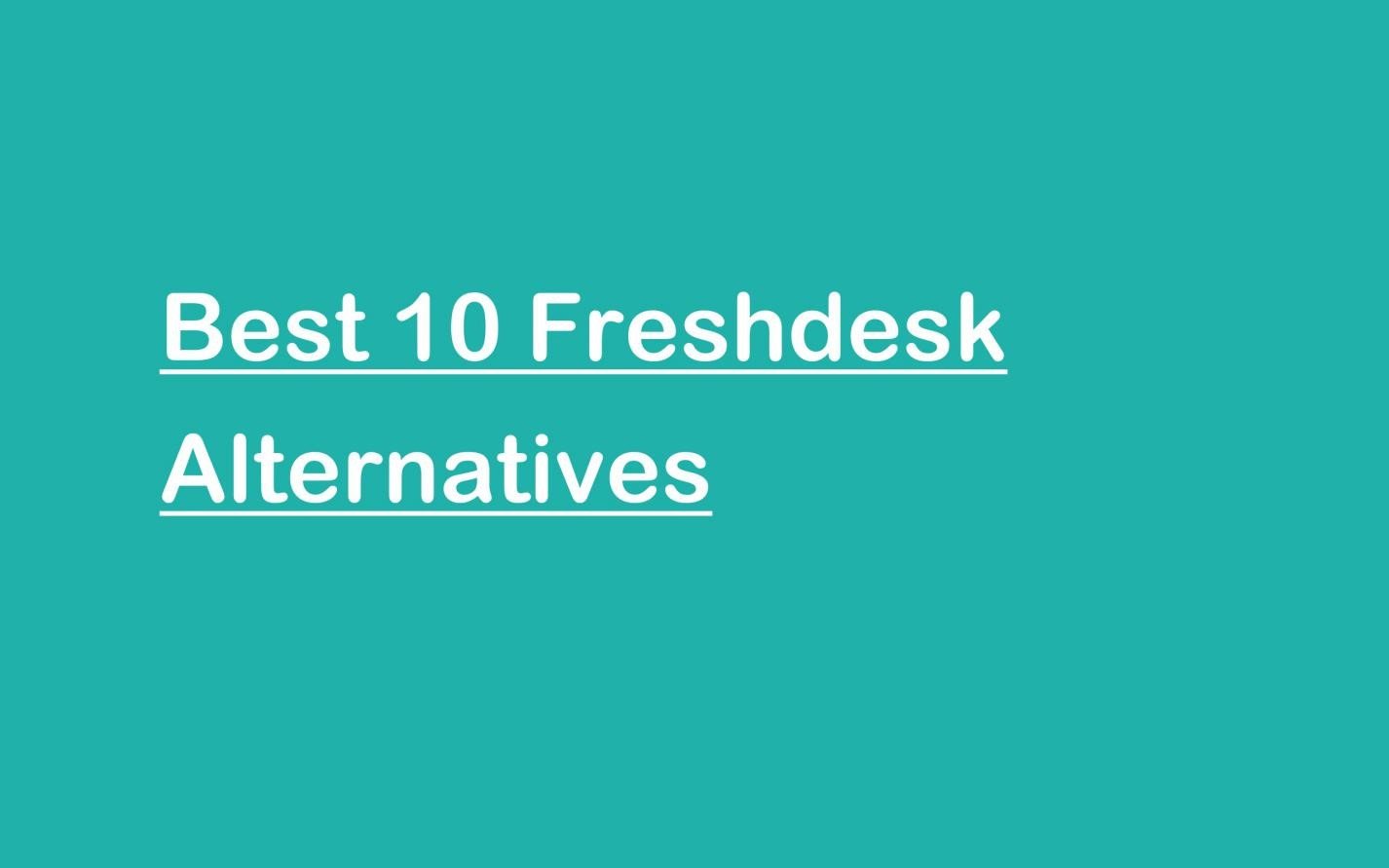 That said, I am sure you must have heard the phrase 'one size does not fit all'. Therefore, even the best of solutions may not be the right fit for everybody.
Perhaps the Freshdesk tool is too high end and hence not suitable for small and medium-sized enterprises. The reason can also hover around the free version handicapped with too many limitations. Or maybe you are looking for help desk solutions that are geared to improve customer service and brand loyalty for your business.
Whatever the reason may be, you need to weigh your options carefully when you start looking for an alternative to Freshdesk?
But fear not as your quest ends here.
We've done all the digging so that you do not end up spending precious time on unnecessary research.
10 Freshdesk Alternatives That Can Improve Customer Service & Brand Loyalty
Even though Freshdesk ticks all the boxes when it comes to hitting high standards of customer service consistently and driving brand loyalty, you may have to look elsewhere. To help meet the demands of your business needs, here is a list of the best alternatives to Freshdesk.
Take a look.
1. ProProfs HelpDesk
When it comes to helpdesk software, there are not many in the business that can give ProProfs HelpDesk some real stiff competition. The most important aspect of this solution is that it has been developed keeping in mind the ever-evolving needs and expectations of the customer service industry.
Features:
ProProfs helpdesk can be incorporated with platforms including mobile and website that enables quick resolution of customer issues with the help of its live chat feature
Shared inbox simplifies the management of customer-facing inboxes making it the experience more user-friendly and convenient
Categorize and then classify emails through labeling, tagging internal notes and most importantly, prioritization
Offer swift resolution to customer concerns and queries through generating and managing responses promptly
Employ canned responses which are a rule-based automated messaging system when a precise resolution for customer issues is not possible instantly
Why Use ProProfs Helpdesk:
ProProfs helpdesk is a worthy Freshdesk alternative as it has all the must-have features of a helpdesk platform that has the power to reduce customer tickets by 80%. Additionally, it helps in minimizing redundancy of work and optimizes agent effort to effectively and promptly attend to customer queries.
Benefits of ProProfs HelpDesk:
Centralizing various customer issues relating to contact, support, sales, and billing helps agents using ProProfs helpdesk system to generate responses in the appropriate context enabling tickets to be routed and tracked by agents using labels, notes, and priorities
Customer tickets can be significantly minimized by using ProProfs helpdesk as it integrates a robust self-service tool like a knowledge base where users can independently look for solutions to their queries
ProProfs helpdesk offers the benefit of real-time surveys and Net Promoter Scores that customers can use to share their ratings on the overall experience
Pricing:
$10/user/month
2. Help Scout
If you are looking for a budget helpdesk software that facilitates quick customer resolutions while delighting your customers, Help Scout is the perfect Freshdesk help desk alternative. When you register with Help Scout, you get access to their weekly free resources and seek guidance from their world-class, knowledgeable, and friendly support team who are available via live chat and email around the clock.
Features:
Proactive messaging to start conversations, announcements, onboarding clients, etc. allows quick customer conversions and, in the process, minimize tickets that initiate stronger business foundations
Deliver an exemplary experience every time with Help Scout's customer service software that enables integration of 'all-important' customer data with the helpdesk platform
Set the right customer expectations with Beacon, Help Scout's dedicated chatbot that only displays a live chat window when an agent is available to assist
Access to a shared inbox allows the business to consolidate their email, chat, and phone conversations in a single space, therefore, reducing possibilities on missing out responding to active tickets
Help Scout's aggressive reporting system does not require any customization, and you can assess team performance and productivity even during the busiest of times
Why Use Help Scout Helpdesk:
Help Scout helpdesk platform helps businesses navigate through a maze of tickets, unnecessary automation, and customer portals. Import data from competitor helpdesk systems and even work through API restrictions. The product team is constantly innovating by introducing new features periodically.
Benefits of Help Scout HelpDesk:
Integrate seamlessly with several key third-party platforms like Salesforce, HubSpot and Jira that simplifies and automates workflow
Enlist live chat support to merge real-time conversations while still having the option to share relevant links, gather information and save the chat transcript for future reference
Reduce your support tickets by 20% by publishing answers to the most commonly searched queries via Help Scout's knowledge base software
Pricing:
$20/user/month
3. Zendesk
If you aim to deliver world class customer experiences that also redefine the standards for agents and admins, then your search ends with Zendesk. A formidable Freshdesk alternative self-hosted on the cloud, Zendesk is a powerful and flexible platform that can be scaled to meet the needs and expectations of the business.
Features:
Zendesk's ticket forms expedite the information collection process by creating many support request forms with unique ticket fields simplifying the procedure for agents to understand specific customer needs
Custom and conditional designed ticket fields gather additional customer information that can be made visible to both agents and customers at the same time
Initiate instant conversations through social channels, email and more via seamless integration with third-party applications
Using 100+ Zendesk APIs, you can design sophisticated customizations to develop assimilations and leveraging of self-service tools, tickets and more
Comprehensive insights available via dedicated performance dashboards that highlight key support metrics, ticket volume, and agent productivity
Why Use Zendesk Helpdesk:
Zendesk helpdesk platform with its suite of core competencies penetrates right to the heart of customer support. With a multi-channel, multi-lingual IT software along with self-service tools, enables agents to monitor, track, and prioritize resolving customer concerns easily. Moreover, automation and triggers facilitate ease of use.
Benefits of Zendesk HelpDesk:
With Zendesk help desk, your team can easily view SLA status, track metrics in real-time therefore minimizing possibilities of ticket breaches
The platform supports 40+ languages with a localized admin interface personalized as per agent preferences
Enable agent collaboration with external and internal teams in an efficient manner through email or Slack in resolving customer concerns
Pricing:
$5/user/month
4. HappyFox
A powerhouse in the space of helpdesk software, HappyFox is a cloud-based platform that offers one of the most user-friendly interfaces that ensure better organization, quick responses, and monitoring customer issues. It has been the preferred helpdesk channel for several global businesses simply because of its ease of use, intuitive design focusing on customer relationship solutions.
Features:
HappyFox's unique, centralized Email Ticketing System is feature-rich making it possible to collaborate amongst teams in managing volumes of support emails by categorizing them according to status and priority effectively
HappyFox is one of the best alternatives to Freshdesk as it enables businesses to offer social media customer support through channels like Facebook and Twitter
Minimizes chances of leaving tickets unattended by agents interacting with customers on time manner using the Automatic Ticket Assignment
Empower agents via a step by step guide assistance for troubleshooting issues with basic agent training via the Agent Scripting Software that also boosts KPIs like first call resolution
Templatized responses facilitate swift customer resolutions by using canned actions that combine actions with frequent query responses
Why Use HappyFox Helpdesk:
Helpdesk solutions by HappyFox have revolutionized the space of online ticketing systems by conveniently integrating across industries like computer and software, education, travel and leisure, media and publishing, energy, retail, and more. The top-notch software security encryptions make it one of the reliable helpdesk tools available in the market today.
Benefits of HappyFox HelpDesk:
Enhance productivity with its all-powerful suite of workflow automation that facilitates timely communications, prevents SLA breaches using their one of a kind Smart Rules process
Plan your tasks, receive notifications, be updated about upcoming tasks and engage in granular ownership along with boosting performance with HappyFox's Task Management System
Import all tickets related to hardware and software assets from a unified helpdesk platform with HappyFox's Asset Management tool
Pricing:
$29/user/month
5. Kayako
When you need a helpdesk platform that ensures scalability for your small business enterprise, then look no further than Kayako. Offering way more than run of the mill help desk features and functionalities, Kayako has established itself in the market as one of the fiercest Freshdesk competitors today.
Features:
Initiate effortless conversations by visualizing customer journeys by unifying interactions and offering personalized experiences by providing superior contextual support as and when required
Team collaborations made simple by the integration of the most frequently used third-party applications and transitioning smoothly from one channel to the other as seamlessly as possible
Convert prospects into leads in real-time with Kayako's live chat tool that can be incorporated with any platform such as help center, website, iOS, and Android mobile apps to engage with and support visitors with their queries
Add a little personality to your live chat with Kayako's unique and custom-designed Home Screen that can free up agents by presenting the appropriate content to prospects and existing customers at the right time
A unified customer service platform delivers personalized support by capturing customer events and activities via Zapier or simple webhooks
Why Use Kayako Helpdesk:
Kayako's bespoke help desk solution offers a useful ticket management tool. Being cloud-based, it enables easy integration with multiple platforms, streamlining all your customer support needs on a single dashboard. Prioritizing workflows, managing ticket escalations, organizing them with labels, and descriptive tags or filters is now more convenient than ever.
Benefits of Kayako HelpDesk:
Kayako works smarter with their enhanced self-service platform that allows customers to answer their questions and look for appropriate solutions conveniently available at their fingertips
Unify channels and keep the conversation going using Kayako's single window dashboard through empowering the team with powerful workflow and automation that organizes conversations across channels
Add a human touch with Kayako's live chat support that offers proactive and tailored service in real-time
Pricing:
$15/user/month
6. UseResponse
Take advantage of a better, smarter, and personalized helpdesk software like Freshdesk by opting for UseResponse, that is a powerhouse of all possible support channels jam-packed into a single offering. Integrating a SaaS product like UseResponse can save your business up to 70% of support expenditures while delivering world-class service through its on-premise customer support solution.
Features:
Access for the first-time a dedicated Customer Feedback Software integrated with UseResponse's suite of helpdesk solution to create a roadmap of collecting public feedback to build custom workflows
Evaluate responses received through customer portals to generate innovative ideas and create private communities to collaborate with internal teams across multiple products or languages
Offer the best user experience by unifying customer support with any requests in a single inbox across channels and handle queues based on conditions
Canned responses, macros, and automation tools in the helpdesk system enables agents to work professionally and efficiently while simultaneously analyzing team performance using real-time metrics
Task Management allows agents to create sub-task through checklists within the ticketing system
Why Use UseResponse Helpdesk:
If your objective is to centralize all support-related communication channels in a single ticketing system service desk, then the intelligent way is to incorporate UseResponse with your business operations. In due course of time, you will not only minimize support turnover time but also increase customer satisfaction ratios.
Benefits of UseResponse HelpDesk:
The Kanban board view facilitates the management of all incoming requests within the ticketing system
Go one step further by building a comprehensive database of user guides, manuals, articles, FAQs around your services and products with UseReponse's Php or cloud-based Knowledge base software
Introduce the live chat widget and third-party messenger services to communicate with prospective visitors on IOS, Android, a web application to offer on-site or in-app support in up to 5 local languages
Pricing:
$69/2 users/month
7. Jitbit Helpdesk
Jitbit helpdesk is going head to head as one of the key Freshdesk alternatives free software offerings that is a comprehensive ticketing platform trusted by businesses of all sizes across the globe. It is a self-hosted service with a user-interface that focuses on the simplicity of design and usability. Most importantly, it is a no-frills tool that comes with a powerful API allowing integrations with several external applications.
Features:
Tagging and categorizing tickets is a convenient and straightforward process with Jitbit helpdesk solution that facilitates ticket assignment to default agents while displaying ticket status on an ongoing basis
The uncluttered helpdesk interface that is also fast and intuitive helps in better management of email tickets, therefore, simplifying desk efforts through faster and efficient navigation via a single sign-in feature
Access to machine learning-powered automation tools optimizes the handling of customer service requests by activating rule-based chatbots and auto-responders to reply to common customer queries
Monitor team performance with its set of built-in analytical tools that generates customized reports and business insights incorporating core competencies including productivity and issue tracking
Integrate with key third-party platforms such as project management systems, CRM tools, bug-trackers, or other software solutions to support operational business needs from a unified helpdesk dashboard
Why Use Jitbit Helpdesk:
Lightweight, user-friendly, and affordable, yet flexible and premium, is what ideally defines the Jitbit helpdesk. It is being adopted by business worldwide as it incorporates all the necessary features and benefits that can make the customers happy and satisfied. Be it file attachments, email integrations, or powerful search functionality, Jitfit offers a helpdesk system that really helps the business get through customer support like a breeze.
Benefits of Jitbit HelpDesk:
A cloud-based helpdesk, Jitbit can be accessed from any browser or smartphone and touch devices, from any location around the globe
Access a comprehensive self-service customer portal that includes published FAQs, how-to articles, and other relevant manuals and guides readily available to customers
Download reports in simple Excel and CSV formats that feature KPIs including resolution time, customer support metrics, response speed and more
Pricing:
$24/users/month
8. Intercom
A pioneer and veteran in the space of helpdesk systems, Intercom that explored new pathways to connect with clients across their life cycles with scalable and personalized support. Offering a little bit of pretty much everything under the umbrella of customer support and continuous client engagements, Intercom can be considered as a tough Freshdesk alternative today.
Features:
Touch base with customers at the point of purchase via the mobile app or website using Intercom's Business Messenger with connected workflows that can be scaled for individual clients to suit their immediate requirements
Speed up customer resolutions by employing Custom Bots designed to interact with your visitors 24/7 initiating meaningful conversations, asking questions, growing your prospects, and delivering valid leads while they are still active on the platform
Trigger faster conversions by replacing web forms with bots that offer high engagement with intent-based conversations while gathering critical information and prioritizing issues based on urgency, routing conversations to the appropriate teams and agents
Intercom's unique Resolution Bot offers instant relevant answers as soon as a customer starts typing and even before the enter key is hit
Intercom offers multilingual and global customer support in 7 languages with automated responses tailored to meet brand and audience specifications
Why Use Intercom Helpdesk:
With an 'all-in-one' offering Intercom is one of the most popular helpdesk systems used by companies around the world. Be it external integrations, improving CSAT scores, or minimizing the volume of inbound conversations, Intercom has a solution that caters to all business needs.
Benefits of Intercom HelpDesk:
Intercom's compelling messaging with optimal channel impact enables a quick increase in sales, onboarding new customers and delivers swift business growth by creatively refining the overall customer experience
Quickly convert visits into saleable opportunities by alerting sales reps when their accounts are online through Intercom's dedicated Account-based Marketing allowing them to close more deals in real-time
Accelerate revenue and growth by connecting with prospects via Intercom's strong live chat tool that can be integrated with the app as well as the website geared to enhance the support experience
Pricing:
$39/users/month
9. Zoho Desk
Enabling the business to focus on its customers, Zoho Desk is the world's first context-aware help desk software that offers a suite of support options to build strong customer relations. With an integrated help center approach, Zoho Desk support meets all the necessary needs of the organization enabling better business and bigger revenues.
Features:
Access to a multi-channel ticketing system that organizes tickets gathered across support channels into a single, convenient window enabling agents to handle and respond to issues in a streamlined manner
Set keyword alerts to receive instantaneous updates so that tickets can be routed to the appropriate teams and agents saving precious time and addressing issues that need immediate resolution
Convert messages received on social media platforms including Twitter and Facebook into tickets so that these comments converted tickets can be monitored and tracked by agents in the appropriate fashion
Embed Zia, Zoho Desk's AI-powered assistant, that helps agents to keep tabs on all aspects of customer support and monitor related service efforts
Facilitate conversations between customers and Zia through the mobile app and website to process client queries by recommending instant solutions utilization Knowledge bases and using Skill Builder to train and Zia to perform actions like order editing or placing orders
Why Use Zoho Desk:
Zoho Desk can be tailored to meet industry specific needs. It offers the best help desk tools. Multiple support channels to empower agents in providing a unified customer experience.
Benefits of Zoho Desk:
Take advantage of Zoho Desk's embeddable live chat widgets with your Help Center and instantly convert customer conversations into tickets
Use cloud-based Telephony tool to make and receive calls, log and monitor them, convert them into tickets or tag them existing one all from the convenience of your unified help desk system
Web forms integrated with your website can also be converted into tickets as and when customers submit their questions through them
Pricing:
Rs.720/users/month
10. Salesforce Service Cloud
Salesforce Service Cloud revolutionized customer support by triggering easy engagements and interactions between businesses and their clients, thus, adding tremendous value to the business. With automated service processes and streamlined workflows, Salesforce has long since been a recognized Freshdesk alternative in the help desk industry.
Features:
Keep the conversations flowing by offering customers relevant solutions utilizing the Chat 1:1, a unique live chat feature that connects with the agent through any device in real-time with multi-lingual support
Go beyond conventional online support by activating SOS, that offers access to video support with live agents, screen sharing, two-way audio along with on-screen annotation accessible from any mobile applications
Unify next-generation of agent experiences and boost productivity and performance with the Lightning Service Console feature that provides agents access to data from customer profiles, case histories, and dashboards with a 360-degree view
Take advantage of the Case Management feature to gain easy visibility into the full context of customer current and previous case histories and maintain records of individual customer interactions within a single dashboard
Use Workflow Management through a drag and drop mechanism to automate and personalize any customer service or approval processes
Why Use Salesforce Service Cloud:
Known as the world's first CRM platform, Salesforce Service Cloud helps businesses connect with customers across various touchpoints, including sales, marketing, support, and service. A cloud-computing model, this platform is customizable and scalable to meet diverse business needs as and when they expand and grow.
Benefits of Salesforce Service Cloud:
Respond to queries made on social platforms like Facebook and Twitter by monitoring through Salesforce' Social Customer Service functionality
Have a complete overview of all customer assets, orders, support history, and more and tag them to relevant activities using Asset and Order Management tool
Check reports and metrics in real-time via custom dashboards to make informed decisions on customer cases and issues
Pricing:
$25/users/month
Conclusion
There is nothing worse than employing an average help desk software that only looks good on paper.
Having done our research right, we recommend these 10 Freshdesk alternatives. Most of these helpdesk systems offer free trials or even a basic free version. So why not give these options a worthy shot. You might just discover a match made in help desk heaven!