Google Glass could either be a revolutionary new product or it could wind up being a product that winds up in a very niche market. As the first of a new generation of wearable computers, Google Glass brings a lot of technological innovations into the forefront which allows users a level of flexibility never seen before as a product available for the general public. However, that doesn't really answer the question "what is Google Glass"?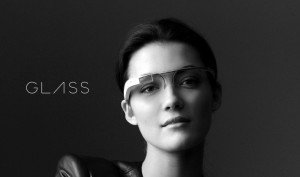 Google Glass is essentially a pair of glasses, or goggles about the size and shape of a pair of fashionable sunglasses. As a wearable computer, it projects various data information on the inside of the glasses so the wearer can see the information easily and quickly.  Sounds very Terminator, doesn't it?  Hey, Arnold Schwarzenegger may have been more ahead of his time than any of us ever thought.
The information projected on Google Glass could be as simple as the date and time or as data intensive as tracking down flight information and status for travelers. With Google's voice interface, controlling this wearable computer is actually fairly simple since Google Glass has a basic command list it works from.
Another feature of Google Glass is the ability to take pictures and video from the wearer's point of view. This enables wearers to easily create video for work related projects, family outings and vacations, etc. with the simple "take video" or "take picture" command.  With the camera/video recorder being embedded in the actual structure of the glasses, this resolves the problem of having to carry a camera or drag out the cell phone to take pictures and video.  Google Glass' has built-in wifi connectivity, uploading pictures and video to Facebook and other sites is a simple action as well.
Actual product testing for Google Glass began in April 2012 where a prototype was introduced at a Foundation Fighting Blindness event in San Francisco.  The first test video shot using Google Glass came in May 2012 and in June 2013 Spanish doctor Pedro Guillen took it a major step forward by using Google Glass to broadcast a surgery procedure on video.
However, does this make Google Glass a viable product?  Time will tell, as it could turn out to be a natural progression toward something that will be more practical and useful to the general public.  Just as MySpace wound up setting the table for the more user-friendly and mass-appealing Facebook, Google Glass could be the table setter for something else to be generated by Google or another company.
Granted, as a tool for specific industries and instances, Google Glass could be invaluable. As a toy and a novelty for the techie, it is undeniably attractive. But, does Google Glass have the features and the power to become an essential have-to-have for the average person? What are the hazard factors and distractions that Google Glass could impose on wearers and is there a reasonable balance? All of those factors remain to be seen and since Google Glass is not, as of yet, available to the masses, it may be some time before many other, possible far more important questions get answered.
About Author: Louis Rossmann is a straight shooting tech guy who specializes in repair and LCD replacement.  Contact him through his Rossmann Group website.