If you have either a blog or a website, chances are that you are hoping that you can do whatever it takes to build a larger customer base and unless you just came on the scene, you already know that Social Media is one of the best ways to accomplish that task. If you are fortunate enough to be using a WordPress blog, you are in luck, because they have introduced a floating social bar plugin that will help you accomplish just that.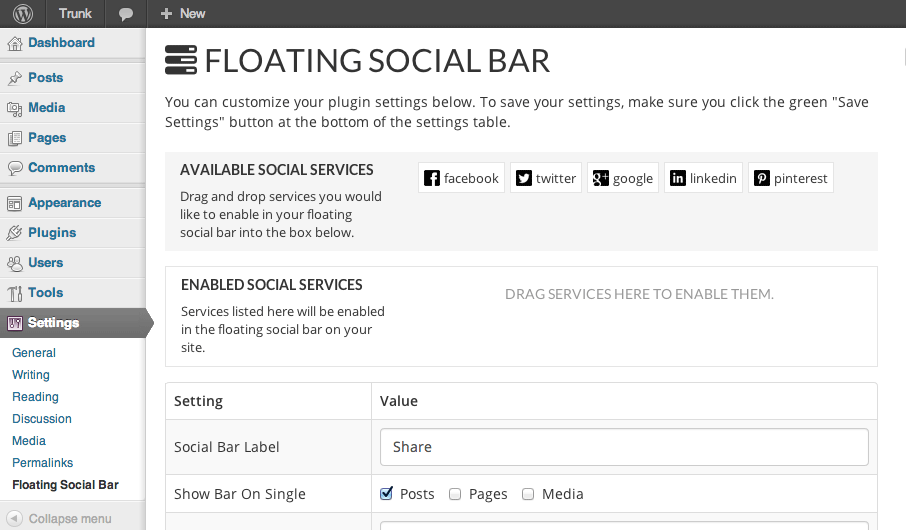 This is probably one of the best marketing tools, as far as a Plugin goes, that you can use for nothing, which means that if you don't install it, you have nobody to blame.
Step 1.  Download & Install On Your Blog
The first thing you need to do is to install the plugin and to do that you need to get over to the WordPress download page. Known simply as the "Floating Social Bar", you will have to be running WordPress version 3.4.1 or higher for the plugin to run on your site. The entire download process should take you less than a minute, from there, the next step will be to choose the social sites you would like your information to be sent to.
The usual sites like Facebook, Twitter, LinkedIn and Pinterest are all available for you to add and of course Google+ and a variety of others are also accessible through this plugin. Keep in mind that you will need to sign up with some networks in order to get access to them. The Floating Social Bar is Horizontal and does not take an obtrusive amount of space, which simply means that your visitors will see it, but it will not necessarily be distracting. It is also important to complete your settings so that the bar lands where you want it to and of course, remember to save your settings before moving on.
Step 2.  Customize To Your Liking
One of the many benefits of a floating social bar is that, unlike other information on a blog, the bar will follow you wherever the screen stops. What this means is that you social bar will be front and center in front of your visitors at all times, constantly reminding them to share your blog. Of course those settings can also be changed to reflect your particular taste. One of the reasons why your floating bar will be recognized is because of the individual logo that not only stands out, but will immediately remind your guests that they have the ability to share your information with their favorite network.
Even with all these advantages, you still have everything you need to kick off an area of social marketing that you probably never had access to in the past, but there is more. There may be other situations that require further adjustments to your settings, for instance, is there an article that you would prefer not to share with others, a simple short code will handle that task for you. Maybe you would like to choose the blogs where your social bar pops up, a metabox is available to handle that important task.
If you have tried other social bars in the past and have realized that they turned up lacking in features and the ability to be streamlined, this WordPress plugin will probably be the only one you will ever need. So there you have it, the new world of social marketing, brought right to your WordPress Blog and all for a price that you can afford. It is the wave of the future and you can now include Social Media sites like Facebook, Twitter and Google+, all on your own blog.
About Author: This article was written by Garen Arnold who runs Blog Setup Guide, a website that is geared towards showing people how to start a blog from scratch.