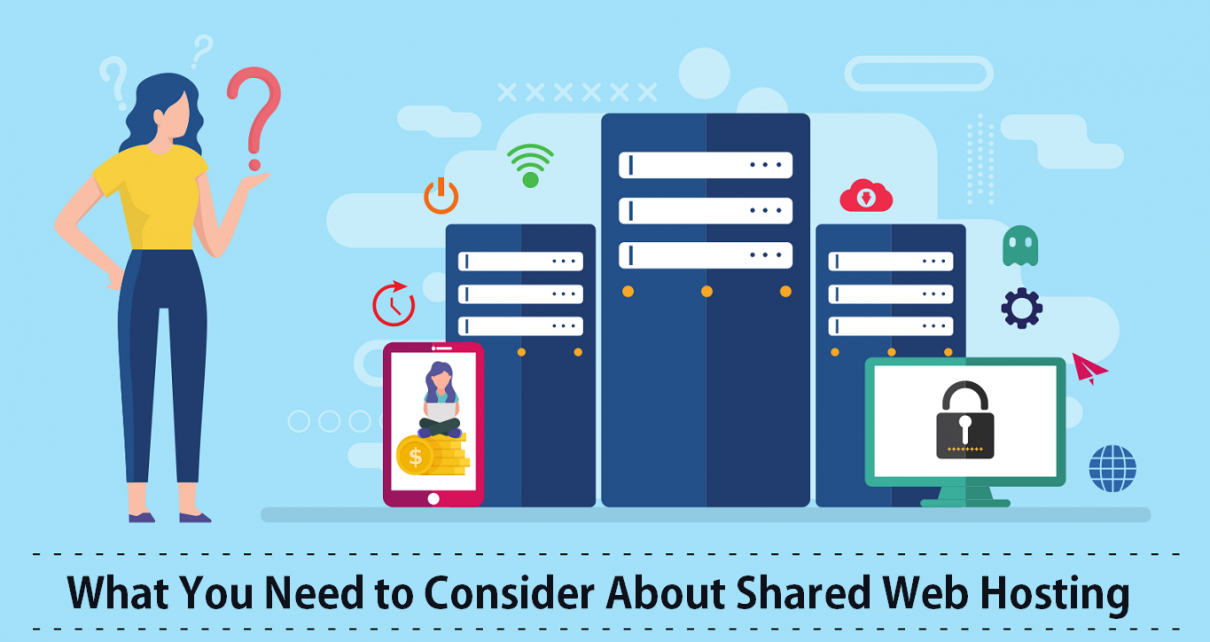 What You Need to Consider About Shared Web Hosting
Shared Web hosting, the most common type of hosting services that offer cost-effective options for beginners, those who wants to bring their site online. If you are one of the many in the crowd who wants to get started online then it is very necessary to get all the essential details about the server and hosting.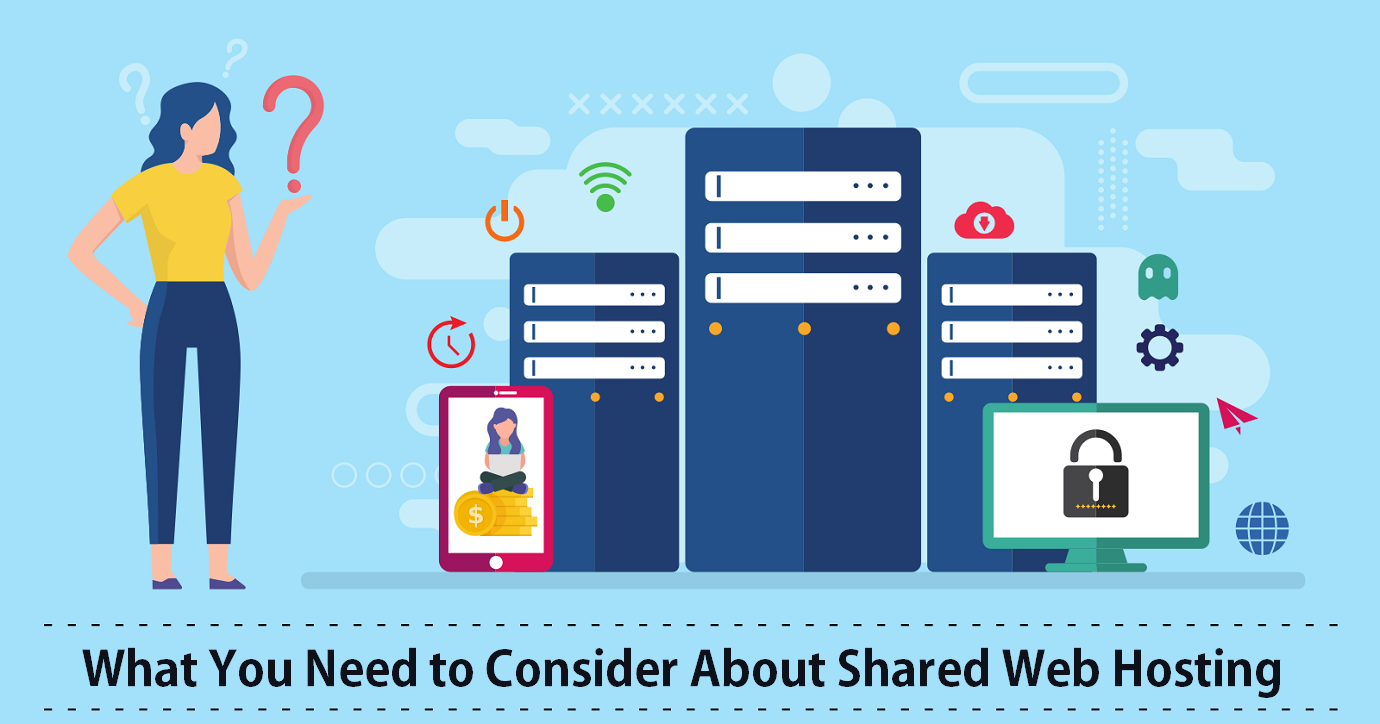 Different people carry different perceptions in their mind regarding Shared Web Hosting. Now it's time to brush up on your ideas. Generally, users doubt the word 'shared' in Shared Web Hosting.
Before concluding your judgement, let's take a glance at the bits and pieces about Shared Web Hosting.
What is Shared Web Hosting?
This is the first question that might have crossed your mind. So, in this hosting, you need to rely on a server to link your website's pages to software applications that further connect to the internet and allow you to access your site. In simpler words, it assists to make your website accessible to all systems on the WWW (World Wide Web). As soon as the server hosts your website, all users can type the domain name in the browser to visit it.
Basically, in Shared Web Hosting, you are sharing the server resources with other netizens. You have the full liberty to access every corner of your website.
The most concerning things you need to consider before choosing a Shared Web Hosting include their plans, performances, scalability, and the features provided by them. But first things first, keep in mind your requirements and primarily the budget. 
At a glance-
Your Shared Web Hosting might include most of the qualities listed below-
High uptime guarantee
Single-click installation of web apps like WordPress
User-friendly 
Fast Solid State Drive storage (access to unlimited storage and unmetered bandwidth in premium plans)
24*7 customer service availability
Fastest loading speed
Free SSL certificate
Automatic backup daily
Privacy protection 
Easily accessible control panel
Flexible and budget-friendly packages
Coupon codes
What all responsibilities you have to keep in mind while dealing with Shared Web Hosting-
Your service provider is mainly responsible for maintaining the server. As a recipient, your sole responsibility is to check how often the host maintains or upgrades the operating system.
Ultimately, the main sailor of your website is You. A control panel will be provided to you to have full access to your website. This will assist you to monitor the number of visitors to your website, upload files, and many more things. Your host will allot your site a specific amount of bandwidth, disc space, and abundance features which you can monitor via your cPanel.
Few things you must know before choosing a Shared Web Hosting
#1. You must know about hosting types like shared, VPS, Dedicated, Cloud, WordPress, Reseller and how Shared Web Hosting differs from the rest
#2. How bandwidth differs from data transfer
The bright side of choosing a Shared Web Hosting 
With the lapse of time, Shared Web Hosting has grown a lot in terms of scalability as well as providing an abundance of resources too. A typical package costs around $3 to $15 per month. The availability of cPanel and SSL encryption makes it easier to handle your website more effortlessly.
Shared Hosting empowers you with assorted advanced features like unlimited MySQL database, support for PHP 7.1, 7.2, and 7.3, cPanel, IPv6 support, access to raw log files, secure shell access, Python support, and unlimited SFTP users.
We have listed a bunch of reasons below. You must take a look at them before choosing any web host. To be honest, Shared Web Hosting is the most reasonable choice available among all paid hosting solutions. In this highly competitive industry, many hosts are offering affordable packages with abundant features. More or less every host offers you almost similar features regarding Shared Web Hosting. Some advantages include:
1. Price- It is quite natural to look for the price on a priority basis. Some hosts allow you to pay monthly and the rest allow you to pay annually. Almost every plan is easily affordable for its flexible price ranges. The price might also get reduced when you apply a coupon code or pay for a lump sum for the entire year.
2. Scalability- Maximum hosts offer you a variety of packages. You can choose your package as per your requirement. The smallest package has limited features, bandwidth, and disc space. Whereas premium packages offer you many additional features. You can choose the package depending on your affordability and need.
3. Performance- These days performance has become a benchmark for analyzing a web host. The height of performance has become a concerning issue. At times, due to the involvement of more traffic, your website might respond slowly. But primarily your Shared Web Hosting shows up with high uptime.
4. Features- Almost every host allows you to enjoy ample features which are provided by them. These web hosts frame the features in such a way that can suit your cravings perfectly. Once you are done with the payment, you can keep your hands on any of these features provided by your web host.
5. Easily accessible control panel- Through an interactive user interface, you can navigate through any tool listed there. To put it in a nutshell, the control panel makes your navigation extremely manageable and effortless.
With Shared Web Hosting, you have full freedom to get access to a greater number of resources. However, the more resources you use, the more you have to pay. Before jumping to any conclusion, always make sure that the web host fulfills your requirement in the long run.
When Sharing might not be for You
Every coin has its two sides. Likewise, every web host reflects some loopholes too. Shared Web Hosting might not suit some of your criteria. Some minor problems that you might face from your host are listed below. 
Being an old user, some of you might raise questions about its performance like slow loading speed and recurring downtime. To be honest, your host can resolve this minor issue within a few minutes. 
Other minor issues are lack of flexibility in hosting plans, lack of security, and slow or unresponsive customer service. Again, these issues are host and individual-specific. It is always advised to choose a web host after you are done and dusted reviewing the features provided by the web host. You need not jump on a web host which does not fulfill your criteria.
1. Performance- Performance can be listed under both categories. One out of every ten busy operating times, your web host might respond slowly. This is not a permanent issue. Your web host is always at your doorstep to resolve a matter like this.
2. Lack of security- To deal with this issue, keep on updating your site more often. On the other hand, your web host also keeps on updating your uploaded stuff periodically.
3. File and resource restrictions- As some applications and functions might be restricted, you might struggle to run particular applications quite a few times.
Conclusion
Before finalizing anything, you must check what all things the Shared Web Hosting entails and whether that is going to satisfy your needs or not.
Don't go blindly for a web host until and unless you scratch down every detail about them.