The unprecedented progress taking place in the field of 'Artificial Intelligence' (AI) is quite promising. It tells a lot about how future will look like given that many prominent companies are setting up R&D facilities in order to reap benefits using profound potential of AI. Microsoft and Apple are partnering to create the real-world applications of AI technology. Google DeepMind's AI program has outsmarted humans at a game that involved racing around an unfamiliar virtual environment. In addition to that, Google RankBrain utilizes the power of AI to understand and respond to user queries.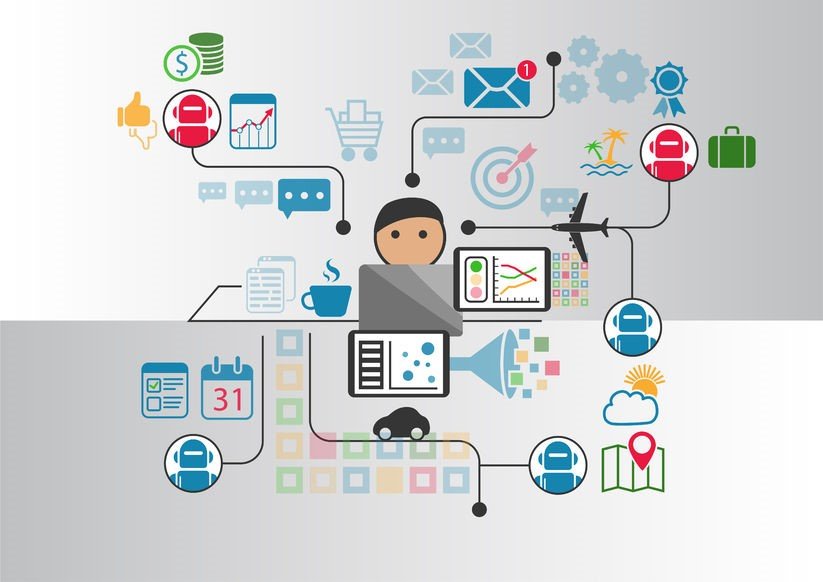 Tesla's tryst with autonomous cars, Google's personal digital assistant "Siri" and Amazon Alexa/Echo are prime examples of ripple that AI can create in all aspects of our modern lifestyle. These groundbreaking advancements have put AI in the center stage that can revolutionize every industry. In particular, AI can impact digital marketing in ways unimaginable. Going by the innovation in AI, it has acquired the capability of reasoning, deciding, analyzing, executing and predicting future patterns and trends.
Enhanced user experience
Every company has user experience as its topmost priority as satisfied users/customers are indicative of a successful business. AI can make a significant impact in terms of enhancing and personalizing user experience. In digital marketing, big data can be used for various purposes regarding users. For example, with personalized searches and customized content campaigns, buying behaviors and interests of users can be impacted.
On the flip side, AI can be used to predict buyer behavior, user persona and search cycles so that customer service can be eased. Content marketing strategy can be aligned with AI to disseminate and distribute useful content for customers. Thus, this approach can produce quality content for lead generation.
Chatbots are a good example of how AI can be leveraged to create great user experience. These are programmed to interact with users based on the data they receive. Chatbots can assist customers 24/7 and can retain their data; that is, customers don't have to repeat themselves with every interaction. They can handle several customers' requests simultaneously, without ever losing patience.
Predictive analytics and its impact on decision making
The increasing use of predictive analytics in businesses has made it a potent tool. It uses many techniques like data mining, statistics, modeling, machine learning and artificial intelligence to analyze current data to make future predictions. In other words, AI is at the core of predictive analytics. In digital marketing, AI can be used in the form of propensity modeling, which is a statistical scorecard used to predict the behavior of customers or prospect base. Business it correlates customer characteristics with anticipated behaviors.
Predictive analytics is helping businesses in extracting information from data in order to predict purchase trends and user behavior patterns. For example, Adobe Analytics is an AI-powered tool that analyzes a huge volume of data and helps uncover the most impactful insights. Based on the information about customers like needs, behaviors and future actions, digital marketing can be customized to create a targeted campaign. These 'predictive' campaigns can significantly reduce customer research on the product and makes decision making easier.
Great potential of image recognition
Recent advances in AI have produced a software that can recognize and describe the content in photos and videos. This impressive image-recognition technology identifies what is going on in an image and explains it aloud, thus helping blinds as well. This indicates the multitude of beneficial applications in businesses worldwide, especially digital marketing. The AI-powered image recognition can make payment processes way faster than they are now. With the help of this feature, security concerns that often involve in online transactions can be solved effectively.
Keeping in mind the endless possibilities of image recognition feature, social media could be an endless source of images. Marketers and analysts can use these images to observe the behavioral pattern and the factors that increase the chances of purchase of a product. Furthermore, with the help of adequate data regarding user behaviors and audience interests, a better decision-making algorithm can be created, which will bring a great return on investment.
Optimization of voice search for digital marketing
 According to a prediction made by ComScore, more than 50% of searches will be based on voice by 2020. This is due the increased sophistication of voice-recognition systems powered by AI. Today, AI personal assistants from Amazon, Microsoft and Google are seen as helpful and efficient way for people to not only make calls and text, but search as well. These devices use semantics, search history, user proclivities and other factors in order to process and understand the likely context of queries and provide results accordingly. Marketers, therefore, are increasingly optimizing for natural language long-tailed voice queries to get better results.
Final thoughts
Artificial Intelligence promises a future where business and marketing will be completely overhauled. Digital marketing is a glaring example where AI has made significant inroads. For example, chatbots are making jobs of sales agents quite easier. The processing of big data with intelligent algorithms powered by AI is going to help marketers make robust and immediate decisions.
The user experience is bound to be increased in the coming time owing to the advancements in AI. As an overall result, AI is impacting our lives in a big way. It is providing businesses invaluable insights, which are helping them understand consumer behavior and its requirements.