Web designing is very essential today, because it helps bring a website to life and creates an experience for your end users. What most people don't know is that web designing is a subset of web development.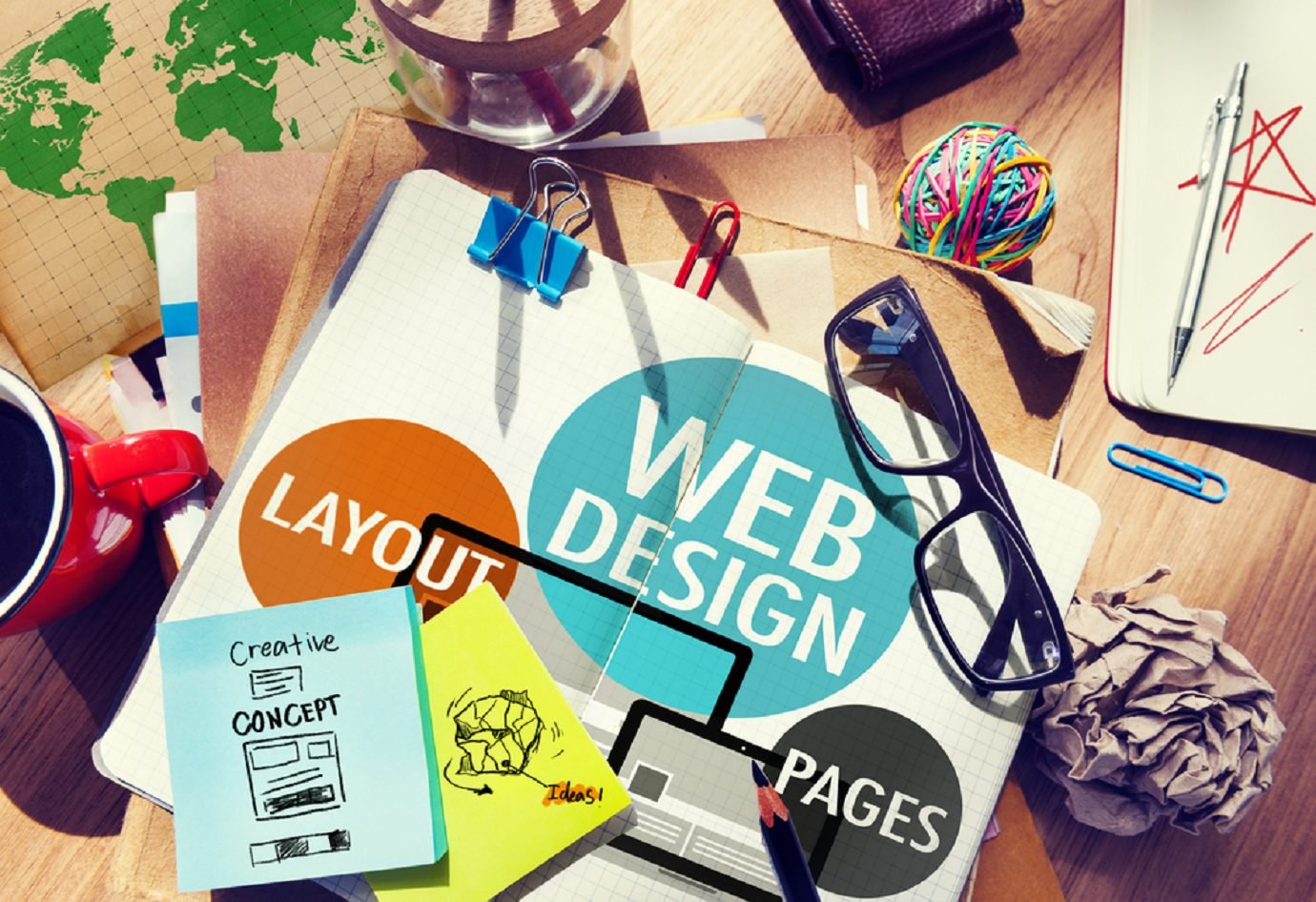 What you need to understand is that a web design has a direct impact on the visual characteristic of the website and therefore, it is very important for communicating your ideas effectively. A web design plan must include: details about the information architecture, planned structure of the site, a site map of the pages.
Here are some keywords you should know before starting to design a website:
#1. Wireframe: it helps to define the structure of the website by linking between a layout of visual elements and web pages. It is like a visual guide for the appearance of the webpages. Following are the things included in wireframe:
Simple layout structure
Calls to action
Text blocks
Boxes of the primary graphical elements
Placement of sub-headings and headlines
#2. Web Designing tools: here is a list of web designing tools that can be used: Coda2, Photoshop CC, Sublime Text, Illustrator CC, Imageoptim, Axure, Hype2, Sketch3,  Heroku,  Image alpha and many others.
#3. Web designing composition: a web design includes the following components:
Logo: it refers to the identity of the website and is used by companies in various forms of marketing such as letterheads, business cards, brochures and so on.
Container block: without a container block, there would be no place on the website, to put the content.
Content: the content available on  a website should be relevant to its purpose.
Navigation: most often, navigation is placed on the top-right corner of the website. Also, a site's navigation should be very easy to find and use.
Footer: it can be found in the bottom of the page, it mostly contains contract and legal information, copyright and also a few links to the chief topics of the site.
Whitespace: any area on the page that is covered in illustrations or type is called a whitespace. It is also referred to as negative space.
Here are top web designing principles to make your website aesthetically pleasing:  purpose, communication, typefaces, images, colors, grid-based layouts, navigation, F patterned design, mobile-friendliness and loading time.
9 Tips to Improve Web Design in 2021
Here are some tips and tricks to improve the web design of your site:
Tip #1. Make the speed of your site an utmost priority
One of the most important facts of web designing of a site is its speed. It is speed today, that influences everything from revenue and conversion to increase the rate of consumer satisfaction.
Tip #2. Try keeping it simple
You should keep your website simple, as viewers do not like visual complexities. So, you can say that the more complex your visual web design is, the more it is likely to be perceived as not beautiful by your visitors. You can do the following to make your website less distracting: rethink the side bar- you should think of single-column designs and ditch the side bars as it causes a lot of distraction. Another way could be to stick to standard layout.
Tip #3. Avoid tabs, carousels, sliders and accordions
For some reason, website owners love carousels, but research's show that they are pretty useless. People usually ignore all of the four on a website.
Tip #4. Over clicking, prioritize scrolling
Instead of using tabs, carousels, sliders and accordions just out your information in one long page, trust us, it works.
Tip #5. Direct attention with the help of visual cues
You can give different weight to different elements, directing the focus wherever you want it and thus ultimately guiding your viewers.
Tip #6. Use people in pictures
People like to connect with others, be it in real life or in social media platforms, so including pictures of them to gain direct attention is indeed a great idea. It is a very simple but effective way of increasing traffic on your website.
Tip #7. Influence the fold
Folds matter a lot on your website. This means that you need to prioritize the content and the use the available space to hook your users so they continue to use your website:
Contain your main call to action: make sure your CTA is visible and clear, to improve your chances to help users start their journey.
Use a descriptive and clear headline: highlight the benefits and explain what your site can do for its visitors.
Include media: video, audio and images will help your website to emphasize on its point.
Tip #8. Take full advantage of the Hick's law
According to the hick's law, an individual will take more time to decide if he has more options to choose from. You can boost the conversions of your website simply limiting the amount of choice you give to your users. Few examples for the same would be; limit the form fields, reduce the number of the menu items, stick to one goal per page, focus on one CTA and only display social media platform buttons that you are actually active on.
Tip #9. Leverage Social Proof
The last tip that we discuss is the tendency that people have to do what others are doing. So, if a group of people is doing something the chances are high that other people do the same. On your site, you can show that people have a very positive opinion of your website and it has a good service, product or content and that will help you to gain viewers on your site.
Here are some web designing mistakes that people usually make:
Video or sound that starts automatically without confirmation
Hidden or disguised navigation
Hundred percent flash content which is not necessary.
Website that does not work in any other browser other than one particular one.
Using cutting edge technology for no particular good reason.
This where the need for hiring a web designer arises. Here are some reasons so as to why you should even give hiring a web designer a benefit of doubt:
Professionals ensure a stress-free and accessible site: only developing a website is not a thing, you need to ensure that it works properly. To avoid all these problems, you can very easily hire professional staff who know what to do.
Get high-quality work: taking advantage of web designing companies can prove to be very helpful for your website as they retain  professional staff who possess the skills to create a successful website.
Gain benefit from higher creativity: along with profession such companies have an edge over the non-professionals, who can customize your site with their mad creativity and skills that they've developed during their whole professional experience.
Make the best first impressions on your viewers: they say first impression is the last impression, and recent researches show that if your web page is not well-equipped with an amazing web design it is likely that the viewer leaves your site with a bad experience and so, hiring a good web design service company will help you make a website that you'll be proud of.
Come to be a user-friendly website: web page designers by this time have an upper-hand on a web user's journey and so, they can help you create a website that your viewers can easily use and visit on any social media platform.
Get more projects done: businesses have a lot going on already and on top of it if they try to create a web design on their own, things are bound to get messed up. While it may cut costs but after sometime the pressure it will add up to will make it equal. And so, hiring a web design servicing company will help lifting some weight off your shoulders.
Final Thoughts
You have dozens of ways to improve web design at your disposal. You should at least entertain most of them if you haven't already. The 9 web design tips that are listed in this article are ones I consider to be the most important and are the best ways to improve website design.
Start implementing some of these right away and you will notice a big change in visitor traffic and behavior.