Aoao Watermark is a professional graphical editor tool by which you able to create watermark on your image for authorship and the watermarks look likes as stamps or levels and it will make your protect your photos from illegal use. Aoao watermark has many powerful features for watermark such as large number of templates, frames, adjust output quality of images and convert many popular formats etc. Aoao watermark process image with high speed, even in the batch mode. Aoao watermark is a powerful tool but easy to handle it.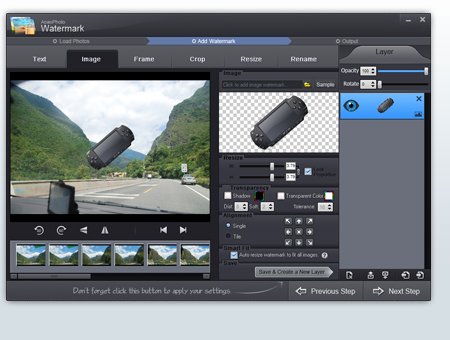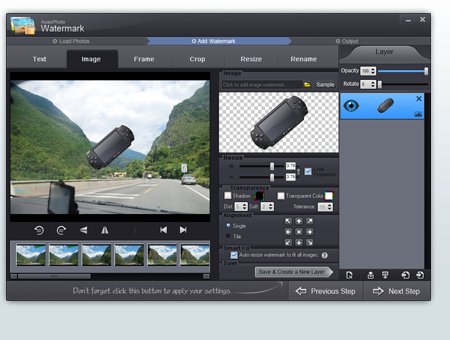 Aoao watermark protect your photos by adding some digital watermark (text, image logo) to your images and avoid them from unauthorized use. Aoao watermark Software supports batch watermarking mode. This feature will save you tons of time to add watermark on a large amount of photos. You even cannot imagine if you add watermark on hundreds of photos one by one. With batch watermarking mode, you can batch add a batch of watermark to 300+ photos with 1 minute.
Watermarking can effectively protect photo copyright. When you share photos with watermark on the internet, your photos won't be used unauthorized. If you sell photos, you can firstly give photos with watermark and send original after you receive your remuneration. In addition, you can easily add logo or customized info as watermark.
Main Features of Aoao Watermark
Add some watermark as text or image to the photo for prevent unauthorized use
Add some frame to your photo for looking beautiful and also for watermark purpose
Enable to add watermark to animated GIF image and keep its dynamic effects
Provide free frame materials with different styles like oil painting style, modern style, etc
You can rename hundreds of your photo files batch mode at one time. Save time!
Users are allowed to resize photo to adjust photo resolution for different needs
Easily crop photo to select desired parts and delete unwanted parts
Convert the image into all popular formats like JPG, GIF, BMP, TGA, PNG, etc
Aoao Watermark provides users with a fast, efficient way to stamp a photo with their personal message. Thanks to its inventive options and simple navigation, even the most novice user can create a watermark. The program's interface smartly divides its chores into various tabs, so as not to overwhelm users. Each tab shows your work well and is easy to operate .
How to get Aoao Watermark Genuine License key
Aoao Watermark is actually worth $29.90 but now it's freely available with genuine license code during the phase of World Cup giveaway till June 30th, 2014.
All you have to do just visit the World Cup Giveaway Page and click on Get It Now button to get software in ZIP format (including exe and license key). Software is around 8.1 MB. As installation will be finished, just open the software and use the official license key to activate the software. You can use this giveaway license as long as you want, but no official update and support will be provided.
Just want to let you know guys that AoaoPhoto currently offers 90% OFF ($9.95) discount for you to remove giveaway limits and you can purchase it from this PAGE and then you will be to enjoy Life-Time Free Upgrade Service and Tech Support.