Hello friends today you will feel glad by hearing that we have came with a new Giveaway for the reader of TechnoGiants. You already know about the giveaway by reading the title. The giveaway is about IDM Serial Keys. We are giving 15 Internet Download Manager One Year License Keys For 1 Year worth $24.95 each.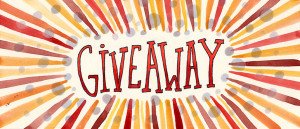 Internet Download Manager, also popularly known as IDM is a file downloading accelerator. It's an awesome product that helps us in downloading files from the internet easily at an incredible speed. It speeds up downloading by 5x times. Its simple graphic user interface makes IDM user friendly and easy to use. IDM has a smart download logic accelerator that features intelligent dynamic file segmentation and safe multipart downloading technology to accelerate your downloads. Unlike other download managers and accelerators Internet Download Manager segments downloaded files dynamically during download process and reuses available connections without additional connect and login stages to achieve best acceleration performance.
[Read More: Wondershare DVD Creator 2.6.5 Window Version License Keys]
The installation of IDM is really so easy, quick, and simple. It will set all the necessary setting by itself and also check the Internet Connection just to provide you the best possible and maximum downloading speed. Just run the IDM exe file and follow simple instruction to install, that's it and you are done.
The most important features are:
Download Speed Acceleration: As IDM comes with built-in download logic accelerator which has a features of intelligent dynamic file segmentation and safe multipart downloading technology so IDM can accelerate downloads by up to 500 percent. IDM segments downloaded files dynamically during download process and reuses available connections without additional connect and login stages to achieve best acceleration performance.
Resume Downloading: When active downloads are stopped due to power cuts, un-expected computer shutdowns, internet link drop, interrupted downloads etc. then IDM uses Resume feature. IDM automatically refreshes the address of those downloads which have resume capability so you don't have to manually visit the same webpage again and start the downloading from beginning.
Here are the other features of Internet Download Manager (IDM):
Website Grabber
Website grabber will help to crawl a web page (you can set the levels need to be crawled) and will download the files you specify, like Images, zip files, audio files etc.
Download Videos from Streaming Sites
IDM can help you to download FLV files from sites like YouTube, MySpaceTV, Google Video etc. If there are different resolutions available, it will display them and you can easily choose what ever you needed. It allows you to download the files in FLV, MP4 and 3GP formats.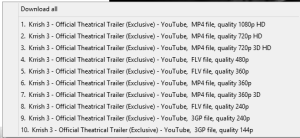 Browser Integration
IDM can easily integrate with almost all famous browsers, and you can remove the integration easily if you don't want to integrate with any specific browser.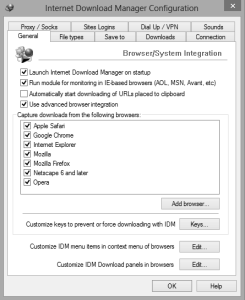 Multiple Download options
IDM supports batch download, batch download from clipboard, drop target to enable drag and drop to download.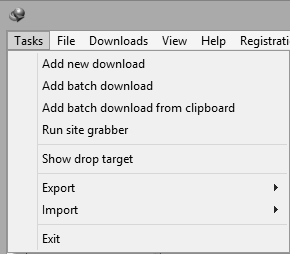 Supports Proxy Servers
Proxy Servers helps you to protect your identity and bypass surfing restrictions. IDM supports FTP proxy servers, and Microsoft ISA.
One-click Download
IDM will catch every single file in link which you want to download from because "advanced browser integration" is enabled by default so you don't have to set it manually and IDM grabs, start and accelerate your downloading.

Built-in Scheduler and Queues

IDM has 2 main queues such as download queue and synchronization queue. You can also create any number of additional queues. You can schedule the start and the stop times of download/synchronization queues, or you can start and stop download queues manually. Schedulers help you to start downloads at a specific time. You can set downloading of large files while you are not using the computer. You can set different settings for them, this will really helpful set download limits by size and time, which applied to each and every downloads and no user will be able to cross that limit because IDM won't allow any downloads furthermore.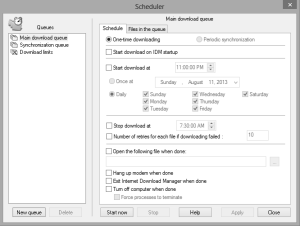 Supports Category and Multiple files Download
IDM is able to organize downloads automatically to the categories wise and also able to download multiple files on the same time either from same server or different. You need to be careful to use speed limiter to divide bandwidth among multiple downloads or if you're surfing at the same time for good internet experience.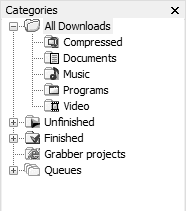 Speed Limiter
You can easily set maximum download speed for a file.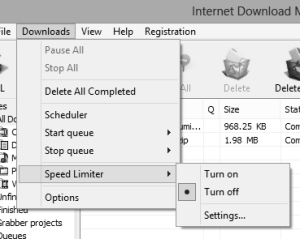 Customizable Interface
If you want to change the toolbar skin of your IDM then you can do so by choosing several different skins for the toolbar with different button styles for its Home Page. You may also choose the order, buttons, and columns to appear on the main IDM window.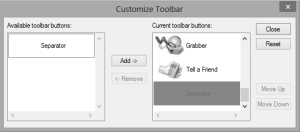 Quick Update
This is common in every software now still a must have options to allow users to update without opening there browser, this feature quickly checks the latest version of IDM from there servers and ask to update now or later.

Supports Multi-Language

IDM is so popular worldwide just because it supports various languages namely, English, Arabic, German, Spanish, Farsi, Francais, Italiano, Dutch, Polish, Portugues(Brasil), Russian, Thai, Turkce.
Supports Authentication Protocols
IDM can add credentials for websites where you need to login to download files. IDM supports some of them are: Basic, Negotiate, NTLM, and Kerberos.
Automatic Virus Checking
After the download completion of any file IDM runs an antivirus check and scans that file to protect your computer from harmful virus, trojans, worms etc, this is very interesting and useful though I have hardly noticed it working.
My Verdict
Internet Download Manager is a complete Download Accelerator and  Manager, which will satisfy all your needs. I have already explained and tried everything to cover up for detailed review, hope you got my points very clearly and one thing which is pretty much clear now is that IDM remains still the best download manager.
Below is the way to download Internet Download Manager. You can try the software for 30 days and buy a key after that and if you will win a key from us then you can use that key to activate your version.

I would like to say Thanks to Dave Saeger for giving me a chance to offer a Giveaway to TechnoGiants readers.
[Read More: Total Uninstall Pro 6.3.1 License Keys]
Giveaway Details
Giveaway Product: Internet Download Manager v6.17 worth $24.95 USD
No.of Licenses: 15
Last Date: September 03rd, 2013 12:00 PM IST
Limitation: Giveaway is open Worldwide.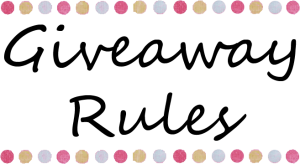 You can win 1-year subscription of Internet Download Manager by entering the giveaway and you need to follow the below rules to participate in this giveaway.
Rule #1: Subscribe to our mailing list [Subscription box given below under the post]. (Mandatory)
( remember to click the activation link or the subscription will not be valid)
Rule #2: Put your comment in a proper manner, don't spam please. (Mandatory)
( remember to put your comment is essential otherwise your entry will not be valid)
Rule #3: Use the PunchTab Widget to complete the entries. (Mandatory)
[Widget Removed]
Thank you and Cheers for the Giveaway.
Disclaimer: Opinions expressed are 100% my own and have not been influenced in any way.