Would you love to find a tool to record your computer screen? That also had a video editor? And above all, it was online … without any downloads? And as an additional point, it was completely free?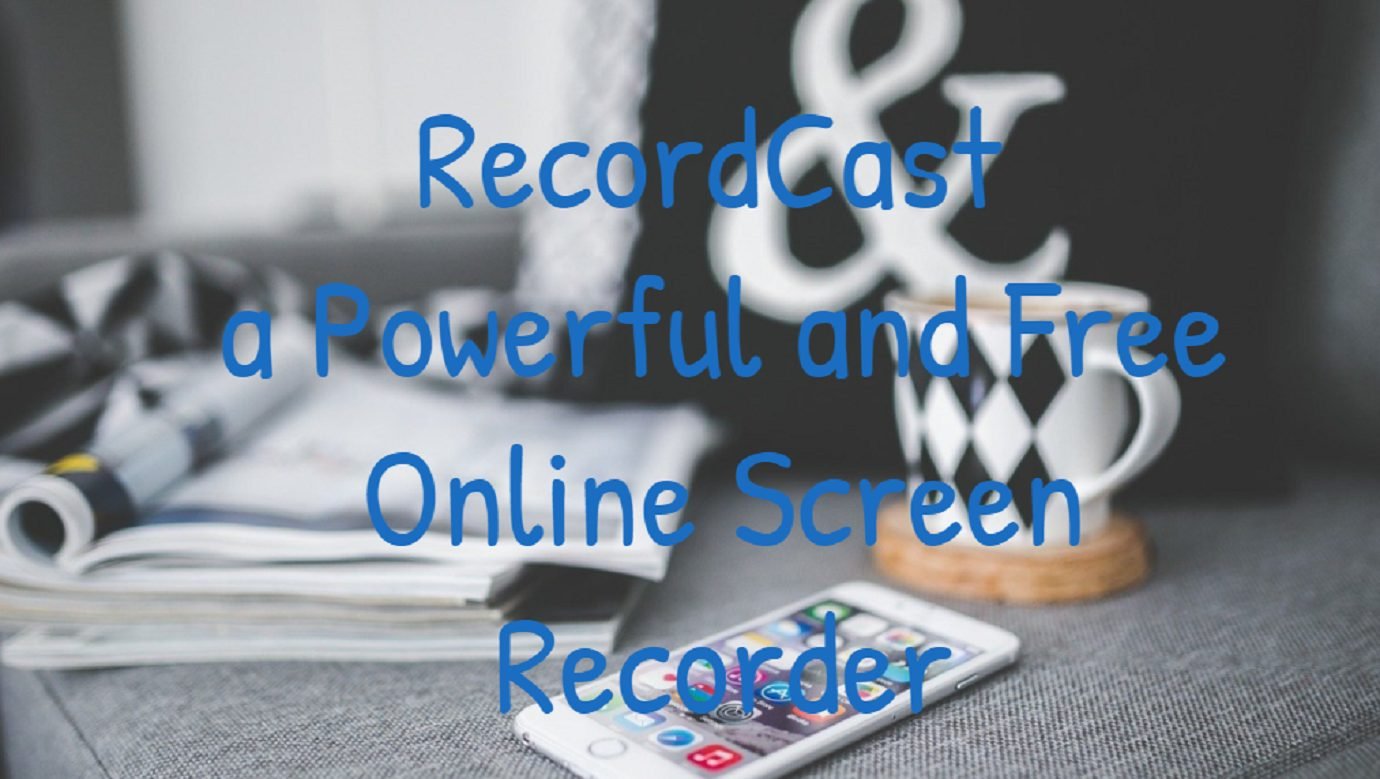 Then RecordCast is ready for you. It is a tool to record your computer screen online and free, and yes, it also has a video editor.
We have tried it, and it is a real gem. We do not know how long it will be free, but you can take advantage of it for now.
Distinguishing Features of RecordCast
Let's see some features I love in RecordCast first.
Totally free
It can be used to record your computer screen with no fees. Without paying a cent, you can record and edit your recordings easily. It's optional to register as well.    
Easy to use
RecordCast is pretty easy to use. Even if you do not know any technical skill, you can master it fully. With the free online tool, it facilitates your work-flow in both screen recording and video editing.
No installation required
You may find many other screen recorders on the marketing, but most of them will ask you to download and install software and add-on on your computer or ask you to install plugins to your browser. RecordCast won't ask you for any installation like that.  
Flexible options
While recording, you are allowed to record the webcam and Microphone as you want. I'll talk about this in the following article. You also have the flexible options to choose the recording areas.  
Built-in video editor
After recording, you don't need to go to any other video editor for polishing your recording since RecordCast has a built-in video editor. This is very convenient to add text, cover, music, etc. 
Simple Steps to Use RecordCast
The use of this tool is quite easy. But I still love to talk about it here with some simple steps. If you haven't heard of this tool, check it out now. 
When opening the homepage of the website, you have the option to register an account at the right top of the page. You are able to register an account with your email address or login account with your Google or Facebook account. If you don't want to register, it is still OK to continue using the tool. However, in case you may lose your data unexpectedly when editing, it's better to have an account to save the project file.
Anyhow, let's click the "Start Recording" button to move forward.      
Step #1. Recording mode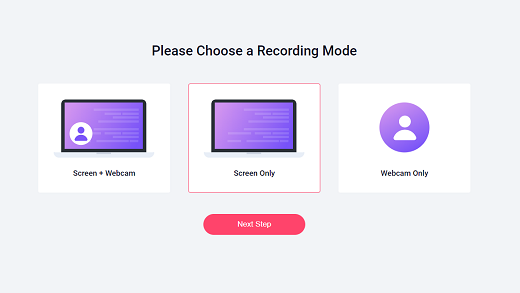 RecordCast offers three ways to record your videos, namely, Screen + Webcam, Screen Only, Webcam only. Choose what you think fits your needs and move on.
Record screen with webcam thumbnail
This is wonderful because it allows you, if you give training, to develop your videos while showing what you do on your computer.
But even if you do not teach, it is an extraordinary function if you give customer service. Because you could send a video that you would make in minutes, explaining on-screen some simple tutorials, especially now that there are so many people working in the home office without being able to attend commercial premises or offices.
Record screen without thumbnail
If you prefer to record the computer screen without a webcam, just choose the Screen Only option. The wonderful thing is that you can record the entire screen or just one app as if it were a Zoom broadcast.
And do you want to know something very cool? I will not give bad ideas but record perfect from YouTube!
Record webcam only
You can also create videos directly of yourself, recording yourself with your computer's camera. Of course, you can avoid recording yourself with bad lighting.
Step #2. Audio option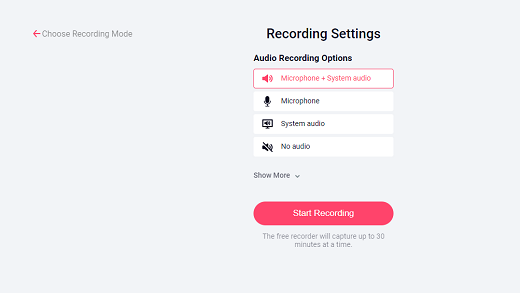 Choose to add your voice-over or not. It allows you to record your voice-over using a Microphone with the system audio at the same time, or just record your voice-over in the recording, or only record the system sounds as you like. Of course, you can also record your sounds without any sounds. If you click "Show More", you will find all your Microphone options.
Then, just give RecordCast permission to access your system audio.
Step #3. Choose what you want to record
Here, you will see three options for you to choose where and what you want to record using RecordCast. You have the option to choose to record the whole screen to capture all the details happening on your computer. You can also record an application you select to record a how-to video tutorial about using the application. It is also available to choose a browser tab you want to show to your clients.
Then the recording is starting. You can record for 30 minutes for each video. I think it's enough for most of our needs. If you need a longer video length, use its video editor to combine several shorter ones into a new longer one.   
Step #4. Download and edit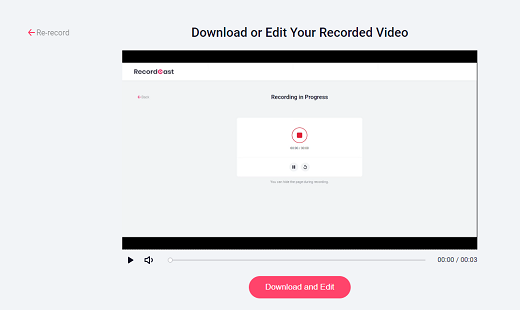 Finishing the whole recording? Click "Download and Edit" to get it as a WEBM file or polish it with the video editor and export it to an MP4 file. You can re-record the video from the start.   
Step #5. Polish recordings with the editor
RecordCast also works as a video editor and if you thought it was a basic version, let me tell you that you are totally wrong.
Although they do not make it a professional editing program, it has many video editing functions. It is quite friendly for any brand to develop a video well-produced enough to present it on their social networks.
What editing functions does it have?
You can edit the video you recorded, obviously. But you can also upload other videos, photos, audios to insert them in the same project, even to edit them directly. Or record more video clips here.
You can also add texts with effects and animations. Then freely change the text font, size, color, alignment, etc.
Create backgrounds with the corporate colors of your brand.
Besides uploading photos, you can also add graphic elements such as buttons, arrows, emojis, art words, numbers, etc. RecordCast provides users with more than a million elements under its database. You can use them for free and adjust them manually, changing the size, color, position, etc.  
Finally, it also provides a wide list of professionally designed animated overlays. If you want, you can also upload your logo to brand the video.
Step #6. Export your video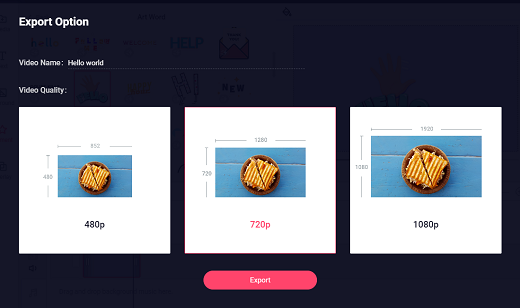 After you are satisfied with every detail on your video, click the Export button to rename your video and choose the resolution. Then choose a resolution from the preset: 480p, 720p, 1080p. Then, wait for a second to download the video to your computer. It will be in MP4 format. 
Conclusion
Do you expect a tool to record your computer screen with a built-in video editor? Try RecordCast screen recorder now. It's free and with no ads and watermarks. If you have any idea about it,  give us a shout-out in the comment. We love hearing from you.