Samsung Galaxy Note 3 and Sony Xperia Z Ultra are obvious competitors. Together, both of them have changed the dynamics of the tablet arena. Sony and Samsung are eyeing top position in this segment with their multitude of offerings and their devices have got features that will cater to the requirements of almost all kinds of user. Following is a detailed comparison between Galaxy Note 3 and Sony Xperia Z Ultra for a better understanding.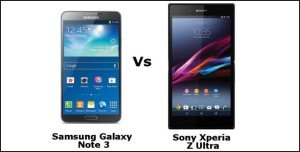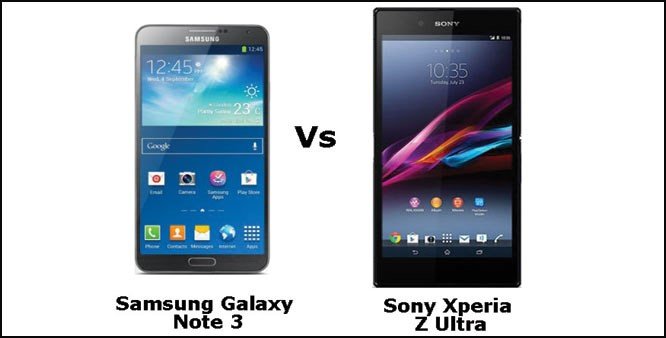 Form
The dimensions of Galaxy Note 3 stand at 151.2 x 79.2 x 8.3 mm and are slightly smaller than that of Xperia Z Ultra which stands at 179.4 x 92.2 x 6.5mm. Due to a bigger size Xperia Z Ultra weighs around 60 grams heavier than Note 3. The latest Note device looks pretty much like a typical Samsung handset but instead of the boring curved edges this device boasts of sleek body which provides a premium feel. The device also comes with a rich leather casing to provide a better look.
Sony Xperia Z Ultra has got every bit of the premium feel. The string lines and rectangular shape imparts a modern and futuristic look to the device. Thus, it can be concluded that both the devices are well built and look good.
Display
Note 3 come with a 5.7 inch Super AMOLED display which has got a resolution of 1920 x 1080 pixels providing a density of 386 ppi. The detailed screen of Note 3 is a great improvement over its predecessor. On the other hand, Sony has a bigger screen measuring 6.4 inch Full HD display backed by a resolution of 1920 x 1080 pixels and providing a pixel density of 344 ppi. The triluminos display technology provides clarity and richness. Both the tablets are ideal for communication as well as entertainment.
Processor
As Xperia Z Ultra and Note 3 are big devices they require high performance processor. A Qualcomm's quad core Snapdragon 800 chipset powers both the devices. The LTE model of the Note 3 packs in a 2.3 GHz quad core Krait 400 processor and consist of 3 GB of RAM, whereas the Xperia Z Ultra comes with a 2.2 GHz Krait 400 CPU and is helped by a 2 GB RAM.
Operating System
These devices run on Android Jelly Bean and have got their manufacturers UIs. However, Note 3 has got a slight advantage due to its superb gesture controls and voice activated systems. Also, add-ons make Note 3 a more valuable device.
Camera
Galaxy Note 3 has got 13 MP primary camera along with 2 MP secondary sensor as compared to 8 MP rear facing snapper and 2 MP front facing shooter of Xperia Z Ultra. Both the handsets comes with features like ouch focus, auto focus, face detection, image stabilization, face detection. All these features make the results even greater.
Resource Box: Anzer Khan is a professional article writer and mobile and technology are his favorite topics. He rates Galaxy Note 3 as a great product and has written many reviews on it. Find more information about Note 3 on the website.