Apple released it iOS 7 which is released recently is expected to be a game changer for apple. An android users like me can clearly make similarity that apple has tried to replicate in iOS 7.
Android released its latest Operating system in November 2012 named "Jelly Bean", and Now apple in 2013 released in June 2013 which major features from android.  The following features that apple has introduced in iOS 7 are clearly being replicated from android.
Unlock Screen
Control Center
Multi Tasking
Tab view in safari
Unlock Screen
Apple's "Slide to Unlock" was pretty famous and trade mark of apple, and had   even caught eyes of t shirt designers as well. But Apple seems to be impressed with Android and has taken the Android features into its new operating systems iOS 7. Android gives you freedom to unlock in any direction while iOS puts you a restriction on to slide the screen only upwards.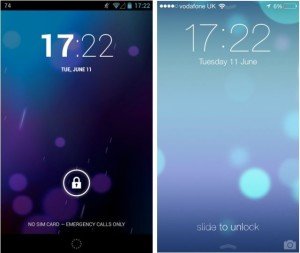 Control Center
Apples control Center is very simple, swipe up the screen upwards from anywhere control center appears. You can control basic music options, turn on/off Bluetooth, WI-FI, Brightness Airdrop etc.  You can connect to iOS devices using Airplay, use apps like calculator, camera. This is one of the great feature apple has introduced in  iOS 7, and will be of great use for apple users who can upgrade to the new operating system in near feature. You can use notification back even when the screen has been locked.
The other features of iOS 7 has is the notification center which appears while you swipe from top towards down. You are provided with 3 options – today, all and missed. Today includes notifications like calendar updates etc, while all includes the messages, tweets, calendar and missed included your missed calls, messages etc.
Android has provided the notification center since the beginning, the notification center in Android servers the purpose which the two separate features of iOS 7 mentioned above does. Jelly Bean OS came up with a feature to check the notification center even when the screen is locked.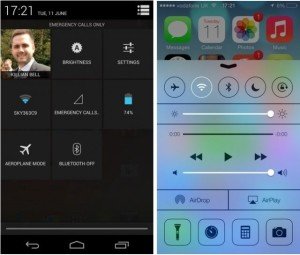 Multi Tasking
Apple has finally introduced Multi tasking for all apps in iOS 7. They have come up with all new way of providing multi tasking when compared to the previous Operating system developed by Apple. You can swipe between the running applications horizontally, while if you want to close any of the application that are running in background, you can push the up wards and that kills the application.
Android jelly bean which was released way before iOS 7 had this feature with a very small change, instead of horizontal display of background running app, android had vertical display approach. To kill the running app, you can close the app with a x button on the top right corner.
3D Tab View in Safari
Safari, the browser that comes with iOS has under gone changes, apple has provided a total new way of interacting it with it now. Apple has come up with viewing the multiple tabs in an aesthetic way. They have provided a 3D view to interact with tabs in a vertical manner.
Android 2.3 Ginger Bread was provided with a similar feature, with a horizontal interaction of the tabs. Android has already have multiple tabs in it from long time back.
Author Bio:Manoj Kumar S, I am an Engineer by profession, interested in coding, embedded systems. Currently I am learning app development. You can follow me on twitter at @myexitoblog or check out my website for regular updates: www.myexitoblog.com.