Believe it or not, but many businesses still use PDFs for their marketing and other purposes. They use it to produce brochures, technical briefs and introductory guides. Though this format does have its own benefits, many find it annoying, as working on such document presupposes having a special piece of software allowing you to read and edit such files. The good news is that today you don't necessarily have to download and install this software to be able to manage your PDF files – there are dozens of free and paid cloud-based programs allowing you to create, convert, edit and share these files in an easy, fast and professional manner. Let's take a closer look at some of them.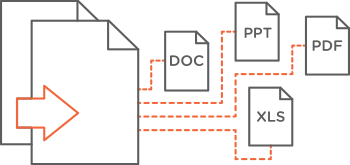 PDFburger
PDFBurger is an extremely easy-to-use online PDF converter. It's 100% free, so you can unhesitatingly add it to your browser bookmarks right now. There's no need to register and log in – just select files and click on the button. The system is suitable for: converting files to PDF; combining files to PDF (using different file formats); converting webpages to PDF; converting PDF to Word and JPG images.
NitroPDF
NitroPDF is a real godsend for those who have to work on PDF files on a regular basis. Though it is a downloadable software like Adobe Acrobat, it provides cloud connectivity features allowing you to collaborate with others from any place, even if your colleagues don't have Nitro Pro. Using NitroPDF you can create a PDF file using one of the default layouts, change fonts, manipulate text, adjust the chosen layout and then share it online. Additionally, you can export and convert created files to work on them using other processing applications (Word, PowerPoint, Excel etc.). If needed, you may protect your docs with a password.
AdobeExportPDF
Acrobat needs no introduction. It also offers a convenient web-based exporting service (Adobe ExportPDF: $23.88/year; Adobe PDF Pack: $89.99/year). Noteworthy, it allows to upload PDFs that have scanned content inside. Thanks to the OCR (Optical Character Recognition), scanned docs become editable. Just pick the language to improve conversion accuracy and watch the program exporting your file.
In case you publish PDFs on your website and use them for search purposes, remember to optimize your files for search engines. PDFs should be given the same SEO treatment as all your published content, since web crawlers can read and analyze this file format. Below is a quick 5-minute fix for your PDF content:
Create it with best SEO practices in mind (keyword research, alt tags for images etc.).
Make sure it has the right size (huge files are annoying both to site visitors and search engines).
Fill out the Properties. Each PDF file contains 'invisible' properties that play an important role when it comes to search. The Title property for instance is the equivalent of the html Title tag in your blog posts.
You will find more information about handy programs for PDF file management in this Wikipedia article.