Eudora Mailbox Conversion – What's the Need and What's the Best Solution
We all know the importance of an email application in today's scenario. The moment it stops working (even if it is for a while), we all come into panic mode. Now consider a situation, when you hear that the email client you were using for years, is going to end soon and will not exist any-more.  The same thing happened with Eudora, when its developer company suddenly announced its decision of stopping the further developments of Eudora.
Now you must be interested in knowing about Eudora, Its advantages and disadvantages.
What is Eudora and what advantages it offers?
Eudora, a cross-platform email application, is a product of Qualcomm Inc., which stopped developing it, since 2006. It easily runs on multiple operating systems – Windows, Mac, palmtop. Two editions of Eudora are offered to its users – Light (or free) edition and Pro (Commercial) edition. The list of features offered by Eudora are:
Bayesian filter named "SpamWatch" is there
Supports email accounts configured using POP, IMAP and SMTP protocols
Flags any suspicious link, which comes in phishing emails
Offers quick Search option
It's possible to simultaneously run several instances of Eudora
Helps users to avoid sending email messages to boss, using "BossWatch"
"Labels" helping users organize their messages according to categories groups
What led to Eudora's Downfall?
Despite enjoying its monopolistic hold on online market for around 1.5 decades, Eudora was soon getting replaced by the new generations of email applications like MS Outlook, Thunderbird, Windows Live Mail, Apple Mail etc. The important factors, other than its stopped development, that led to its breakdown were:
Even in the presence of Bayesian filter, Eudora's inability in sorting emails automatically
Smart folder feature is not there in Eudora, though it allows to save search criteria
Remote content confidentiality protection still needs improvement
Provides no support for integrated secure email messaging
No or limited support is provided for writing HTML encoded messages
Provides support to view and write only English encoded emails and has no support for non-English characters
Even though nested folders are created by Eudora, But emails can be stored only in folders created at bottom level
Eudora Mailbox Conversion is a Necessity Now!
Considering the disadvantages of Eudora, users now have the requirement to switch from Eudora to any other email application – Outlook, Apple Mail, Windows Live Mail, Thunderbird etc. But for doing this they need to convert Eudora mailboxes to the file format compatible with these applications. And this can be only possible with a third party conversion program that will assure complete, precise and fast conversion of Eudora mailboxes.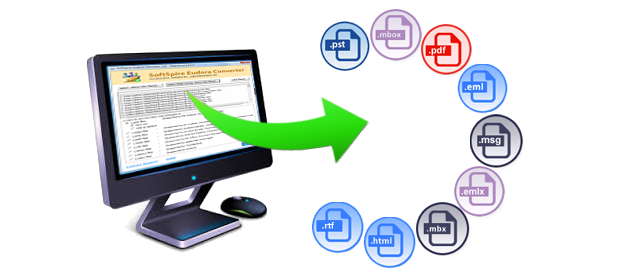 Eudora Converter is one such tool that provides users with the facility to convert Eudora email data into 9 different formats. The software supports to provide Eudora Mailbox conversion to PST – for importing Eudora emails to Outlook (32 and 64 bit) editions, MSG – useful for forensic investigation along with supported by Outlook, MBOX – used to transfer mailboxes from Eudora to Thunderbird, Apple Mail, The Bat! etc, EML – used to import Eudora to Windows Live Mail, OE, DreamMail, eM Client etc. EMLX – for Mac OSX series email programs, PDF (Acrobat Reader), HTML (forensics and browser use), RTF (documentation), MBX (Eudora).
Easily Import Eudora to Exchange
MS Exchange is a Microsoft developed mail server which provides a good platform to import, access and view Eudora Mailbox data. Once the data is converted in PST format, it can be further imported in MS Exchange server using the appropriate cmdlet, on the Exchange shell server.
Similarly, the Eudora mailboxes can be easily imported into Office 365, another Microsoft product. Once you have Eudora emails in PST format, import Eudora to Office 365 using its import option.
Whichever application a user chooses to convert their Eudora mailbox data to, one thing is clear that the data will be in same format (be it email meta data, formatting, folder structure, attachments etc.) even after conversion.