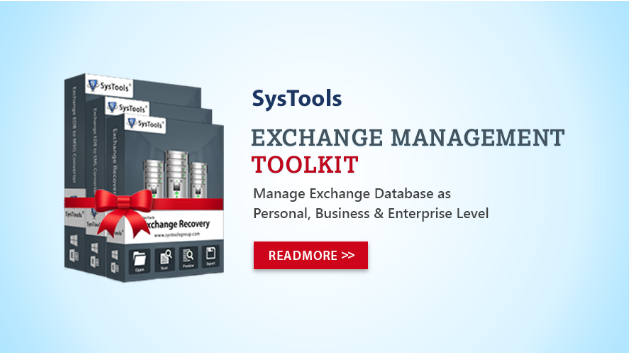 Exchange Toolkit: How to Manage Exchange Mailboxes Issues Effortlessly
For Exchange Administrator managing Exchange mailboxes in an efficient way is very a challenging task. Different issues arise in Exchange such as corruption in EDB files, exporting Exchange mailbox files in other file format supported by various email client etc. Now, the user can eliminate all the issues and challenges associated with the Exchange mailbox data by adopting SysTools Exchange Toolkit. All in one solution to manage tasks related to recovery, conversion, import or export of the EBD files. A cluster of 8 utilities that are integrated to provide a complete solution to troubleshoot all Exchange related issues.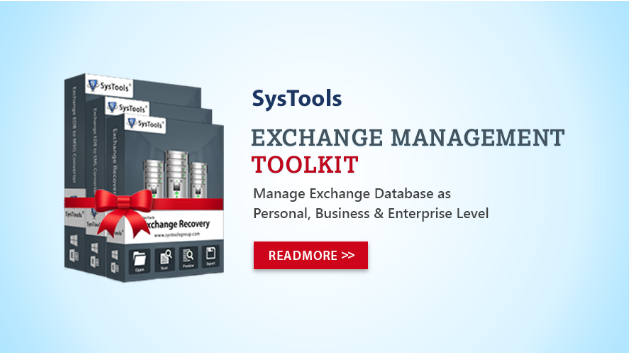 How is Exchange Toolkit Beneficial to the Exchange User?
Exchange Toolkit consists of many features using which the Exchange user can manage EDB files in a seamless manner. The are many situations faced by the Exchange users in which they want to view or open the EDB files into a different file format, recover corrupt EDB files, import contacts or emails into Exchange etc.
Therefore, the Exchange Toolbox is a unified solution to fix all the Exchange issues and organize the EDB database in an effortless way. There is the plethora of reasons which make Exchange Management Toolbox beneficial for the Exchange Users. Some of them are explained below:
Converting EDB Mailbox Files into Multiple File Formats
Sometimes, Exchange users need to view email, contact, calendars into a different file format. At that time, they need a solution using which they change EDB file format into other file formats such as PDF, MBOX, EML, MSG etc. Therefore, it allows the user to view emails, contacts and other Exchange data into multiple file formats such as PDF, MBOX, EML, MSG, NSF. The folder hierarchy is maintained by Exchange Toolkit.
The Toolkit is completely safe and secure to use. Moreover, both technical and non-technical users can work with it due to its user-friendly interface. With Exchange Toolkit the user can convert any number of EDB files into other file formats. The Exchange toolbox also allows the user to convert complete EDB data including public and private folders in a smooth way.

Repair and Recover Corrupt EDB Database Items
Data loss is like a nightmare for every user. When it comes to managing EDB files it is a tedious task. Sometimes due to multiple reasons such as accidental shutdown, server failure, accidental deletion, etc., EDB files become corrupt. If the corruption is not eliminated, then ultimately it leads to data loss. In this case, Exchange Toolkit play a vital role as it repairs and recovers the damaged EDB data files.
A user can also recover both Public and Private folders of Exchange database. Sometimes, the user wants to recover dismounted and offline EDB files then he/she can do so with the help of Exchange Toolkit. To save time the user can also restore Exchange data by applying date and time-based filters which are provided by the Exchange Management Toolbox.
Move Outlook PST File into Exchange Database
When the user needs to move Outlook data into Exchange mailbox then Exchange Server Toolbox is an instant solution to perform this task. The Exchange tool allows the user to open and view PST files including email, contacts, calendars, notes, tasks etc. in Exchange. Moreover, if the user is having duplicate PST contacts then he/she can exclude identical contacts while using Exchange Toolkit.
A user should have Exchange Administrative Permissions to transfer Outlook files into Exchange. Sometimes, the user has password protected PST files which he/she want to open and view in Exchange database. Then, the user can easily open and view password protected PST files in Exchange with the help of Exchange Toolbox.
View Exchange Mailboxes Details in Outlook Application
One of the most frequently used email client is MS Outlook. In many scenarios, the user needs to move Exchange mailbox data into MS Outlook account. Now, the users can easily transfer Exchange data into Outlook PST via Toolbox. There is no alteration in the folder structure while the export process.
Exchange Toolkit also permits the user to move all the items of Exchange database such as emails, contact, tasks etc. to PST file. They do not have to worry about the active directory configuration as the Exchange Toolbox auto detects, scans and loads the active directory configuration. With Exchange Management Toolbox the user can easily migrate Exchange data items by using the data filter option. This helps the user to select and move the data according to a specific date range.
Final Words
In every way, Exchange Toolkit is the prime solution to troubleshoot all the issues related to EDB files. Additionally, the Exchange users can easily manage their tasks related to Exchange database in an efficient way. Exchange Toolbox is an ace solution using which the user can perform various operations such as Conversion, Recovery and Migration within just a few clicks.