Fifty years ago, computers were the size of large rooms and they had less computing power than the smartphone in your pocket right now. Technology has continued its constant march forward and with that, seemingly limitless computing power has now become hand-held. Fifteen years ago, the best way to store data was on something called a Zip Disk, and it held one hundred megabytes (!) of storage space. Now, the storage capacity of twenty once-massive Zip Disks is available for free to anyone who signs up through any number of cloud storage services online. The prevalence of both mobile devices and cloud storage solutions has prompted movement toward technology that combines the two.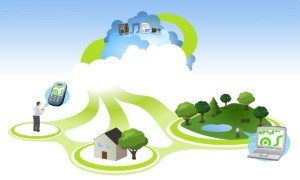 Mobile computing devices, ranging from tablets to smartphones and every iteration in between, are more ubiquitous than ever before. Nearly half of all Americans own a smartphone and that number is rising exponentially every year. From Apple's iPad to Microsoft's Surface to Amazon's Kindle, tablets aren't far behind phones as the go-everywhere, do-everything tools that we dream they could be. Nowhere is that prevalence more influential than the business world, where such devices have revolutionized the way we work. While a large percentage of the world may use their smartphones or tablets to play games or access social networking sites, there is another large portion of the user base that utilizes these devices for work-related tasks. It is these users that will be forever pushing the technology forward into the cloud computing realm.
There are many reasons why the current wave of technological innovation has focused on the realm of cloud computing, but the sheer prevalence of mobile devices is the primary driver. When everyone has a mobile device in their pocket and another in their bag, maximizing the potential of those devices must become priority number one for developers. The reason mobile devices and cloud technology are bound together is that they share a common goal of liberating customers from the constraints of typical technology.
Mobile devices, as convenient as they are, have certain limitations that no amount of physical engineering can solve. Storage capacity, battery life, and lack of synchronization across multiple devices are all problems that cloud computing is perfectly poised to solve going forward. Cloud computing overcomes those limitations and gives ultimate power to mobile devices. When working with cloud technology, it doesn't matter if you break your device, because your data will be available when you get a new one. If you update a file on your phone, it instantly syncs so that the new version can be available on all your other devices.  Cloud technology also strengthens business projects as well. The ability to sync files effortlessly between team members is invaluable, especially as globalization increases the chances of remote teams working together.
The portability of modern mobile devices and the go-anywhere, do-anything benefits of cloud computing mean the two technologies are a match made in heaven. If there's something to be learned from the progression of computing technology over the years, we know that if there is a need, someone will find a way to satisfy it.
About Author: Esteban O'Neill is a technology blogger, gadget enthusiast, and aspiring professional ice cream critic.