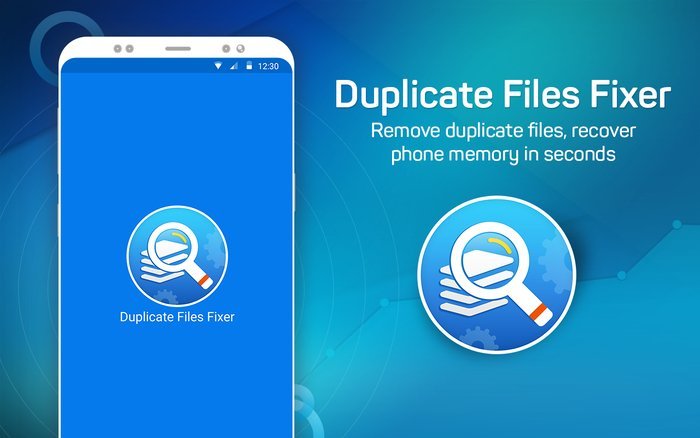 Review – Duplicate Files Fixer Android App
Remember the last time you did back up your data and it had accumulated lot of identical files on your device. These identical files were not only limited to a similar photo or video files but it was extended with identical music & audio files, duplicate contacts, similar documents and lot more. Here, these identical files accumulate in large numbers on your Android device due to file downloading, file sharing and data backup. These lots of duplicate files consumes the lot of valuable storage space while making your device run slow. Thus, it becomes important to get rid of these files immediately to improve your device performance.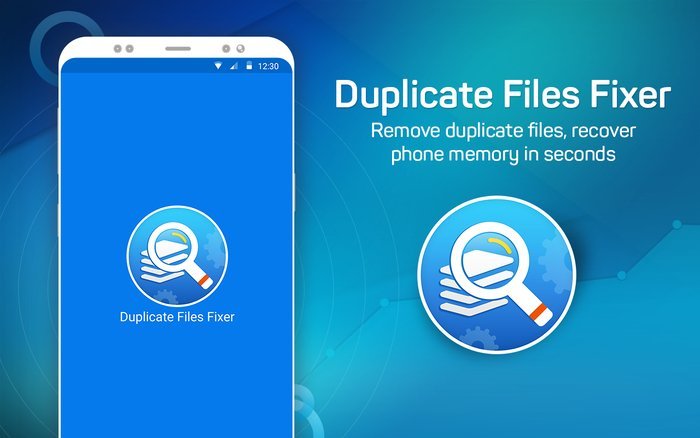 Use Duplicate Files Fixer
The first way to deal with identical files on your Android device is to follow manual cleaning which is efforts and time-consuming. Further, it doesn't guarantee you accurate results. The next best solution to deal with duplicate files is to use duplicate files remover apps for instant and accurate results. One such effective tool is Duplicate Files Fixer, which is meticulously designed to help you deal with all identical files on your Android device.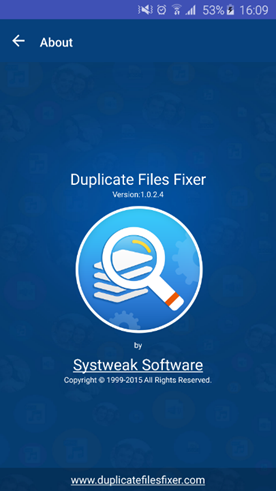 Highlights of the App
It works on intuitive themes to deliver instant and accurate results.
It is powered by smart algorithms to find and remove duplicate files from remotest corners of your device.
Using this tool, you can de-duplicate your device storage to reduce file search time.
You can use this tool on Windows, Mac, and Android.
Features of the App
Multiple Scan Options
App helps you refine your search process by offering you multiple scan options. Here, you can select from audio, videos, documents or pictures options. Further, you can opt full scan mode for thorough scanning of your device to find and delete identical files even from the SD card on your device. To begin scanning process, simply press "Scan Now" button.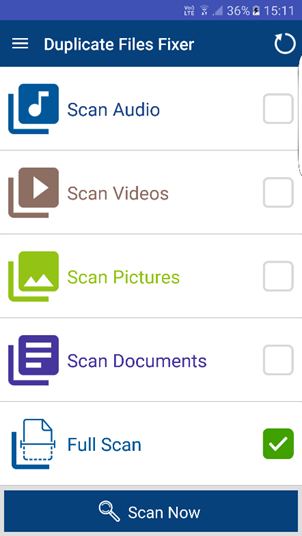 Scan Process
App is designed to deliver instant and accurate results using powerful search engines. While searching for identical files on your device, it looks for similar and exact looking files.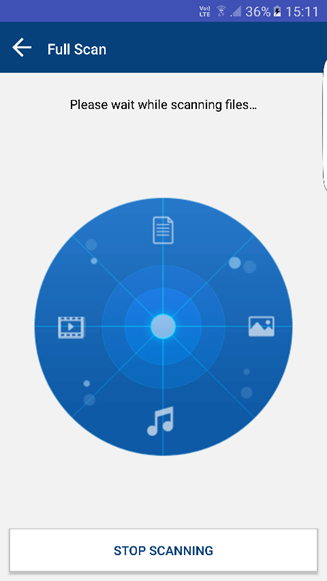 Scan Results
Scan results are displayed in an auto-mark format where all last files from the groups remain marked to be deleted. To mark & delete first files from the groups click on "Mark All Except Last" option. By selecting "Unmark All" option, you can mark & delete identical files manually. Under scan results, you can tap on "Backup Now" button to back up your important data before start deleting duplicate files. Here, app will take your data backup using "Right Backup" tool.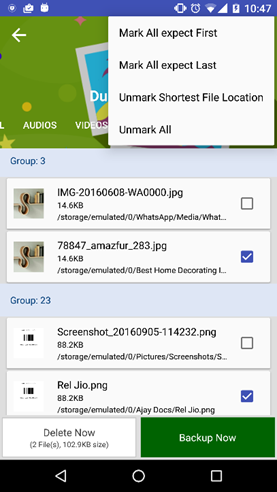 Unmark Shortest File Location
This feature enables you to unmark those files from the groups that exist at the shortest file location on your device storage. It is useful feature to retain and access file quickly while removing files that exist at the longest file location. You can find this feature by tapping on three vertical dots in the upper-right corner.
Settings

Ignore List
By putting any file/s to Ignore list, you can avoid its scanning while searching for duplicate files. It is an important feature to help you keep your personal data untouched.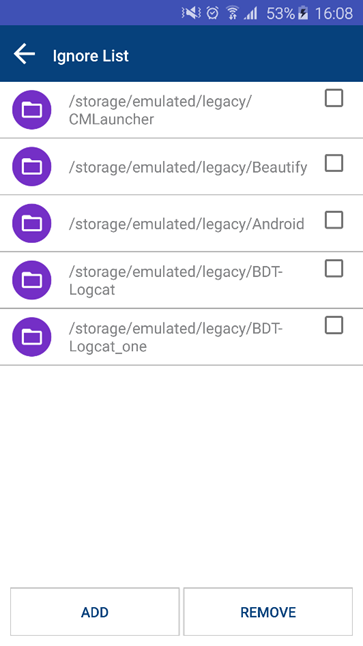 Scan Filters
Scan filters are useful addition to the app, that helps you refine your search process to get instant and accurate results. These scan filters include same name, same size, and same content. Further, it also allows you to include o-byte files and hidden files & folders while searching for duplicate files.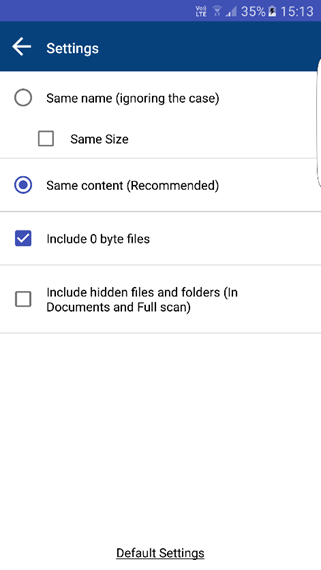 Multiple Language Options
To deliver better results to people with different language orientation, app supports multiple language options. Here, you can find all major language options to select from.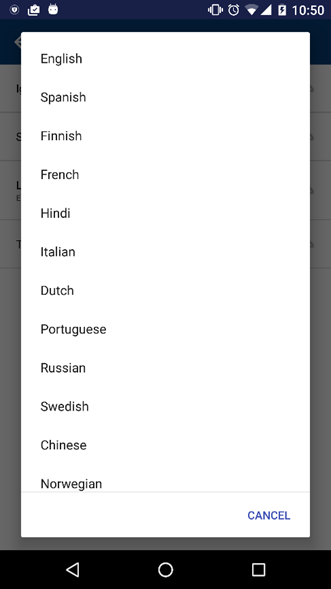 Themes
App delivers cognitive results with two beautifully designed themes. Here, you can find Classic and Material themes to fit into various needs.
The verdict of the app
Duplicate Files Fixer is a reliable tool that works rigorously to help you get rid of all duplicate files seamlessly. This smart tool is powered by advanced algorithms to deliver instant and accurate results. Here, it offers multiple scan options and scan filters to help you refine your search process to get instant and accurate results.

Further, it offers two cognitive themes to offer you results in user-friendly manner. We suggest you this tool to de-duplicate your Android device to recover valuable storage space and speed up your device.