How iPhone X Can Make an Entrepreneur's Life Easy
In the present day, the numbers of entrepreneurs are increasing year after year. Entrepreneurship has become one of the most favorite careers for many of the people across the world because they can make a good amount of money and build up a better future through Entrepreneurship. Entrepreneurs are starting new businesses every now and then for the reason that they find a lot of new market opportunities every time. There is a raise in people who would like to turn out to be successful entrepreneurs since the business environment is transforming and changing. They find more chances, and find several ways to make something happen.
There are in fact many things that make entrepreneurs life easy and comfortable. One of them will be mobile phones. With development of technology, the life of entrepreneurs has become so stress free and easy. Today, entrepreneurs can manage their business, office activities, business meetings and many other things at the comfort of their smartphones. Smartphones plays a huge role in the success of every entrepreneur and it makes businesses of entrepreneurs so effortless. Are you struggling to choose a good smartphone that help you to carry out your business easily? There are many smartphones to choose from and iPhone X is an excellent choice that let you to do your business via phone.
iPhone X is one of the most suitable and friendly mobiles available in the mobile industry for entrepreneurs. It is a smartphone designed, created, and promoted by Apple Inc. Apple has come up with many business or entrepreneur's friendly mobile phones and the iPhone X is considered as the best among them all. It is a high-end and finest model which display advanced technologies that can make an entrepreneur's life easy including OLED display, wireless charging, enhanced depth sensing dual cameras, face detection unlock system or Face ID and many more. So, none of the entrepreneurs should have a hesitation to but the mobile because it has all the specifications to make their entrepreneurship life easy.
Here is a look at how iPhone X can make an Entrepreneur's life easy:
Become More Efficient
iPhone X helps entrepreneurs significantly to become more efficient in their endeavors. There is a need for entrepreneurs to be efficient in their business and work. To turn out to be more competent, entrepreneurs have started to use faster performing smartphones that can flawlessly hook them up to their customers, business parties, business partners or employees. The iPhone X is set with an A11 Bionic Chip and it is 25% quicker than the Apple A10 and 70% quicker than the energy-proficient cores in the A10. A11 Bionic is the most potent and elegant chip ever in a smartphone. Therefore, the iPhone X will present enhanced performance than the iPhone 7.
Wireless Charging
Today, a lot of entrepreneurs are looking for mobiles that have the ability to charge with wireless option. With no charging cable essential, iPhone X is really designed to meet the needs of many people and it is planned for the future of wireless. You don't have to take your long mobile charger with you when you travel somewhere if you have iPhone X with you. The back side of the phone has a glass slab over the aluminum to make possible wireless charging.
Water and Dust Resistant
iPhone X is water and dust resistant. The gadget comes with IP67 water and dust resistant. You don't have to be worried about the dust and water troubles when you have this smartphone. You can save your mobile from the issues that is caused by water penetrating and dust penetrating as iPhone X is dust and water-resistant.
Storage Options
Another important thing that entrepreneurs look for when they buy their mobile phone is storage capacity. iPhone X is a giant when it comes to storage capacity and the gadget comes with 64GB and 256GB options. You can store a lot of files, photos, messages, apps, audios and videos in your mobile. Custom essay writing service has many expert writers who are capable of writing reviews about iPhone X and it can help entrepreneurs to identify the benefits that they can gain from buying iPhone X.
Face ID
As far as the entrepreneurs are concerned, privacy is very important and they need to protect a lot of files, images, audios and videos stored in their mobile. iPhone X presents you much need privacy through face ID feature. Face ID feature has the capacity to make your face as your password and it can present you much required safety from third-party intervention. Face ID is the new facial detection technology of Apple that can be utilized to open the phone.
Other Useful Features
There are many other use features in iPhone X that helps entrepreneurs to be more competent in their everyday business activities. The stylish and ultra-thin innovative AirPower mat will allow user charge many gadgets wirelessly. The product comes in two color choices like silver and space gray. The phone has 7MP TruDepth and FaceID Front Camera and Dual 12MP with OIS (Optical Image Stabilization) Rear Camera. The Processor of the mobile is A11 Bionic Chip.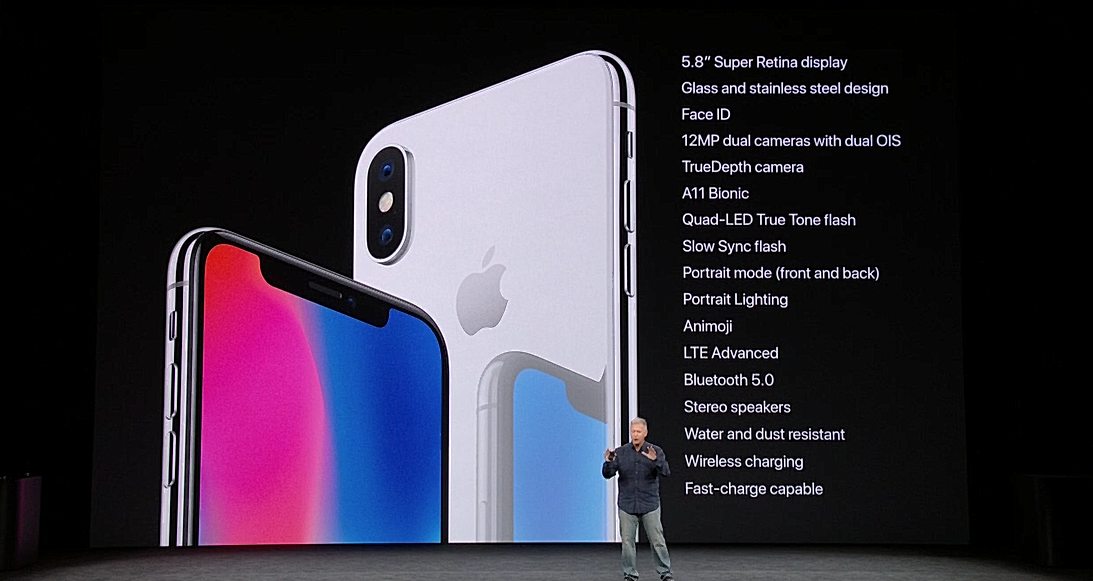 Some other features of the mobile phone include Super Retina HD display, 5.8-inch (diagonal) all-screen OLED Multi-Touch display, HDR display, 2436×1125-pixel resolution at 458 ppi, 1,000,000:1 contrast ratio, True Tone display, Wide color display (P3), 3D Touch, Fingerprint-resistant oleophobic coating,  Embedded M11 motion coprocessor, 2716mAh non removable battery, Geo-tagging, simultaneous 4K video and 8MP image recording, and Connectivity options include Wi-Fi, GPS, Bluetooth, NFC, 3G and 4G.