Explore a fantastic world to capture and train dragons and other magical beasts.
Monster Galaxy is an exciting new role-playing game where you can battle and capture over a hundred wild monsters!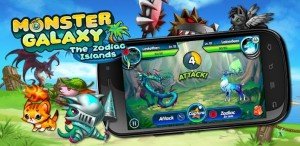 Monster Galaxy has been enjoyed by over 10 Million people already on Facebook and iOS. Come see why–with 14 beautifully painted islands and monsters from dragons to ninjas, Monster Galaxy sets a new standard for graphics on Android.
Do you have what it takes to be the very best Monster Tamer? Can you catch them all? Play now for free!
Features
* Interactive monster battle system with attacks, spells, cool items, and plenty of surprises
* Beautiful fantasy world of 14 Zodiac-themed islands
* Over 125 exotic, cute, and fantastic Monsters to capture and tame
* Watch the quirky story unfold along your quest to defeat King Otho
Can't get enough Monster Galaxy? Learn more by visiting their website or if anyone have any issues with the game then please send an email to [email protected].
Current Version: 1.1.8
Requires Android: 1.6 and up
For more information and download, visit the Marketplace for Android.